Vietnam is now paying a high price for the "tube house" culture and the boom in matchbox house construction.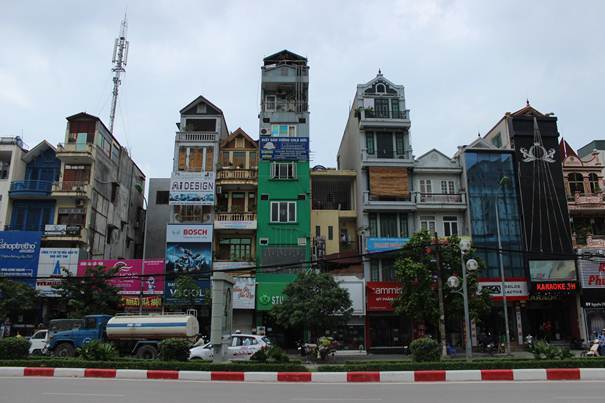 Tube houses in Hanoi
The head of the residential group rang my door repeatedly with a threat. "I will hire workers to build an iron fence to cover the back door of your house. I cannot see the good effects of the door. I just see that it brings misfortune". Misfortune here means burglars.
Unfinished houses with no people living inside them in my residential quarter are ideal places for burglars and addicts to gather. When they need drugs, they climb through the emergency exit behind our houses, break into these houses and steal things.
Night watchmen work every evening, and cameras in front of every house are turned on all the time. However, a family still became the victim of burglars last year.
The camera showed images of a man breaking into the house, rummaging through things, and then escaping through the exit. The victim reported the case to the police, but the culprits have not been found.
Local residents are worried about burglars and are filling up their back doors. They have installed iron frames on their balconies and windows to protect the houses from criminals.
The residential quarter was built by a real estate firm. It meets standards in fire prevention with balconies, and a land area is reserved for emergencies.
However, houseowners use the land area in different ways. Some people use it to grow vegetables or raise dogs and fowl. Many people use the space behind houses for accommodations.
A meeting was held soon after following the burglary, and participants agreed that all families have to contribute money to block the doors of unfinished houses and each family has to install an iron frame around their house.
I did not want to install the iron frame as requested, because I feared there would be no way out in case of fire. But under pressure from the head of the residential group, I had to implement the request.
I called a friend of mine who is a construction engineer and runs a large firm specializing in design and construction of civil and industrial buildings.

In Hanoi and HCM City, an inch of soil is an inch of gold. The strong population migration to large cities has put pressure on urban planning, architecture, construction and local authorities' management capability.
He was not surprised when hearing my complaints. He said a lot of his technical drawings with open spaces and emergency exits were rejected by his clients who want to take full advantage of all of the space and land area.
Construction standards
My friend, who has been doing civil construction work for 20 years, is aware that there are national technical standards on fire safety for buildings and construction works stipulated in QCVN 06:2010/BXD.
The regulation includes requirements on the housing design and execution process, which must be followed when building "tube" houses in order to reduce risks.
Clause 3 of Article 51 of the Construction Law stipulates that investors in construction works must ensure fire prevention and environmental protection. Clause 1 of Article 6 states that "construction investment activities must comply with national technical standards".
However, QCVN 06:2010/BXD states that for detached houses with six floors or less and no more than one basement, these standards are not compulsory, and that only "specific regulations" will be applied.
This means that low-rise tube houses don't have to follow these standards. But the "specific regulation" has not been promulgated yet.
Clause 3, Article 91 of the Construction Law on "conditions for granting construction licenses for works in urban areas" also stipulates that construction works must satisfy "requirements for environmental protection, fire and explosion prevention and fighting".
Most of the regulations on fire prevention are general and qualitative standards are difficult to apply. Therefore, most authorities, when considering licensing, only check the exterior structure and the size of the houses to find out whether the works suit urban planning.
Migrant population
The 2019 population and housing census found that 12 provinces and cities under central government management have positive migration rates, meaning that incoming people outnumber the outgoing ones.
Of 88.4 million people aged five and over, 6.4 million are migrants, accounting for 7.3 percent. The population in cities is predicted to continue to increase, reaching 42.04 million by 2025, and 47.25 million by 2030.
The urbanization rate is also increasing, expected to reach 40.91 percent by 2025 and 44.45 percent by 2030.
In Hanoi and HCM City, an inch of soil is an inch of gold. The strong population migration to large cities has put pressure on urban planning, architecture, construction and local authorities' management capability.
Many residential quarters have arisen which do not follow planning and do not observe the laws, but these have not been settled by local authorities.
Experts, expressing concern about the chaotic development, have asked local authorities to reject construction work projects that don't meet safety standards.
However, more importantly, the urban master development plan must be reasonable. Tube houses need to be placed in harmonization with social services and there must be enough space for residents to live and breathe and for fire trucks to access during emergencies. 
Vu Ngoc Bao

The deadly factory fire accident in the Northern Province of Bac Ninh killed three workers, said police investigators on April 17.

Four members of the same family, including a pregnant woman, died after a fire broke out at a house on Ton Duc Thang Street, Dong Da District, Hanoi on April 4.