The Government has issued Resolutions 01 and 02, showing the spirit of reform and steadfast effort over the years to remove barriers in the business environment, helping people and businesses to thrive.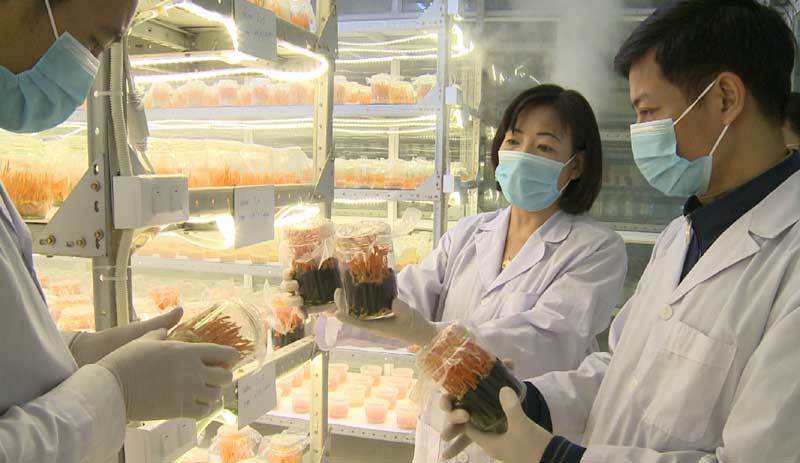 Production of semi-natural cordyceps - a new economic development direction of the mountainous province of Ha Giang.
Persistent effort puts pressure on system
In particular, Resolution 01 addresses the main tasks and solutions for the implementation of the Socio-economic Development Plan and the State budget estimate for 2021. Resolution 02 focuses on improving the business environment and enhancing national competitiveness in 2021.
This places great pressure on the whole system to make efforts and take action to help people and businesses who experienced a difficult year amid Covid-19.
Minister, and Chairman of the Government Office Mai Tien Dung said: "The Government and the Prime Minister have determined that if difficulty doubles, the Government must triple its effort."
That spirit has helped the country effectively realize the goal of "preventing epidemics and developing socio-economics", greatly contributing to the achievement of "recording a growth rate among the highest in the world."
In the context in which many international organizations have praised Vietnam's development potential in 2021, the World Bank (WB) forecasts Vietnam's economic growth rate to be 6.8%; ADB predicted 6.3%; IMF 6.7%, Standard Chartered 7.8%; and Goldman Sachs 8.1%. The two resolutions with specific tasks and solutions will help realize the country's growth potential.
The Government has persisted in enacting institutional reforms for a long time.
Consistent with institutional reform
Institutional construction and improvement continue to be reformed, in terms of thinking and construction methods, minimizing the number of detailed documents in order to simplify the system of legal documents and prevent new administrative procedures.
Over the past four years, the Government and ministries have reduced and simplified 3,893 out of 6,191 business conditions, 6,776 out of 9,926 lists of goods lines subject to specialized inspection, and 30 out of 120 administrative procedures related to specialized examination.
The total social costs saved from reduction and simplification of procedures are equivalent to about 18 million working days per year, or more than VND6.3 trillion per year.
Business environment improves dramatically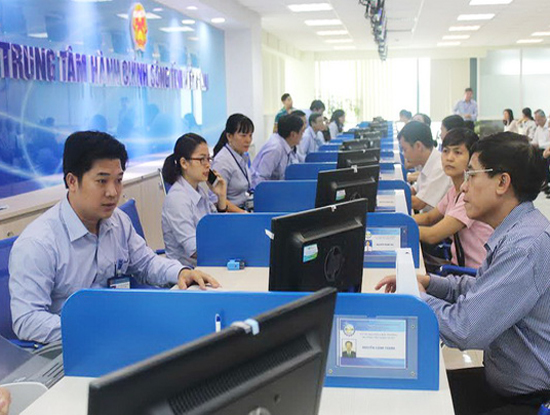 Thanks to local Public Administration Centers, the time for the paperwork of the people has shortened.
This figure above, according to Mr. Dung, is probably less than the reality. For example, the amendment of Decree 38/ND-CP has helped cut more than 95% of imported food subject to specialized inspection, saving up to 12 million working days and about VND3.7 trillion, according to Eurocham and CIEM.
The National Public Service Portal, after more than one year of operation, has integrated and provided more than 2,700 online public services, over 6,798 administrative procedures at 4 levels of government (reaching a rate of over 39%, exceeding the target set by the Government by 9%). The portal used to receive 12,000 records on a single day.
Online payment service has been integrated with 14 ministries and branches, and 54 of 63 provinces and centrally-run cities, with more than 48,000 successful transactions through the portal. Total costs saved thanks to the implementation of online public services on the portal since its opening is about VND8 trillion per year.
The national document axis enables sending and receiving electronic documents among all 95 central agencies and localities with more than 3.8 million electronic documents, saving about VND1.2 trillion a year. The information system serving meetings and handling of Government affairs (e-Cabinet) has served 24 Government meetings, replacing more than 225,000 records, and opinion polls of the Standing Government, helping to save about VND169 billion each year.
The Government's information system has been connected with 14 ministries, agencies and 37 localities, serving the Government's direction and administration for 106 out of 200 socio-economic indicators. All 63 provinces and cities have provided online data on eight socio-economic indicators to the Government, saving about VND460 billion a year.
These efforts have helped Vietnam increase in rank dramatically in the World Bank's global business reports. In 2019, Vietnam ranked 70th in the Doing Business index, up 20 places compared to 2015, and ranked 67th in the Global Competitiveness index 4. 0, an increase of 10 places compared to 2018.
Space for reform
However, there is plenty of space for people and businesses to develop, especially after the difficult year of Covid-19.
The draft report reviewing the implementation of socio-economic development strategy 2011-2020 and building a socio-economic development strategy for 2021-2030 said: "The economic growth rate did not reach the set target. Average GDP growth was about 5.9% per year in the 2011-2020 period, compared with the strategic target of 7-8% per year and lower than the previous two periods. GDP per capita in 2020 increased about $1,420 compared to 2010, much lower than that of many countries... The scale of the Vietnamese economy ranked 6th, while the population ranked 3rd among ASEAN countries."
Party Secretary General and State President Nguyen Phu Trong at the year-end online conference of the Government and leaders of central-affiliated cities and provinces on December 28, 2020 said: "We absolutely must not be subjective, satisfied with the achieved results, because the goals, requirements and tasks set for the year 2021 and the next term are very high, while our country is still facing many difficulties, great challenges.
Economic growth slowed down, at the lowest level in many years. Business and production declined. Many businesses faced difficulties, and even had to close or stop operating. The employment and income of workers was greatly affected. Ensuring major economic balances was difficult. The financial-banking system, and the work of ensuring social security and welfare faced many risks and challenges."
He added: "I want to re-emphasize, absolutely, we must not be subjective, complacent, satisfied with the aura of the laurel wreath. Because there are still many difficulties and challenges ahead. Heavy and complicated works await us."
Tu Giang - Lan Anh

The Government is determined to take drastic measures to realise the socio-economic development plan, better business climate, as well as improve national competitive capacity in 2021 through the issuance of Resolutions No.01/NQ-CP and 02/NQ-CP.

The 14th National Assembly adopted a Resolution on socio-economic development plans for 2021 during its 10th session in Hanoi on November 11.