Wasps are being raised in a garden of one farmer, bringing a high income. Mushroom growing is being controlled by smartphones. These are examples of new and unusual careers.
Wasps for sale
Nguyen Dang Cuong in Yen Thanh, Nghe An provice had an original idea: collecting wasp nests and raising them for food purposes by hanging the nests in his garden.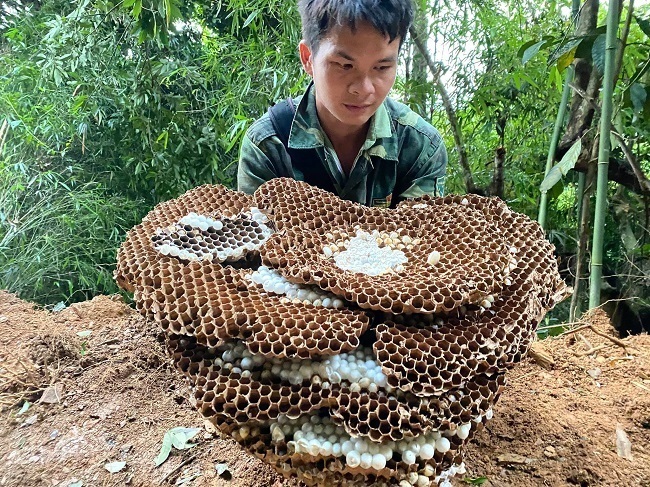 Nguyen Dang Cuong raises wasps for food
Cuong said the demand is very high. In harvest season, merchants come to his home to collect all the wasps he has. Whole nests are priced at VND160,000-200,000 per kilogram, while the pupa is VND350,000-500,000 per kilogram. With 150 nests, Cuong expects revenue of VND50 million this season.
Controlling mushroom growth
The hi-tech oyster mushroom farming model was initiated by Le Huynh Kha Luan, 31, in Binh Dinh province two years ago.
Under the farming model, all the work is implemented on smartphones. The special characteristic of the model is that growers can determine the time and amounts of mushrooms to satisfy orders.
Food once popular during subsidy era
'Xoi san', or cassava steamed sticky rice, was a popular food in the subsidy period, when Vietnamese lacked food and had to eat rice mixed with cassava, which was cheap.

Wasps are being raised in a garden of one farmer, bringing a high income. Mushroom growing is being controlled by smartphones. These are examples of new and unusual careers.
Xoi san has become a specialty for Hanoian's. The xoi san vending shop of Tran Ngoc Luan and Le Thi Kim on Ngo Sy Lien street is well known.
They have been selling xoi san at 2 pm every day for the last 20 years. Thirty kilograms of xoi san are sold after just 3-4 hours.
Banh my (bread): color of Vietnamese national flag
The loaves of bread with red color and yellow star, the image of Vietnamese national flag, are selling like hotcakes in Hanoi. It is a variation of dragon fruit bread, called by the bakery owner 'banh my yeu To Quoc' ('Love the fatherland' bread). A plain loaf of bread is priced at VND4,000, while bread with fillings is VND15,000.
Bakers add red flesh dragon fruit and extract of beetroot to get the natural red color. The yellow star is made of flour, mixed with fresh yeast, a little salt and turmeric powder.
Prior to that, bread made of dragon fruit was introduced. This aims to support farmers who are facing difficulties as a result of the COVID-19 epidemic.
Young man decorates home with 50 plant varieties
Nguyen Quang Tam in HCM City has posted on his Facebook page images of his green home and has received thousands of interactions. His home has the total floor area of 175 square meters.
Considering plants as interior decoration, Tam spent VND300 million to buy 50 types of leafy ornamental trees from many localities in the countries and put them together in a garden. The trees help make the home more beautiful, and purify the air.
Ancient sanh tree
At the ornamental tree exhibition taking plave some days ago in Bac Ninh province, visitors were impressed by the ancient sanh (Ficus benjamina L.) tree in dragon-shaped boat. The owner of the tree is Nguyen Sien from Kinh Mon, Hai Duong province.
Also at the exhibition, the sanh tree named 'Phu Dong Thien Vuong' (Heavenly King of Phu Dong) was displayed.
Its owner is Nguyen Trong Duong from Hai Duong. This beautiful work showed a harmonious combination of the tree and rocks. Each tree root clings to a rock, making it an original product.
Big catfish (Clariidae) caught
The fish was caught by a farmer in Vi Thanh City of Hau Giang province. It is It is 1 meter long, weighing 8 kilograms. People rushed to Thanh's home to see the catfish. The fish of this species usually weighs 1-2 kilograms on average. 
Hanh Nguyen

Nam Can crab in Ca Mau province is famous for its high quality and delicious taste, while thoi loi fish is a wonderful dish for parties. These are among the many precious specialties available in the Mekong Delta region.

Passion fruit, pomelo, dragon fruit and fresh coconut have been exported to Europe in large quantities under the EVFTA, which took effect this year.