When it comes to memories of May 7, 1954, Lieutenant-General Pham Hong Cu always has mixed emotions.
Dien Bien Phu Victory museum
Dien Bien Phu a victory for both Vietnamese and French peoples: sociologist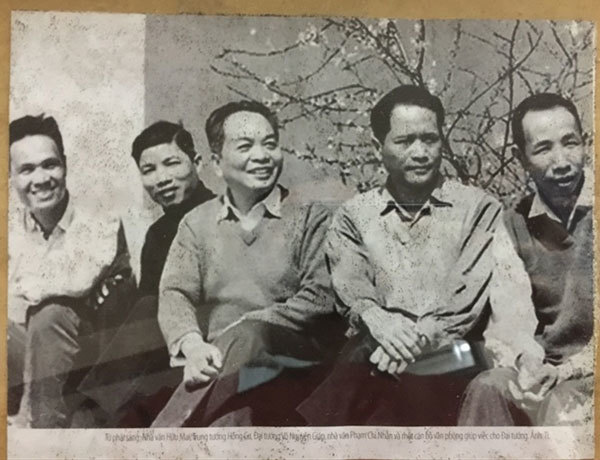 Lieutenant-General Pham Hong Cu (second from right) in a photo with General Vo Nguyen Giap (centre) in 1964. Cu said that without General Giap's tactical expertise at Dien Bien Phu, he and many other soldiers may not have survived the battle. — Photo courtesy of Lieutenant-General Pham Hong Cu
It was the day the 28-year-old witnessed the glorious and historic victory at Dien Bien Phu that helped end French colonial rule in Indochina. But it was also the day he lost his elder brother.
Cu was the deputy political commissar of Regiment 36, Brigade 308, that fought from the west of the battlefield. He had arranged to meet his brother after the battle, who was a soldier of Brigade 312 that fought from the north.
"On the night of May 7, I arrived at the headquarters of the French commander de Castries – our rendezvous - to wait for my brother," Cu recalled. "I waited, waited and waited for the whole night but my brother never appeared."
The next morning, Cu followed Brigade 312 to find his brother but only met another friend who informed him that his brother had died during the battle just five hours before the victory.
"I was stunned and tears were falling down my face," Cu said.
The veteran said that the reaction was typical for soldiers during battle, with happiness and sorrow always coming together.
"We clapped our hands joyfully for the victory but at the same time, we cried for our fellows and relatives who fell down for the country," Cu said.
The body of his brother was buried at Dien Bien Phu Battlefield's Hill A1 Cemetery, but it wasn't until 2004, 50 years after the victory, that he was able to visit his brother.
Road to victory
Aside from the sad story about his brother, Cu, now 93, is always enthusiastic when talking about the victory at Dien Bien Phu.
He said the victory was the result of a number of factors. One of them was the help of local people.
"At that time, the French troops had mobilised many local ethnic Thai people, so I had to ask Lo Van Hac, the then head of the Thai and H'Mong peoples in Dien Bien, for help," Cu recalled.
"So he introduced me to a 22-year-old Thai woman who was very intelligent and brave."
Under Cu's instructions, the woman called on Thai soldiers through loudspeakers to "return to your villages and parents, do not die for the French".
After several days, a whole battalion of Thai men surrendered to the Vietnamese troops.
Another impression of Dien Bien Phu was General Vo Nguyen Giap's difficult decision to change tactics from "lightening battle, lightening victory" to "firm fighting, firm advancing."
"Without General Giap's tactical knowledge, many more of us may have fallen in Muong Thanh Field," he said.
To Cu, the victory of Dien Bien Phu was also the result of the soldiers' creativeness.
"One day, we greeted some new soldiers from the north who said they were familiar with digging tunnels and asked to help if the commanders agreed," Cu said.
"With the regiment's supports, they dug tunnels under the enemy's barbed wire fences, and we were to take the enemy by surprise."
After General Giap's order on May 6, 1954, from all four sides, Vietnamese troops swarmed in on an all-out attack on Muong Thanh Field.
"I still remember clearly at 2pm on May 7, we saw white flags waving from combat trenches," Cu recalled, saying the French soldiers used their handkerchiefs or singlets to surrender.
"I had never seen such scenes before in my life. As the French soldiers climbed out of their trenches, they saluted and thanked the Vietnamese soldiers."
Cu said the Vietnamese troops at that time said in French "paix et rapatriement" (peace and repatriation), which the French soldiers really appreciated.
Oath for independence
Lieutenant-General Cu was born in 1926 in the north-central province of Thanh Hoa. His birth name was Le Do Nguyen, but he changed it to Pham Hong Cu after joining the revolutionary cause in Hanoi at the age of 18 under a squad named after activist Pham Hong Thai. He and his two brothers joined the Viet Minh, or League for the Independence of Vietnam, the national independence coalition established by President Ho Chi Minh in 1941. Cu served in the army until he retired in 1995 as deputy head of the Vietnam People's Army's General Department of Politics.
Cu said he always saw himself and his comrades as the generation of "one oath" – the oath for independence.
"Our generation carried that vow in our hearts, and together with the whole nation we responded to President Ho Chi Minh's call for resistance, stepping forward into two long-term resistance wars against the French colonialists and the US imperialists for 30 years, until April 30, 1975, when our oath was fulfilled," Cu said.
According to Cu, through many hardships and sacrifices, his generation had completed their historic task for independence and freedom.
"Young people nowadays, the generation of renewal and integration, should take on the task of building and defending the country," Cu said.
Hong Minh
VNS