Why are mutant orchid transactions only carried out when the sprouts are just several centimeters long? Where is the money for these transactions coming from? Is the 'mutant orchid bubble' about to burst?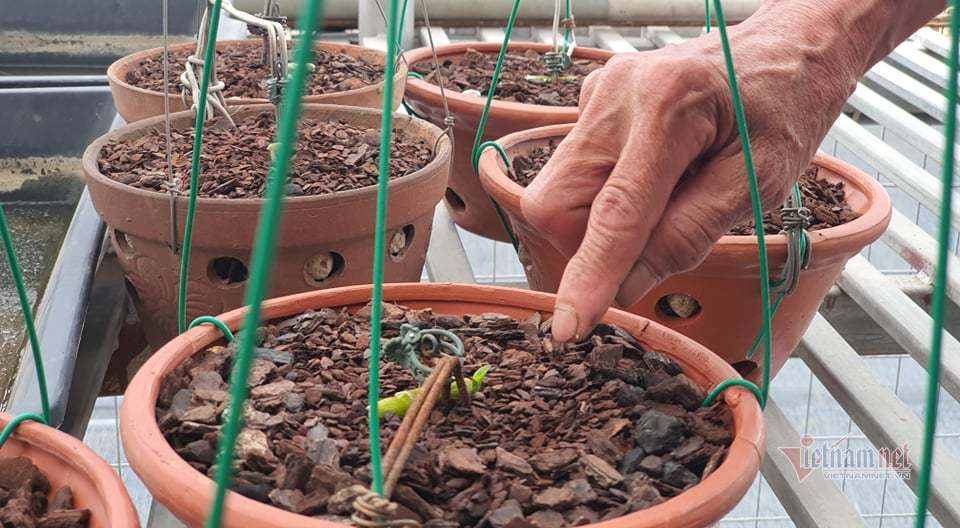 Duong Minh Tuyen from Bac Ninh, a well known Facebooker with the nickname 'Thanh chui' (King of curses), confirmed with VietNamNet that many individuals who are victims of phony mutant orchid transactions have asked for his help to get their money back from swindlers.
P.V.D. (who requested anonymity) is one of the victims. He lost billions of dong after falling into the trap of a group of mutant orchid traders, who "cried wine and sold vinegar".
In October 2020, D bought mutant orchids from two men who had an orchid garden in An Khanh overpass area. Later, as D found that the orchids he bought were not exactly the ones he ordered, D tried to contact the two sellers.
At first, the two sellers communicated with D via messages, but later they disappeared. After a lot of time of tracking them down, D found that the men had removed the garden in An Khanh area and set up a new one in Hai Boi in Dong Anh district in Hanoi.
D reported the case to the local police. The swindlers then admitted that they had delivered the wrong products and promised to give them genuine orchids. But later, they once again ran away and moved to Bac Ninh province.
As a last resort, D asked for Tuyen's help.
"When I came to their orchid garden in Bac Ninh, some people had escaped. The orchids in the garden were all common orchids, not mutant orchids," D said.
The swindling methods include creating nicknames to contact buyers, leasing gardens and moving to other places all the time. They never show their photos on Facebook or Zalo and use images of prestigious gardeners to advertise their products and carry out transactions via the internet.
After they collect big amounts of money from buyers, they move to other places and cut off contact. In order to gain buyers' confidence, they even hire some individuals to act as their parents and relatives.
Not only D, but many other people have also fallen into the trap set by swindlers. The total amount of money they have lost is up to tens of billion of dong.

Many victims have contacted Duong Minh Tuyen and have asked for his help. The victims had carried out transactions on the basis of verbal agreements, with no written documents. The proof of the transactions are just a handshake and photos.
Many victims have contacted Duong Minh Tuyen, and have asked for his help. The victims had carried out transactions on the basis of verbal agreements, with no written documents. The proof of the transactions are just a handshake and photos.
Tuyen said he has helped nearly 10 cases with transaction value of between VND1 billion and several billion dong.
"Some subjects leased land to set up gardens in Bac Ninh, Hoa Binh and Ninh Binh and sold orchids to some people (such as Thuan and Thanh from Thanh Hoa, and a victim from Thai Binh)," Tuyen said.
"I came to the orchid gardens to meet garden owners. Some of them promised to pay compensation," he said.
However, Tuyen also later became a victim of some of the gardeners.
Most of the transactions involved products with very small sprouts, just several centimeters long, but they were priced at hundreds of million of dong.
After a couple of weeks, the orchid sprouts are transferred to the next buyers with prices 2-3 times higher. One vase of orchids was initially sold at VND1 billion, but the value later rose to VND10 billion.
Explaining this, N.V.L, a gardener in Nam Dinh, said the prices are set depending on the length of orchid branches. At first, branches are extracted from mother plants and become independent plants, priced at hundreds of million of dong.
After a period, the orchid sprout grows and a new sprout appears, which is seen as an orchid plant in the future and its owner will set a price for it.
"You just need to measure the length of plants to calculate selling prices. One centimeter of orchid plants is priced at hundreds of million of dong. So, a 10 centimeter sprout will have a price of several billion dong," he said.
"And when new sprouts appear, gardeners will have several hundreds of million dong more in value," he explained.
But why are only newly sprouted seedlings put on sale and there are no flowers?
T.H, a gardener in Hoa Binh, explained that the time from sprouting to mature growth is one year. As for flowering plants, the sprouting is slower and many plants don't have branches.
The other reason is that the value of orchids depends on the length of plants. People tend to buy orchids when they are small and sell them later when the plants are longer and can sell for more money.
In many cases, buyers pay for the orchids and then leave the orchids with the gardeners to take care of them.
"Prestigious gardeners will film every stage of the orchid growth process to create a 'record' of the plant," L said. 
Thai Binh

Mat Nai (baby eyes), Gai Nhay (dancing girl), Hien Oanh, Ngoc Son Cuoc, Bao Duy, Bach Tuyet (Snow White), Buom Dai Ngan (jungle butterfly) and Hong Yen Thuy are some of the names given to mutant orchids. Some of them have sky-high prices.

What are some of the most popular investment channels in Vietnam? Real estate, securities, cryptocurrency and ... mutant orchids.