Every Lunar New year, a man impersonates a traditionally dressed woman and immerses himself in a ritual dance to pray for blessings for everyone.
Ritual dances are usually held at festivals at communal houses and shrines in South Vietnam, and are often performed by men disguised as women.
Le Minh Hung (61 years old, from Tan An city, Long An province) is swamped with the extended schedule from January to April of the lunar calendar. On these days, he hardly has time to celebrate Tet with his family, and instead goes on with his work at temples and shrines throughout the western provinces.
Artist Le Minh Hung's transformations for ceremonies. (Photo credit: by character).
Hung, at the age of 17, was mesmerized by dances and singing in a festival near his house. The ritual dance career came to him with a passion along with agonizing prejudice.
"It had always fascinated me, so much that even in my dream, I could feel myself swaying along," Hung said.
He many times sneaked out, put on makeup, got dressed, and was ready for the dance, only to be whipped later.
"It was my family's pain in the neck. No one accepted the idea of me being a woman in disguise and dancing in ceremonies held in temples or communal houses. I even got beaten as I went against their wish to quench my thirst for ritual dancing."
But he continued. No amount of whipping could make him stop, let alone come round to giving up his passion.
"I remained persistent until my mum's immense love for me made her give in…"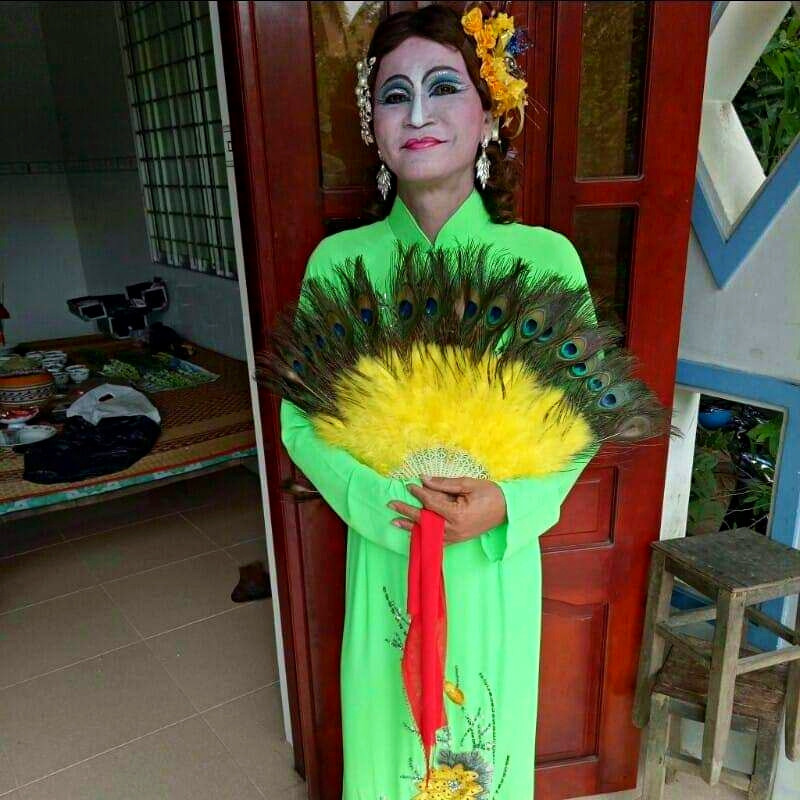 An image of the artist prior to a performance in a festival. (Photo credit: character)
Concealing deep hurt to keep up tradition
Hung became a professional ritual dancer after seven years of practice since the age of 17, despite estrangements from his siblings and relatives. The relish of living his passion, nonetheless, assisted him in ascending higher and higher in the path of his choice.
He was a diligent and creative dancer who always diversified the types as well as content of traditional dances and contributed even further to ritual dancing.
In the midst of his burgeoning career, he fell in love and decided to marry. His profession was a secret from his spouse. However, mental pressure a year later caused him to confide in her.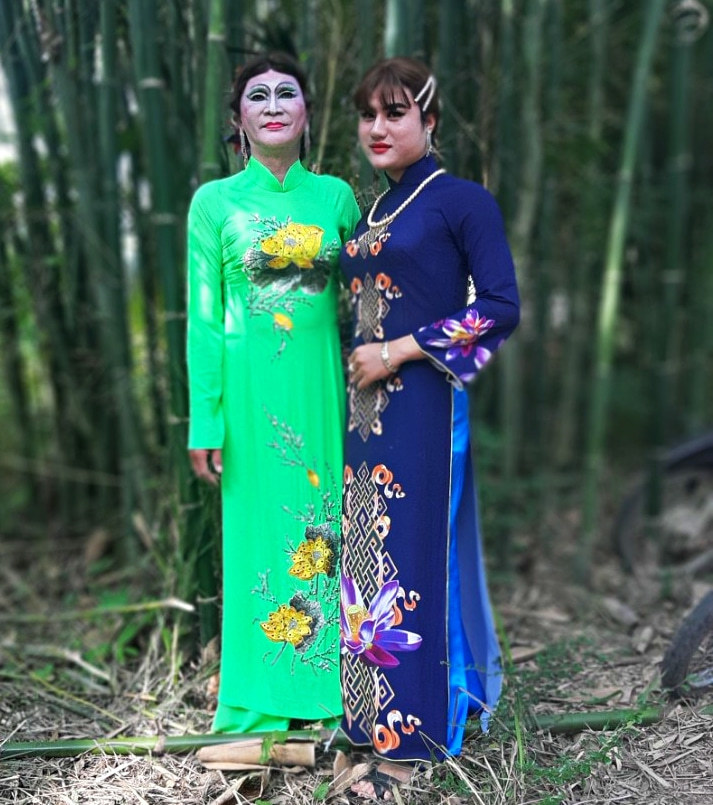 He has endured 40 years of public prejudice. (Photo credit: character)
The medals and certificates of merit are a great encouragement for the silent contribution of artist Le Minh Hung. (Photo: Nguyen Son).
"Are you sad?" he whispered. Her response was that he should do the job. She has been his rock since then. Behind every successful man there stands a woman, like her. The support from his partner is what puts pep in his step as he has been stigmatized and despised.
"Many people are so scornful of me, some are even disrespectful, to the point of groping and harassing me," Hung said.
Others' hurtful words cut deeper like a sword. The latter can be pulled out, but the former is embedded into his soul. The only way he vanquishes negativities is to maintain his belief that he is doing good. He prays for peace and blessings for the sake of people.
"I live and work to preserve the culture of ritual dancing, not run after lowly intentions. Everyone will finally understand and respect what I do, and cherish the culture," he said.
That noble, humanistic aspiration has helped him reap great success. Last spring, Hung became the most popular ritual dancer in the western provinces.
Artist Le Minh Hung has participated in many contests on ritual dancing and won high prizes. In 2017, in the first ritual dance competition held in Tien Giang, he won first prize.
Hung was also awarded two gold medals in the same year in two competitions held in his hometown and in Da Lat city in Lam Dong province.
Not long after, a second prize was bestowed on this talented dancer in another contest in Dong Nai Province.
In 2019, Hung was honored by the State with the title of Meritorious Artist.
Nguyen Son
Young artists in traditional music and theatre are working to develop and promote their art among young audiences in HCM City. 

The only female artisan to have pursued Dong Hofolk painting in the northern province of Bac Ninh, Nguyen Thi Oanh was recently honoured with the title of "Meritorious Artisan" by President Nguyen Phu Trong.