The three largest mobile network operators have deployed 5G, adding Vietnam to the list of the countries commercializing 5G early.
The fifth generation (5G) mobile network is the latest mobile internet technology with data transmission speed 10-20 times faster than the current speed.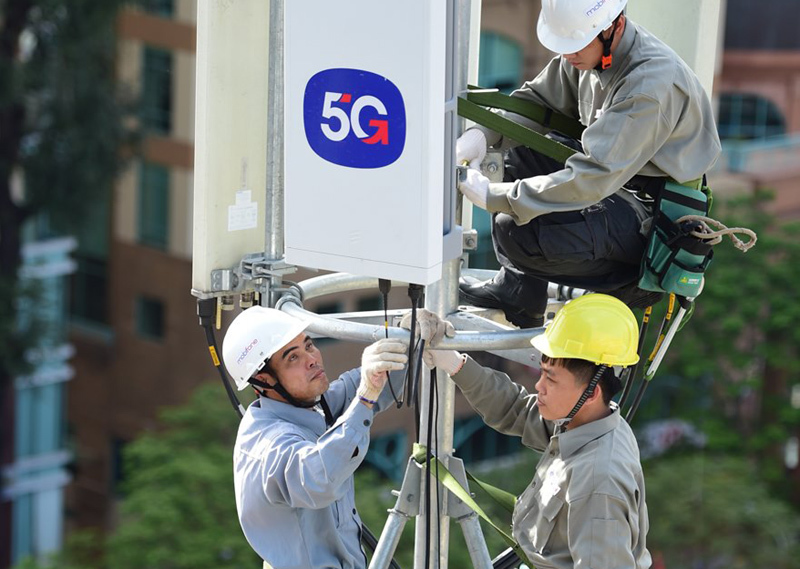 Most large mobile networks have begun providing services, choosing 2020 as a milestone for them.
The number of terminal devices for 5G continues to increase rapidly, ready for commercialization. Around 283 terminals have been announced.
In 2019, the Ministry of Information and Communications (MIC) granted licenses to pilot 5G to three telcos, namely Viettel, the Vietnam Post and Telecommucations Group (VNPT) and MobiFone, in Hanoi, HCM City, Da Nang and Hai Phong.
The network operators were allowed to experiment with internal subscribers to assess technical features and telecommunication infrastructure using the latest technology.
In order to have as many customers to experience the superior speed of 5G, in December, VNPT will deploy seamless 5G coverage in the central districts of Hanoi and HCM City, including crowded areas and public spaces.
In addition to providing high-speed 5G, VNPT also aims to build a rich service ecosystem on the basis of the 5G network, which includes intensive broadband mobile data services such as high-speed data service, 4K/8K content videos, FWA (fixed wireless access), and VR (virtual reality) videos and services demanding low latency such as robot control.
MobiFone has also announced commercial 5G services on a trial basis in HCM City in December. The network operator is installing devices and preparing technology, the labor force, and places to provide services on a 2600 MHz band. It will provide high-speed internet services such as 4K/8K videos, AR (augumented reality) /VR games, and IoT (Internet of Things) services.
Prior to that, the first video call using 5G on gNodeB transceiver devices developed by Viettel was implemented successfully on January 17, 2020. As such, Vietnam has officially mastered 5G technology.
Le Dang Dung, president and CEO of Viettel, said in terms of transmission infrastructure, IoT connection technology on 4G LTE-M and NB-Iot has been deployed by Viettel. It has become one of 50 mobile network operators in the world deploying the technology.
This will help Vietnam catch up with countries pioneering 5G such as the US, Australia, Japan and South Korea. In terms of 3G and 4G deployment, Vietnam lagged behind the world, but with 5G, Vietnam is among the group of leading countries.
Vietnam learned from the network operators who had already deployed 3G and 4G. As for 5G, Vietnam had to find the way itself.
MobiFone's CEO To Manh Cuong said unlike other network operators, including VNPT and Viettel, MobiFone only provides mobile services. It has great advantages in deploying 5G technology and vows to be the leader in 5G application.
"The demands for using 5G are different from 2G, because 5G is used for services which need high speed and low latency," he explained.
"We will deploy 5G in areas first with high traffic and high demand, which are the central areas in large cities, and then expand to other areas," he said.
Cuong noted that the demand for 5G services and 5G devices is not that high. However, the launch of iPhone 12 is the right time for the technology.
Huynh Quang Liem, deputy CEO of VNPT, said that 5G still does not have many applications, but VNPT will deploy 5G soon.
Challenges
Large mobile network operators have shown their determination to deploy 5G soon, but they understand that the path will not be rosy, because they may face risks as there are not many terminals. There is also no 5G business model.

Large mobile network operators have shown their determination to deploy 5G soon, but they understand that the path will not be rosy, because they may face risks as there are not many terminals.
Vietnam is deploying 5G soon not to be among the leading countries, but for the sake of the Vietnamese people. If Vietnam does not accept challenges, it will forever stay among the countries with average technology. In the technology race, there will not be a position for countries with average thinking.
With a breakthrough in thinking, in the 1980s-1990s Vietnam successfully shifted from analog telecommunication networks to digital.
One expert said that there are many apps that can only be implemented with 5G, such as smart city tasks, self-propelled vehicles, and surgery conducted from a distance. 
Thai Khang
Telecoms service provider MobiFone is making final preparations for the launch of the commercial pilot of the fifth-generation (5G) network next month.
The cutting edge 5G technology for mobile networks displays several benefits from super speed, a potential digital ecosystem to a stable platform to run an e-government and smart city.