With great achievements in containing the Covid-19 pandemic and obtaining positive GDP growth rate in 2020, Vietnam is seen as an ideal destination for foreign investors.
According to the Foreign Investment Agency (FIA) under the Ministry of Planning and Investment (MPI), from the beginning of the year to October, FDI capital reached $23.4 billion, or $5.7 billion lower than the same period last year.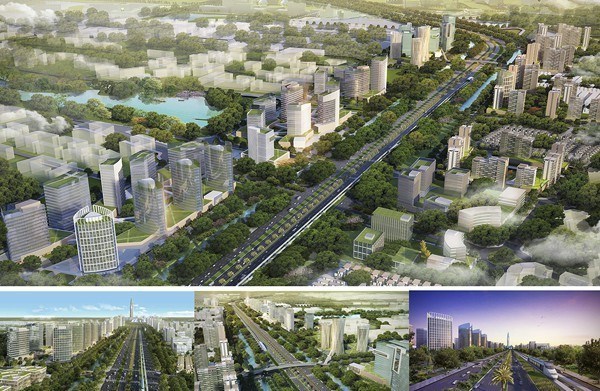 However, Vietnam is still considered a success, especially in the context of the pandemic.
As the world economy is volatile and Covid-19 has become increasingly worse in some countries, multinationals are seeking 'new land' for investment and development.
Vietnam is attracting more FDI. Head of FIA Do Nhat Hoang said at the Vietnam Business Summit 2020 (VBS 2020) that Vietnam has many advantages, especially the abundant labor force at a low cost.
It has a market of 100 million people who have increasingly high income. And it has deeply integrated into the world's market and joined many FTAs (free trade agreements). Besides, it has a central position connecting China and Southeast Asian countries.
The US-China trade war and Covid-19 have forced multinationals to restructure and diversify investments. Vietnam, together with India and Indonesia, are the markets of highest interest.
Chad Ovel, chair of Amcham Vietnam – HCM City and Da Nang, said that foreign investors have witnessedthe government of Vietnam coping with the Covid-19 pandemic and Vietnamese people standing side by side to overcome challenges. This has been a national model of solidarity and good organization in the face of danger.

With great achievements in containing the Covid-19 pandemic and obtaining positive GDP growth rate in 2020, Vietnam is seen as an ideal destination for foreign investors.
In the last 30 years, Vietnam has obtained GDP growth rates of 5 percent or higher, while it has curbed inflation at low levels. And the Vietnam dong has been stable in comparison with the US dollar.
Vietnam's middle class has expanded rapidly from 12 million people in 2014 to 33 million in 2020. More than 90 percent of entire population own their own houses which can be good collateral for loans. The ratio of trade to GDP is high, at 34.9 percent, with global connection.
Ovel predicted that the number of foreign invested projects in Vietnam will continue to increase in the time to come.
Overcoming challenges
However, according to Nguyen Dinh Cung, former head of the Central Institute of Economic Management (CIEM), there are many challenges. The noteworthy problem is that Vietnam's GDP has been on the decline in the last three decades.
Besides, administrative procedures are overlapping and complicated, which hinder the operation of businesses. Embezzlement is also a big problem. The infrastructure of the digital economy is still underdeveloped. The environment is becoming more seriously polluted and the labor force has low quality.
"We need to overcome challenges to grab opportunities, or we will miss opportunities," Cung said.
Economists believe that the FDI reorientation trend will continue in the next three years and Vietnam needs to prepare well in resources, policies and industry and service infrastructure to attract FDI.
According to Hoang, the government is preparing industry infrastructure; checking and creating land fund for forming industrial zones; training the labor force to fulfill the orders by businesses; satisfying the demand for power; and accelerating the development of supporting industries and amending policies to make them fit the practical requirements.
In addition, Vietnam has increased investment incentives, become flexible in offering incentives to attract large-scale projects utilizing high technologies, and created favorable conditions for Vietnamese enterprises to join multinationals' supply chains.
Chair of the Vietnam Chamber of Commerce and Industry (VCCI) Vu Tien Loc said during the pandemic, the digital economy has created more flexible business models which have saved costs and optimized resources to overcome difficulties.
He also said that Vietnam's success or failure in digital transformation will heavily depend on political determination and national economic institutions.
It is necessary to create a modern economic institutional system with legal regulations, and to have skills to create an ecosystem for e-commerce and the digital economy. The developed digital infrastructure will help attract multinational corporations to Vietnam.
Deputy Prime Minister Truong Hoa Binh at VBS 2020 committed to building an incorruptible government that acts to serve people and create a favorable business environment.
MPI reported that $15.8 billion was disbursed in the first 10 months, equal to 97.5 percent of the figure in the same period last year.
Tran Thuy

Dong Nai has been among the leading localities in Vietnam in attracting foreign investment over recent years, with local authorities continuing to innovate and create a favourable investment environment.
Vietnam attracted US$23.48 billion worth of FDI in the first 10 months of this year, equal to 80.6 per cent of the figure in the same period last year, the Ministry of Planning and Investment (MPI) has reported.