The impact of climate change on agriculture and aquaculture in the Mekong Delta region of Vietnam over the years is forcing local farmers and enterprises to adapt by implementing more effective solutions.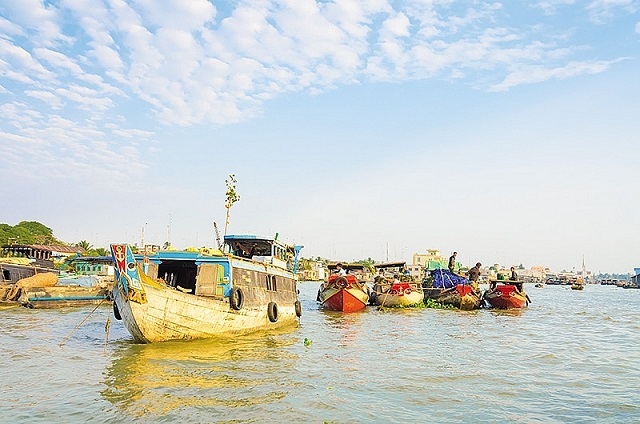 Good practice and utilising new technology can help curb climate change as well as saltwater intrusion and sinking land
Inhabitants in Chau Thanh district in the Mekong Delta province of Tra Vinh can now farm much more easily.
With a mobile phone, they can know exactly how salty the water is without tasting or using their traditional experience. Using that same phone, whenever and wherever they are, they can easily pump water for their farm.
"With the Rynan water monitoring app, I can easily know the water level, the salt level, PH level, and turbidity to decide whether to pump water or not. I even pump water when out socialising," said Truong Van Thanh, a local farmer.
According to Thanh, besides using the Rynan app, so as to improve the quality and efficiency of his rice farm, recently he has also used smart fertiliser.
"This fertiliser is used once at the beginning of the crop together with young rice trees. It helps save expense and human work, but brings higher productivity of 20 to 30 per cent," he added.
The technologies that Thanh is using for his farm are produced by Rynan Agrifoods, a company established by 60-year-old overseas Vietnamese Nguyen Thanh My in 2016, a year which suffered a record dry season in the Mekong River Delta.
Witnessing the huge loss when thousands of hectares of crops were affected by salinisation, My created a buoy which measures the salt level of water.
"These buoys have sensors attached. Every 15 minutes, they send information online so people can access it by mobile phone," My told VIR.
Currently, Tra Vinh province has invested VND1.5 billion ($435,000) in installation of 10 such buoys in the five districts of Duyen Hai, Cau Ke, Tieu Can, Chau Thanh, and Tra Vinh city.
Rynan Agrifoods also sponsors three buoys, increasing the total to 13. Each buoy can collect information within an area of 10 square metres.
In talks with VIR about the pump system, My said, "Farmer incomes are very low. We use simple and cheap pump gateway control to help current irrigating systems that have been installed for dozen of years."
According to My, the tool costs only about VND1 million ($43.50), he can even often gift it to farmers for free. "The pump gateway controls help save over 30 per cent of water and reduces greenhouse gas (GHG) emissions to 50 per cent."
Meanwhile, the company's smart fertiliser also helps reduce GHG emissions. Over the years, rice planting in Vietnam has been the second source of such emissions after power production.
"The fertiliser provides more than nutrition at the right time and right amount during rice development, helping reduce the amount of fertiliser," My said.
My's innovation has helped famers in the Mekong Delta region better adapt to climate change.
Technologies and shrimp farming
One of the biggest shrimp producers and exporters in Vietnam, Minh Phu Seafood Corporation has set the target of developing a complete ecological system to mark Vietnam on the map of world-leading shrimp suppliers.
According to Le Van Quang, chairman of Minh Phu, in 2018 the company held nearly 5 per cent of the world's shrimp market by volume.
For every 100 shrimp that Minh Phu exports, 40 are exported to the US, 20 to Japan, 10 to the EU, nine to Canada, eight to South Korea, and the remainder to Australia and New Zealand.
This is the result of a strict study process on solutions of how to create good quality shrimps with high productivity.
"In the old method, shrimp ponds have a popular size of 50 metres to 100m. With a larger size, it is easy to harvest shrimps in earthen ponds but it is difficult to thoroughly handle impurities, particularly when diseases break out. In our new model, the ponds are floatingly designed with steel tube frames above, helping easily handle impurities, change of water, and controlling the environment," Quang said.
The company has installed sensors to automatically control the pond, and measure the water quality, temperature, and oxygen rate.
They have also used effective microorganism technology to ensure quality of water and development of shrimp in a natural way.
According to Quang, one of the important indicators of the water environment is the oxygen index. If the index in the water is high, the water is clean and safe in terms of bacteria and harmful chemicals dissolved in water. Harmful microorganisms cannot develop, while useful microorganisms decompose organic matters.
"With high oxygen levels, the shrimp will grow fast with strong resistance. Investing in hi-tech shrimp farming in parallel with establishing a clean shrimp process, not using antibiotics or chemicals will meet strict export criteria of domestic and foreign markets, ensuring food safety for users," Quang said.
"Minh Phu's motto is innovating technology to create more value-added goods, increasing competition, and meeting the needs of markets based on the benefits of all sides."
Intercrops make aquaculture more sustainable
Currently, famers in the Mekong Delta province of Bac Lieu have been ­replicating effective aquaculture models, including ­sustainable shrimp farming adapting to climate change. Thus, these actions have ­effectively ­exploited the ­potentials and advantages of the locality.
In particular, in the coastal area of ​​Dong Hai district, an ­extensive shrimp farming model combined with organic shrimp farming in the model of a shrimp forest has been ­remarkably effective.
In Bac Lieu, 550 farmers ­participated in applying the shrimp-forest model with an area of ​​over 2,648ha and this model continues to be ­encouraged for replication.
Although productivity is lower than other aquaculture models, people will gain many other economic benefits from marine resources like crab seed, elongated gobies, and many other valuable aquatic products living under the forest canopy.
Bac Lieu currently has about 33,000ha of shrimp and rice faming, which is an environmentally friendly model in the context of climate change.
Farming production over the years has shown that rice ­cultivation on shrimp farming does not cause conflicts with the use of brackish and fresh water in the production process.
In the dry season, saline water is poured into serving for tiger shrimp, and in the rainy ­season farmers take fresh water to grow rice.
Rice varieties used in the model are saline tolerant. After the rice crop, the bottom of the field is mineralised, ­limiting soil aging due to long-term salinity while at the same time disease germs are also removed during the rice growing time.
Thanks to these, the environment is ­stable, as shrimp farming does not have to use antibiotics or chemicals.
This model ­contributes to the reduction of ­production costs, and the ­increase of productivity and profitability.
In addition, in the rice crop, farmers also combine raising giant freshwater shrimps with rice. This ­farming method not only helps people ensure their life because of the quality and value of agricultural products, but it also protects the ecological environment.
In other provinces in the region like Ca Mau, Soc Trang, Tien Giang ,and Ben Tre, the shrimp-rice ­production model is also ­applied.
After suffering the impacts of climate change, both ­enterprises and farmers in the Mekong Delta region and ­beyond are trying their best to find out new methods of ­adaptation.
It is clear that it can be achieved using modern technology, via a careful ­accounting of intercrops, and often, both. VIR
Phi Nguyen

 Located at the end of the Mekong River, the Mekong Delta is the most prosperous agricultural production region in Southeast Asia. However, it is also one of the areas most heavily affected by climate change.

Civil society organisations (CSOs) recommended climate vulnerability assessments in order to help the Government implement a national adaptation plan to mitigate the impacts of and respond to climate change.

Vietnam needs to adjust the Support Program to Respond to Climate Change (SP-RCC) to better suit the current situation, Dr. Michael Parsons, policy adviser of Vietnam's Ministry of Natural Resources and Environment said.