Vietnam's ST25 rice is at risk of having its brand stolen in the US and Australian markets. Losing brands is the heavy price that Vietnamese enterprises will pay for their inappropriate attention to trademark register.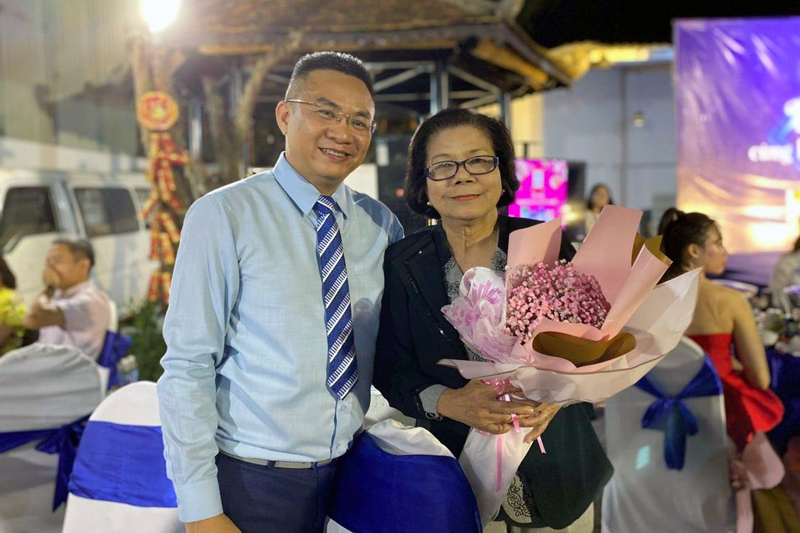 CEO Nguyen Ngoc Luan (left)
CEO Nguyen Ngoc Luan still remembers the days when his coffee brand Meet More almost fell into the hands of an enterprise in South Korea.
In 2018, Luan wanted to export Meet More products to South Korea, but he ran into trouble when registering his brand in the market. South Korean agencies refused to protect Meet Me because the brand had been registered before by another company.
Luan found that it was the distributor of Meet Me products in South Korea which registered the brand. At that time, Luan had to submit documents to prove that Meet Me was a brand of Luan's company, while the registrant had bought products from Vietnam and distributed them in South Korea.
"The South Korean Government then accepted our petition and we had to work with our partner to persuade them to withdraw their intellectual property registration," Luan recalled.
Luan said foreign enterprises are very swift-footed in branding. They immediately register brands for protection once they find the brands are becoming well known in the market.
Luan went on to say that Vietnamese enterprises don't have the necessary factors to compete in the international market. They are reluctant to sell products in the world market because of language barriers and the lack of relations.
In general, Vietnamese businesses are not willing to hire third parties, such as lawyers, when following brand registration procedures. It would better to hire lawyers in the target markets to be sure that the registration process goes smoothly.
Many Vietnam's businesses therefore are at a disadvantage in foreign markets and cannot protect their brandnames.
In 2020, Luan conducted a mini survey. He went to a series of supermarkets in Australia and found that a lot of Vietnamese brands had been stolen.
"Vietnamese pho has been stolen by Chinese, while fish sauce by Thai businesses. Losing brands to foreign hands is no longer a surprise. The inappropriate attention to branding puts Vietnamese businesses at a disadvantage in international trade channels," Luan said.
Which is more costly?
Lawyer Le Quang Vy from the HCM City Bar Association, said the application for IP registration is implemented in accordance with the principle 'first come, first served', while latecomers have to submit documents to prove that the products belong to them.

Losing brands is the heavy price that Vietnamese enterprises will pay for their inappropriate attention to trademark register.
As for brand registration, the laws stipulate that brands are only protected in the territories where owners register. In other words, if brands are registered in Vietnam, they will be protected only in Vietnam. And when products go beyond the territory of one country, they need to be registered for international protection.
Vy said the registration fees are not high. It costs several thousand dollars to register an international brand. Meanwhile, one may have to spend from tens to hundreds of thousands of dollars to have disputes settled if they don't register.
"So, which is more costly – registering the brand or not?"
Sharing the same viewpoint, Luan said the price that businesses have to pay to register their brands will be much lower than the value they can expect to gain in the future.
He said that Vietnam's businesses just focus on product quality, while the brand value brought by commerce and franchise has not received appropriate attention.
"We may not get benefits from brand registration when we just launch products into the market. But when the brands cement their positions in the market, the brands will be extremely valuable," he said. "And then we have the right to exploit the brand value in foreign markets."
In addition to selling Meet Me products, for example, Luan can also earn money from franchising contracts, when someone wants to use the coffee brand.
Regarding the news about Vietnam's ST25 rice, which is at risk of falling into the hands of US companies which have filed for brand registration, Tran Le Hong, deputy head of the National Office of Intellectual Property (NOIP), said that national brands need to be protected.
But Vietnam is lacking agencies in the international market that can help Vietnam's businesses register their trademarks.
"We must not blame businesses. They need to be protected," he said.
"When a Vietnamese brand is stolen, there will be a noisy media campaign about branding and about the risk of losing brands, and that is all," he said.
"This problem occurred with Trung Nguyen coffee and then Phu Quoc fish sauce and pho. But we have made almost no move since then," he said, stressing that it is necessary to pay more attention to this issue.
Regarding the procedure for granting brand registration certificates, Luan made interesting comparisons.
In foreign countries, a brand seeking protection needs consideration which lasts from one week to 10 days. Registrants will be informed about additional documents they need to submit. Brand protection certificates will be granted within six months.
Meanwhile, in Vietnam, it takes businesses two years to obtain the certificates. They don't receive any notice during the two years, and they may be rejected by NOIP. 
Quang Dinh
If certain legal entities in the US successfully register the ST25 rice brand, Ho Quang Cua, the real owner of the brand, will lose ownership and it will be very difficult to claim it back.

Local sources several years ago reported that a large foreign corporation had completed negotiations to buy Sunhouse, a Vietnamese kitchenware brand, at the price of $250 million.