Vietnam has been witnessing a solar and wind power boom for three years, becoming one of the hottest markets in the world.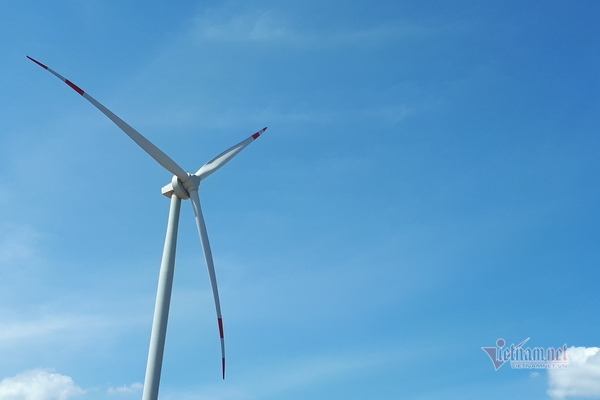 The managers of a large corporation, for example, are busy these days with meetings discussing solutions to speed up the implementation of the VND2 trillion wind power project in Quang Tri province.
They are doing so in order to enjoy the FIT (feed-in-tariff) rate. The preferential prices will be applied to part or entire power plants to be put into commercial operation prior to November 1, 2021 and will be valid for 20 years.
Under the Prime Minister's Decision No 39 dated September 10, 2018, Electricity of Vietnam (EVN) will buy electricity at VND1,927 per kwh, or 8.5 US cents, from onshore wind power projects, and VND2,223 per kwh, or 9.8 cent, from offshore projects.
As such, investors have to gear up with project implementation, because they don't have much more time. But it is not easy to negotiate with the top five equipment suppliers in the world to buy equipment and turbines at this time. The equipment price has increased by 10 percent.
After signing equipment procurement contracts, they have to seek companies to install the equipment, hire transport, and do other things at the same time. They are running at full speed to put their plants into operation prior to November 1, 2021. No one knows what the electricity price will be like after the date.
The number of solar and wind power projects has been increasing rapidly in the last three years, from the north to the south, from Lang Son to Ca Mau Cape, and both onshore and ashore. Large international groups have also been flocking to Vietnam to exploit the potential market. The heat of the market seems to be beyond all expectations and predictions by policy makers.
According to EVN, as of December 31, 2020, the total installation capacity of solar projects had reached 19,400 MWp, including 9,300 MWp of rooftop solar systems, or 16,500 MW, or 25 percent of total installation capacity of the national electricity sources.
The total consumed electricity output from solar power plants in 2020 was 10.6 billion kwh, including 1.16 billion kwh from rooftop solar power systems, which accounted for 4.3 percent of total electricity output mobilized.
Meanwhile, there are fewer operational wind power projects because of difficulties in investment. The total existing onshore wind power output is 500 MW, while thousands of MW of wind power plants are under implementation.
Hundreds of trillions of dong worth of private capital have been poured into solar and wind power.
Risks

The total consumed electricity output from solar power plants in 2020 was 10.6 billion kwh, including 1.16 billion kwh from rooftop solar power systems, which accounted for 4.3 percent of total electricity output mobilized.
Mentioning the renewable energy boom, BloombergNEF commented that Vietnam's story shows that small markets can quickly shift to use clean energy. Six GW of rooftop solar systems was installed in December 2020 and 4.6 GW installed in the last week of 2020 alone.
The figure was three times higher than that predicted by BNEF earlier that year and the new capacity is enough to put Vietnam into the third position among the largest solar power markets in the world.
Does the high number of renewable power projects mean an exploitation of Vietnam? The answers vary.
Investors and environmentalists believe that more renewable power projects are needed as soon as possible.
Meanwhile, some experts have warned of the problems of the overly hot development of renewable power.
In the last months of 2020 and early 2021, many investors complained they had to reduce the capacity provided to the national grid because of electricity excess in some periods (from 10 am to 2 pm, especially on weekends and holidays).
Prior to that, many solar power plants had to cut down the capacity because of transmission line overloading.
As investors could not provide all their electricity output to the national grid, they are at risk of taking a loss and failing to implement their financial plans.
Vietnam cannot use only solar and wind power because of the instability of the power sources. A mass of clouds or a rain would be enough to affect the entire system.
The fact that many investors face the risk of loss is also a problem that policy makers need to pay attention to. It is necessary to develop renewable power at a reasonable level which ensures the benefits of all parties – the state, investors and electricity users.
According to the Ministry of Industry and Trade (MOIT), the total capacity of solar power projects added to the national power development plan has reached 10,000 MW. Of this, 8,000 MW is expected to become operational prior to 2020 and 2,000 MW after 2020.
Besides, investors have registered another 25,000 MW but this has not been added to the development plan, including 12,300 MW to be operational prior to 2020 and 12,900 MW after 2020. 
Luong Bang

Prime Minister Nguyen Xuan Phuc has asked the Ministry of Industry and Trade (MoIT), localities and Vietnam Electricity Group (EVN) to review issues related to Vietnam's solar power development.

Although Vietnam began to develop solar power plants just about three years ago, the initially achieved capacities have been outstanding.