Wind and solar power continues to be prioritized but solutions are needed to ensure the safety of the electricity system when operating volatile sources of energy.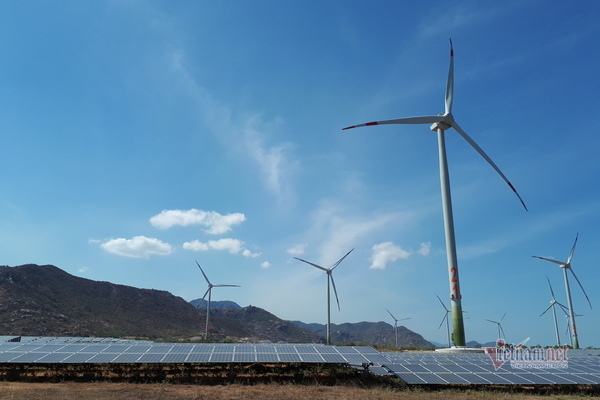 Big changes can be seen in the eighth national power development plan from now to 2030. Under the draft plan, Vietnam will develop wind and solar power on a large scale with wind power capacity three times higher and solar power capacity two times higher than the adjusted seventh plan.
Vietnam will only continue building half-finished coal-fired power plants or projects under investment promotion that can become operational in the 2021-2025 period.
It is expected that the total capacity of power plants would reach 102,000 MW by 2025 and 138,000 MW by 2030.
The Ministry of Investment and Trade (MOIT) plans to increase the onshore wind power capacity to 11,320 MW by 2025 and 16,010 MW by 2030, while the figure is expected to rise to 39,600 by 2045.
The total capacity of offshore wind power capacity would be 3,000-5,000 MW or even higher if there are favorable conditions by 2030, and 21,000 by 2045.
The total electricity output from all types of wind power is estimated to account for 7.9 percent of total output by 2025, 8.1 percent by 2030 and 19.2 percent by 2045.
As for solar power, the ministry plans to develop all types of electricity sources using solar energy, including concentrated sources installed on ground, lake surfaces and scattered sources installed on roofs.
The total capacity of solar power is likely to reach 17,200 MW by 2025, 26,000 MW by 2030 and 55,000 MW by 2045.
The electricity output from solar energy is likely to account for 7.3 percent of total capacity by 2025, 5.3 percent by 2030 and 8.9 percent by 2045.
Concerns
However, the projected high capacity of solar and wind power has raised concerns.
EVN (Electricity of Vietnam) noticed that the draft plan does not mention the solar power outage rate, which is needed to develop electricity generation sources, especially when solar power accounts for a large proportion of total electricity sources.
The outage rate of solar power when there is insufficient sunshine should be considered as the failure rate and should be defined in order to properly program the electricity generation network.
EVN pointed out that under the draft plan, wind and solar power would develop strongly (renewable power, including large-scale hydropower, is expected to account for 53 percent), but these sources of power have a high instability, since they depend on weather conditions.
EVN has also noted the overdevelopment of solar and wind power projects in recent years and the problems related to electricity prices, technical barriers and connection to the national grid.
According to EVN, the draft plan mostly orients the development of renewable energy and LNG-using sources but does not address implementation.

EVN has also noted the overdevelopment of solar and wind power projects in recent years and the problems related to electricity prices, technical barriers and connection to the national grid.
It warned that the proportion of traditional power sources in the draft plan is too low, while the proportion of renewable power sources is high (higher than the target shown in Resolution 55), which will have a big impact on investment and operation of the power system and electricity security.
Therefore, they should determine the proportion of renewable power sources based on supply and additional charges, and the possibility of mobilizing electricity from alternative sources when renewable power sources cannot operate.
Pricing mechanism
The national oil and gas group PetroVietnam noticed that in recent years, the State has policies to support renewable power development and attract investments in clean energy production.
However, the problem is that the renewable power production cost is higher than other power sources, including hydropower, coal-fired thermopower and gas-fired power, which has led to higher than average electricity price at which EVN buys from power plants.
As a result, electricity consumers have to pay more for electricity bills, which affects production costs and people's lives.
PetroVietnam stressed that it is necessary to set a reasonable roadmap for adding renewable power sources to the national electricity development plan.
It also said that the electricity pricing mechanism needs to be designed in a way to avoid sharp fluctuations in electricity retail prices and pressure on the transmission line.
When drafting the eighth plan, MOIT clearly states that renewable power projects approved in the adjusted seventh plan and other power plans would continue.
An energy expert said the ministry continues to name projects in the eighth plan, while the motto for the eighth plan is to build a flexible plan.
When implementing the seventh and adjusted seventh plans, many projects could not be implemented.
"How to deal with the projects which could not be implemented under the eighth plan?" he said.
If EVN plans to set up a transmission network in a certain area where there are some power projects and projects fail to be implemented, the projects must be weeded out of the list. If not, the development of the transmission network in the area will be in vain. 
Luong Bang

Sharing the same fate as solar power, sales of wind power in Vietnam are expected to be difficult because of "severe excess electricity" at some point in time.

Across the first half of 2020, the government approved an additional 91 wind energy projects, onshore and offshore, with a total capacity of over 7GW.