The new coronavirus is estimated to shave 0.81 percentage points off Vietnam's annual GDP growth.
Vietnam will be among economies in Asia where the economic contagion of the China coronavirus will be deeply felt, economists at ANZ have said in a note.
Region takes a hit from nCoV
The spread of coronavirus will have a significantly disruptive effect on economic activity in the Asian region, particularly in China.

"The region's growth could be down by as much as 0.5 percentage points in the first quarter in terms of the direct tourism and trade impact."

ANZ Research estimates Chinese economic growth may take a hit of around 0.9 percentage points in the first quarter of calendar 2020 due to the impact of the virus, dragging headline gross domestic product (GDP) growth to 5% year on year.

This will have repercussions for economic activity across the region, mainly to tourism and trade channels, ANZ Research predicts. The region's growth could be down by as much as 0.5 percentage points in the first quarter in terms of the direct tourism and trade impact.


Tourism
Travel restrictions mean the economic impact from the novel coronavirus on the region's tourism will be larger than in previous episodes.

In 2003 when SARS hit, total Chinese outbound visitors were only 20 million in the year, spending a total of US$15.2 billion on travel services overseas. At the present time, total annual outbound visitors from China number over 170 million, spending almost US$260 billion.

This impact is likely to be felt most in economies which have a larger exposure to tourism and a high percentage of visitors who come from mainland China.

Hong Kong and Thailand will be the most negatively impacted by a drop-off in Chinese visitors due to the virus outbreak.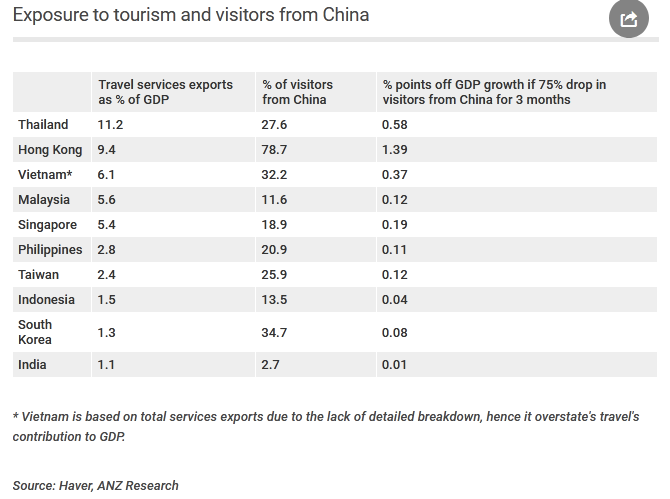 In an extreme scenario, assuming there is a 75% drop in Chinese visitors for three months, it will shave 1.39 percentage points off annual GDP growth for Hong Kong, while Thailand's will retreat by 0.58 percentage points.

The third most hurt economy will be Vietnam where Chinese tourists account for one third of inbound foreign arrivals. In that scenario, Vietnam's GDP growth will be cut off by 0.37 percentage points.  

According to Troy Griffiths, deputy managing director at Savills Vietnam: "As Chinese tourism arrivals accounted for one-third of international visits to Vietnam, it is already apparent that the coronavirus will hit tourism and hospitality the hardest, by the new Chinese travel restrictions and sharp near-term slowdown in Chinese tourist visits, at least over the next three months. The retail sector might also face the harsh condition as nobody would like to leave their house to go to the shopping mall or restaurants".  
Trade channel
China extended its Lunar New Year holidays to February 2 in an attempt to contain the outbreak. However, given internal travel restrictions, many will not be able to return to work for some time.

This will dent industrial production and associated activity due to the prolonged closure of businesses - and in turn result in reduced demand for imports, particularly intermediate inputs.
The drop in economic activity in mainland China will lead to lower import demand across Asia. Taiwan and Vietnam are the two economies most exposed in terms of the potential impact on growth via the trade channel.
Assuming there is a 20% decline in imports from mainland China for three months, Taiwan will be hit the hardest, with a 0.47 percentage points drop in growth. This is followed by Vietnam at 0.44 percentage points. ANZ/Hanoitimes
Minh Anh

Prime Minister Nguyen Xuan Phuc has urged ministries and localities to promptly implement measures to minimise the impact of the novel coronaviru (nCoV) on the economy.

Vietnam last year received some 18 million foreign tourists, including 5.8 million Chinese guests.