Villages across the country have benefited from the country's economic development, however, many do not have measures in place to deal with environmental protection.
List of "cancer villages" with polluted water resources unveiled
Craft village: more well-off households, but more cancer deaths
Authorities ignore cry for help from residents in 'cancer village"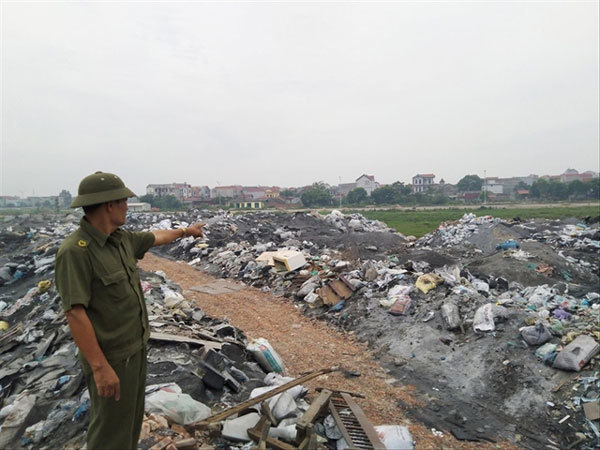 Coal and waste discharged without treatment in Man Xa Village, Van Mon Commune in Bac Ninh Province. — Photo tienphong.vn
The village of Trat Cau in Hanoi, which produces blankets, bed sheets and pillows, is a typical example.
Nguyen Quang Tha, chairman of the Trat Cau Traditional Villages Association, told Tiền Phong (Vanguard) newspaper that over the past 20 years, more and more foreign enterprises have invested in the village.
Now about 30 enterprises from Japan and South Korea are working there.
"The Trat Cau Village is like a big workshop which runs all day, every day," said Tha.
Duong Ngoc Minh, deputy chairman of the Tien Phong Commune People's Committee, said nearly 1,000 households in the village produce blankets with average income of more than VND100 million (US$4,300) per year each.
However, the more it develops, the more residents have to withstand noise and dust. Many are concerned about fires. About one or two workshop blazes are reported in the village each year.
A large amount of agricultural land in the village has been left uncultivated as people are busy operating machines.
Nguyen Huy Bo, head of Trat Cau Village, said the village had more than 1,200sq.m of agricultural land, but local residents produce only one crop per year.
'Cancer village'
Man Xa Village in Van Mon Commune, Yen Phong District in the northern province of Bac Ninh, also developed quickly, however, residents now live in a dangerous environment. Locals work collecting and recycling waste.
Ten people in the village died from cancer in 2015, according to the commune health station. The number rose to 13 and 15 in 2017 and 2018, respectively.
In January 2015, the National Centre for Water Resources Planning and Investigation under the Ministry of Natural Resources and Environment promulgated a list of 37 'cancer villages' and Man Xa was one of them.
Nguyen Van Duy, head of the Man Xa Health Station, told the Tiền Phong (Vanguard) newspaper local residents often suffered from respiratory diseases and disorders affecting the liver and heart.
More than 300 households recycle waste, especially soft drink cans, thus the air is polluted.
The commune health station is about one kilometre from the aluminium processing workshops, and medical workers must clean everything at least twice a day because of the dust.
Man Xa Village kindergarten has been unable to enrol any children for a few years. They must go to neighbouring villages to study.
Ha Dinh Ty, a police officer from the Van Mon Commune Police Station, said every day local residents discharged more than 20 tonnes of coal residue.
Nghiem Xuan Xo, an environmental worker in the commune, said to ease the problem, authorities at different levels should complete the project of the Man Xa trade village industrial zone. The trade village industrial project will cover an area of 26.5ha in Van Mon Commune, and so far the investor has levelled 95 per cent of the area.
The industrial zone will use modern aluminium processing machines to replace traditional stoves using coal.
Xo said it would help limit dust and coal residues, and reduce local residents' concerns about diseases and cancer.
By June last year, the country had more than 5,400 traditional villages with more than 11 million workers, making up about 30 per cent of total rural workers, according to the Ministry of Agriculture and Rural Development.
VNS