The booming aviation sector in Việt Nam needs investment from the private sector to ensure that it has adequate airport infrastructure for continued...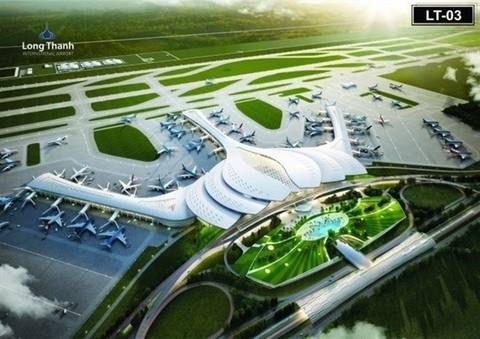 A rendering of the proposed Long Thanh International Airport in the southern province of Dong Nai, which is still in the preparation process, with the first stage set to be completed in 2025. — Photo courtesy of Airports Corporation of Viet Nam
The booming aviation sector in Viet Nam needs investment from the private sector to ensure that it has adequate airport infrastructure for continued expansion, experts have said.
With double-digit growth over the last five years, the sector is under pressure because of the rising number of airlines and aircraft now operating in the market.
The five airlines that operate in Viet Nam are Vietnam Airlines, VietJet Air, Jetstar Pacific Airlines, Vasco and Bamboo Airways. However, Viet Nam will need about 10 airlines in the near future to meet demand, according to economists.
Another airline, Vietstar Airlines, recently received approval from the Civil Aviation Authority of Viet Nam (CAAV) for an air operator's certificate (AOC.
CAAV has also confirmed AOC applications submitted by Vinpearl Air and Vietravel Airlines.
Vinpearl Air said it expected to have a fleet of six aircraft by July and 30 more by 2025 for both domestic and international routes.
Meanwhile, Vietravel Airlines said it hoped to commence operations this year with three aircraft and five more by 2025.
Quang Nam Province's Department of Planning and Investment has also filed an application for its local airline KiteAir.
The busiest domestic route is the HCM City – Ha Noi busy route, which is operated by Viet Nam Airlines, Jetstar Pacific and VietJet Air. It accounts for 22.7 per cent of air ticket sales in the country last year, according to CAAC.
Flights connecting the country's two major economic hubs have reached over 90 per cent of seat capacity. As a result, terminals and runways at the two airports have operated over capacity for years.
Legal issues and complex aviation regulations have also slowed down much-needed repair work. In addition, new airlines have had to find bases elsewhere instead of Noi Bai or Tan Son Nhat.
Bamboo Airways is reportedly basing its operations at Phu Cat Airport in Binh Dinh Province, while KiteAir will be at Chu Lai Airport in Quang Nam Province, and Vietravel Airlines at Phu Bai Airport in Hue City.
Airlines are also facing more scrutiny because of their desire to add more aircraft to their fleets.
CAAV reportedly turned down Bamboo Airways' request to add 30 more aircraft in April, citing an inadequate number of air traffic controllers to safely monitor flights. It also reduced Vinpearl Air's plan to add 36 aircraft by 2025 to 30 planes.
Because of the crowded market, airlines are competing by offering quality services and international routes.
CAAV estimates that by 2030 there will be 600 aircraft operating in Viet Nam, three times the country's current number.
In addition to the foreseeable rise in air operators and aircraft, highly skilled human resources are also expected to be in high demand. To fill positions, airlines are also poaching technicians and pilots from their competitors.
Overloaded airports
According to CAAV, local airlines last year served nearly 50 million passengers, up by 10 per cent over 2017, and 400,000 tonnes of cargo, up by 27.2 per cent. As of June, Vietnamese airline fleet totalled 197 aircraft, up by 30 compared to 2018.
Vietnam Airlines operated 95 aircraft and employed 1,135 pilots, of which 860 are Vietnamese. Vietjet Air, Jetstar Pacific and Bamboo Airways operate 65, 15 and 6 aircraft, respectively.
Vietjet Air now uses 60 airplanes and has ordered about 100 aircraft a year in the last two years.
The air transport market includes 63 foreign airlines from 25 countries and territories, which provide routine flights to and from Viet Nam.
Air carriers have plans to expand their fleets, but aviation infrastructure has not kept up with the expansion rate.
Also, the presence of new airlines is expected to put pressure on airport infrastructure. Seven out of 22 airports are now overloaded, according to CAAV.
The issue is most serious at Tan Son Nhat airport in HCM City where 38.5 million arrivals were welcomed last year, far higher than its annual design capacity of 28 million.
The airport faces long queues for aircraft to take off. Every day, it receives some 700 flights, with the figure reaching over 900 on peak days.
A third passenger terminal was initially expected to open in the second quarter of 2022, but is expected to run behind schedule because of administrative procedures.
In addition, the development of the Long Thanh International Airport in the southern province of Dong Nai is still in the preparation process, with the first stage set to be completed in 2025.
Airports also face a shortage of slots for flights. CAAV, in its report to the Ministry of Trade, says there is a dramatic shortfall in its slot allocation plan for flights in the 2019-20 period.
During this period, Vietnam Airlines wants an additional 140 flight slots a day, while Vietjet, Jetstar Pacific, and Bamboo Airways want 180, 100, and 26, respectively.
Private investment
Economist Vo Tri Thanh said the private sector should be encouraged to invest in the sector to ensure a competitive market, while Dr Tran Du Lich, member of the Prime Minister's Economic Advisory Group, said that state management agencies must be responsible for administrative problems.
"There should be no excuse for a lack of infrastructure that would limit the operation of new airlines," he noted.
Dr Tran Dinh Thien, former head of the Viet Nam Economics Institute, said that development of the aviation sector must be based on market demand, especially if Viet Nam wants to take advantage of tourism.
"For years, aviation development has depended too much on state investment. The example of Van Don airport shows that the private sector can do a good job if supported by the Government. The State needs to have incentives to encourage the private sector to join the game," he said.
Last year, Viet Nam had 22 airports, including 10 international and 12 domestic ones, serving more than 103 million passengers, up 11 per cent year-on-year. The figure is set to rise to 112 million this year, according to Airports Corporation of Viet Nam.
Of the figure, only three met requirements to become national and international gateway airports: Noi Bai in Ha Noi, Tan Son Nhat in HCM City and Da Nang International Airport in Da Nang City.
The number of visitors travelling by air is estimated to grow 17.4 per cent in the 2016-2021 period, the fastest in Southeast Asia, where average growth is estimated at 6 per cent, according to the World Bank.
Under a Government decision last year, Viet Nam will increase the number of airports to 28, including 15 domestic and 13 international airports in the near future.
The country's targeted fourth position in ASEAN in terms of transport output will be far from a possibility unless infrastructure is expanded, according to experts. — VNS

Thien Minh Group has announced that its Kite Air will launch in the first quarter of 2020 with six aircraft and investment capital of VND5.5 trillion.
Investors are queuing up to enter the aviation market with trillions dong worth of capital, which is expected to remap the market.