Many celebrities with no community responsibility behave inappropriately, using undisciplined speech, regardless of the consequences.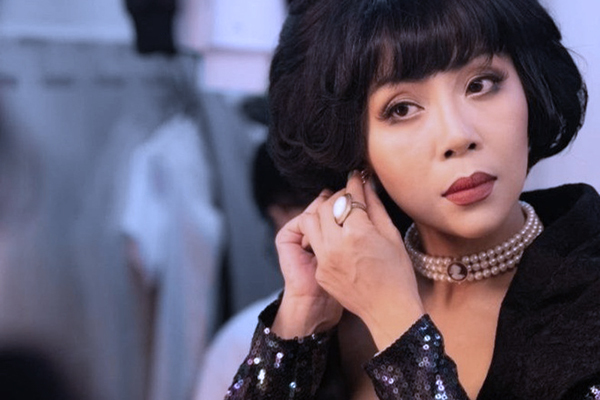 MC Trac Thuy Mieu
The Authority of Broadcasting and Electronic Information under the Ministry of Information and Communications (MIC) has transferred the case of MC Trac Thuy Mieu (real name Vu Hoai Phuong) to the HCM City Department of Information and Communication for handling.
This has become a hot topic of discussion these days.
Trac Thuy Mieu was found posting an article that provoked the public and aroused conflict against a group of cadres, lecturers and students from Hai Duong province who came to HCM City to help fight the severe pandemic outbreak.
The MC criticized them in a condescending tone, which raised a strong backlash from the community.
Expressing views with invective
Trac Thuy Mieu is well known as a celebrity who makes shocking statements. In 2019, the MC hatshly criticized a business for a photo of its alleged product.
Later, newspapers proved that this was just a photo which had existed on the internet for many years and the appropriate agencies confirmed that there was no such product in the locality. However, she did not take any move to correct the information or apologize for disseminating false information.
In March 2021, Trac Thuy Mieu raised controversy with an article titled 'De yen cho toi lam dan ba' (Leave me alone to be a woman) with a lot of 'famous' statements: What do women do if they refuse to do housework? The kitchen is a woman's special favor.
The number of celebrities' shocking statements coming from social networks is even mire than in the press. Celebrities use social networks because of personal inclination. They post articles on social networks to express their viewpoints. However, many celebrities don't use standard language when doing this.
Pop singer Dam Vinh Hung once forewarned anti fans, stating that he was 'forbidden land', and posted a reward for those who 'educate' an abusive father in Tien Giang. Meanwhile, Cat Phuong, an actress, threatened a famous gymnast.
The livestreams by Le Duong Bao Lam are all casual and some of them use vulgar language. Meanwhile, Trang Tran is well known for livestreams with profanity.
The verbal battles among celebrities have caused the audience to be overloaded with uncultured words. A lot of celebrities got in trouble saying silly things, like Hiep Ga, a comedian, Ngoc Trinh, an underwear model, artist Duc Hai and singer Van Mai Huong.
Artists refuse community responsibility
The statements of celebrities have certain impact on society, so they must take responsibility before the society. Responsibility to the community is a written or unwritten rule, depending on country and region. However, in general, influential people must not make arbitrary speech.
In countries with a developed showbiz industry, artists use social networks with the intervention of management companies. Vietnam's showbiz industry has just begun developing in a professional way. The celebrities who speak in a self-indulgent and arbitrary way on social networks are mostly those belonging to the previous generation, when the market was in the infant development stage, and those who exploit showbiz for their personal purposes.
There is a group of individuals who live comfortably thanks to the benefits given to artists, but do not claim they have community responsibility.
Trang Tran, Trac Thuy Mieu, Thu Hoai, Duy Manh and Le Duong Bao Lam are more or less making money from their connection with showbiz. They deny the fact that they are artists, but they have relation with the artist world and make profits from this.
The paradox is that they get benefits from showbiz, but they make irresponsible statements, reasoning that they are not artists.
Celebrities need to be aware that social networks are a type of social media. That is, social network accounts are where the public come to see them, and any move they make on social networks is automatically understood as orienting towards the crowd.
Understanding the true nature of social networks, celebrities will not naively say: "Facebook is my private place." The network is no longer virtual, and posting articles can be exchanged for administrative sanctions and reputational damage in the eyes of the audience. 
My Le

The 23 pm news program on VTV1 recently mentioned a serious problem in Vietnam's showbiz – the nicknames given to or promoted by artists.

No one has the right to infringe upon the body, life, honor and dignity of other people, for any reason, said Truong Quoc Anh, officer of the People's Procuracy and a social network user.

The Ministry of Information and Communications has proposed that only licensed social networking sites and accounts should be allowed to livestream to generate revenue.