The Vietnamese retail market would hardly attract more European retail groups in the mass segment due to the harsh competition.
Large Western retailers namely Metro, BigC, Auchan have left Vietnam due to inappropriate business strategy, fierce competition with local and regional peers and the rapid growth of e-commerce, Ho Chi Minh City Law newspaper reported.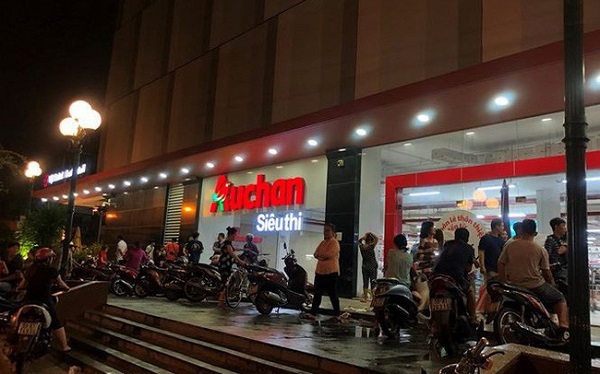 French Auchan Retail sold its loss-making business in Vietnam after five years of operation.
The withdrawal of France's Auchan
Auchan Retail CEO Edgar Bonte announced that the group had decided to sell its 18 supermarkets in Vietnam after five years of operation due to tough competition.
Last year, the business in Vietnam generated only EUR45 million (US$50.4 million) and extended its loss streak.
Auchan Vietnam's Director of Communications Vu Thi Kim Nuong elaborated that the group was in the negotiating process with other retailers to transfer the stores.
Entering Vietnam's market in 2015, Auchan, unlike other retailers, chose to cooperate with major domestic real estate developers to have its stores located right in the developers' apartment buildings.
The group ambitiously planned to pour US$500 million to expand its network to 300 supermarkets and stores in Vietnam, however, only 18 of those opened in Hanoi, Ho Chi Minh City, and Tay Ninh.
In particular, the French major retailer repeatedly changed its brand identity from S.Mart to Simply and then Auchan, seeking for more opportunities but the revenue stayed still, it even fell into a loss and the retailer ended selling its business.
Prior to the withdrawal, another French retailer Casino Group sold Big C Vietnam to Thailand conglomerate Central Group, which is controlled by Thai billionaire Chirathivat's family for US$1.05 billion including debt.
Furthermore, TCC Group from Thailand decided to purchase all of the German Metro Group's wholesale facilities, including all commercial centers and real estate worth EUR655 million (US$731 million).
Before the transfer, Metro had 19 commercial centers in 14 provinces and cities, five transit warehouses and about 3,600 employees.
The group bid farewell to Vietnam after years of unprofitable business, as a result, the Metro brand was absent from the domestic market after being sold to the Thai group.
Goodbye to the favorable market
Many reasons can be listed why foreign retailers withdrew from Vietnam. Improper locations of Auchan's stores in the department buildings that hindered the brand recognition, according to retail expert Dao Duy Khuong.
In addition, Auchan was purely supermarkets for consuming but not social interacting or entertaining and fell short of solutions to attract more customers.
Another expert pointed out that Auchan entered Vietnam when the supermarket segment was nearly shaped.
The brand was overshadowed by the strong waves of Lotte from South Korea or Aeon form Japan, among others, which have conquered across the Asian market.
New fierce competitors
The experts shared a common view that in the coming time, the domestic retail market would hardly attract more European retail groups in the mass segment due to the harsh competition.
In the segment of shopping mall, the nearby Thailand and South Korea can see more opportunities for accessibility than those far-off countries including Germany and France.
However, in the segment of luxury stores, foreign brands from the West and the US still take the upper hand.
"The domestic retail market in the segment will develop with specific retail chains such as interior products chain or vehicle parts chain, among others", said brand expert Vo Van Quang.
For his part, Dao Duy Khuong forecast that the retail market would see a surge of average-scale stores like convenience store.
The model of retail stores of around 100 to 200 square meters serving as convenience stores and selling essential goods as well as fresh ingredients will flourish.
On the other hand, stores in any models have to join in the fierce competition with e-commerce, which has thrived recently.
Therefore, existing stores and supermarkets have been told to innovate constantly to meet the demand of Vietnamese consumers and the combined model of consuming, entertaining and relaxing will take the upper hand. Hanoitimes
Ha An