The sun was burning hot on the afternoon in early April. Young men and women in khaki uniforms and broad-brimmed hats, with tools and metal detectors in hands, were seen working diligently on the barren land.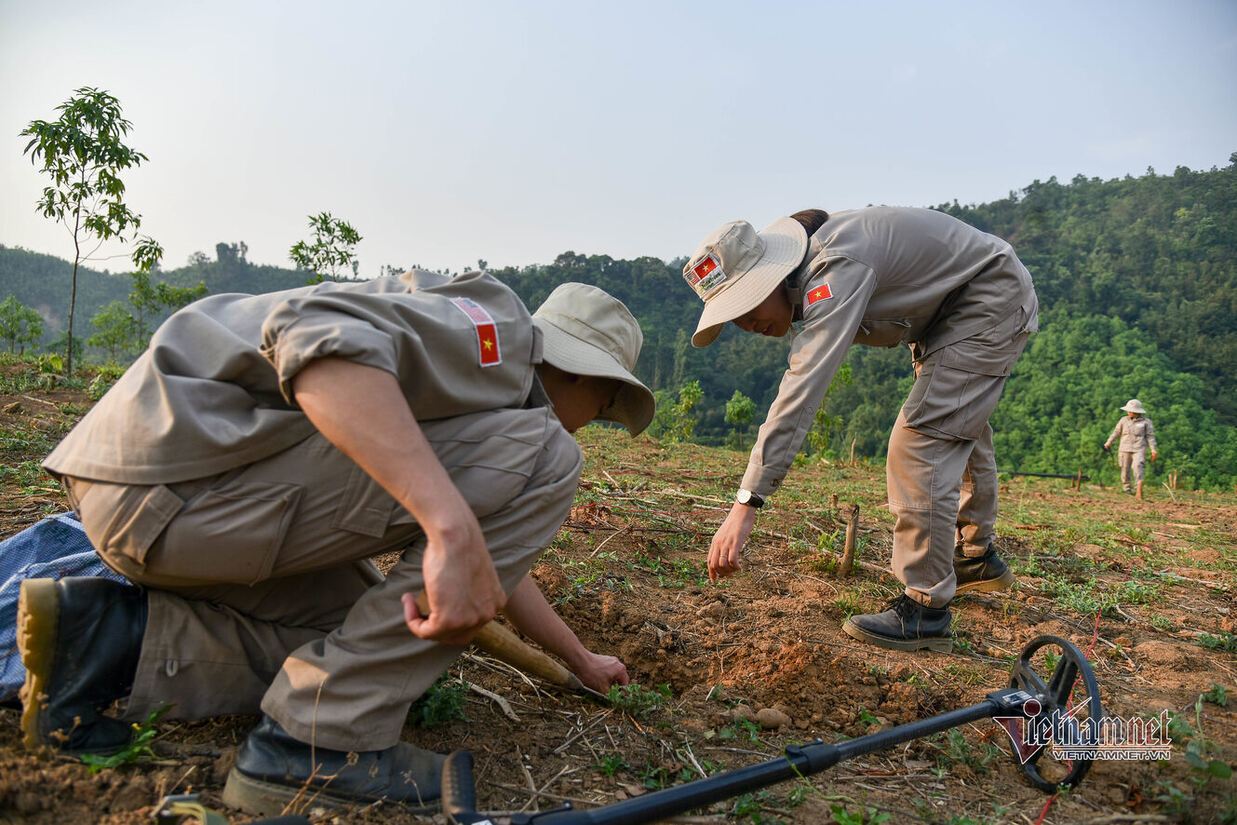 'Hunting for death' is the phrase used to describe the work of the mine clearance team. Members of the team have to be in contact with countless bombs and explosives left in the war. Just a minor mistake or carelessness would cost them their lives.
Nguyen Thi Le Khuyen is the supervisor of SEDP, the team belonging to the demining project on the occasion of the 25th anniversary of Vietnam-US relations. The team was established on October 1, 2020 with funding from the US State Department.
Khuyen has worked in mine clearance for three years. Holding a mine detector, she slowly and carefully scans the ground of the mine clearance project site in Huong Lap commune in Huong Hoa district in Quang Tri province.
Khuyen's team includes 17 members, and the youngest was born in 1994.
Since its establishment, the team has completed the clearance and handling of explosives on 19 roads, one nursery school, and public community houses and resettlement areas, covering a total area of 30 hectares.
They have found 50 removable explosives and two explosives that had to be destroyed on the spot.
"For unmovable explosives, we have to destroy them on site. Before doing this, we have to inform the local authorities, frontier posts and appropriate agencies. The explosive materials should not cause danger during transport. They will be carried to a warehouse for concentrated destruction, nearly 20 kilometers from the clearance site," Khue said.
She once hesitated to register to participate in the project because the clearance site is 120 kilometers far from her home.
Since 2018, when she began the job, she has been working far from home, just returning each Friday. In 2020, she became deputy head of the team and after obtaining an IMAS 3 certificate, she became SEDP supervisor.
Turning dead land into clean, green land
Every day, Quyen and her teammates work quietly. Every time a detector sounds when it encounters metal, the team feels both joy and worry.
If a metal object is detected, a team member quickly marks the place with a flag. Next, another person uses a hand detector to examine the place, and gently digs in the soil. Strictly following a technical procedure, they step by step uncover soil layers until they find bombs, mines or explosives.
The members of the team are mostly locals. They have been trained well by foreign specialists, and they continuously upgrade their skills.
They once faced difficulties when they began taking the job, but gradually became more experienced and courageous.
"The biggest achievement I gain is seeing people working on demined land. They no longer have fears, because they now can work on clean and green land," Khuyen said, adding that sometimes people ask her team for treatment.
"It is very difficult for local people to get to school as they are far from their homes. But when land becomes clean, schools are built near their homes," Khuyen said.

Neutralizing bombs and mines in border areas is a difficult task, not only because of the mountainous terrain full of obstacles and difficult access, but also because of the minefields' density, with many different types of mines that can explode with just one step.
Neutralizing bombs and mines in border areas is a difficult task, not only because of the mountainous terrain full of obstacles and difficult access, but also because of the minefields' density, with many different types of mines that can explode with just one step.
At first, Khuyen thought she would not be able to do the job for a long time because she has to live far from her family and kids, and has to work in difficult conditions.
But all of the members of the team have become used to the hot and dry westerly wind from Laos and the cold winter.
"I no longer feel my blood curdling when seeing bombs and mines. I don't panic when seeing explosives. I just think about the possible methods to deal with the explosives. I became strong like this after attending training courses," Khue said.
Khue's son is entering the first grade after summer. The boy is at nursery school all day and expects a phone call from his mother in the evening. They talk about their daily work. When she returns home on the weekend, she studies with her son and talks to him about the job she is doing.
No danger of war in peacetime
She told reporters that as a child she had witnessed tragic accidents caused by the bombs and mines left during the war.
"The war has elapsed for a long time, but people in my homeland are still facing the dangers of war. This is why I decided to take this job," she said.
Of all provinces, Quang Tri has suffered the most heavily from bombs, mines and explosives left from the war. Since 1975, nearly 3,500 people have died and 5,000 people have been injured in the province.
Quang Tri is striving to become the first province in Vietnam to have no bomb and mine-causing accidents by 2025.
In recent years, mines have been detected in more than 600 villages and 21 million square meters of land have been cleared. As many as 900,000 people have received direct support. 
Thai An - Duc Yen - Bach Han

After finding unexploded bombs when he was digging the foundations of his new house last month, Ta Thanh Dat knew what he had to do.

A 227-kg bomb left from the war time was safely defused in a residential in Bo Trach district, the central province of Quang Binh, the province's military command said on March 2.