With his health and job in good condition, a young lecturer at the HCM City University of Forestry and Agriculture with a doctorate registered to donate his organs after death to convey the message that 'giving is forever existing'.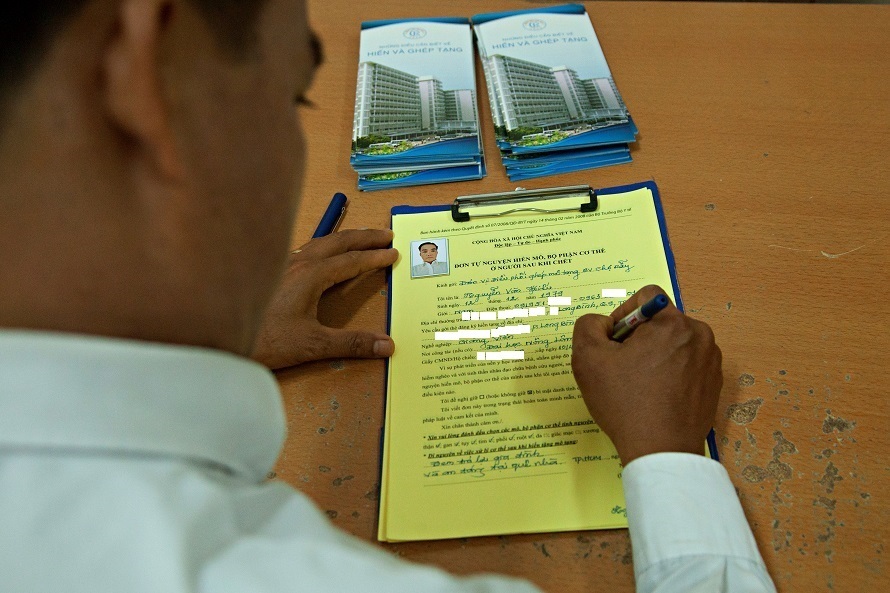 Hieu registers for organ donation
Dr Nguyen Van Hieu, 42, said his poor childhood turned him into a humble man who is always willing to help other people.
At university, when Hieu was 'a poor student', he was beloved by people because he saved people involved in traffic accidents many times.
"I don't know why I often accidentally saw road traffic crashes. I then brought them to hospitals," he said.
"I learned that the time from the moment when people have accidents to the time of hospitalization is the 'golden time' for victims," he said. "When discovering accidents, I always try to bring them to hospital as soon as possible."
The 'strange fate' of meeting and saving people in accidents brought the young doctor problems. In many cases, victims' relatives thought he was the person who caused the accident and was cursed for this.
However, he continued to bring people to hospital. "If they die, the pain will strike their relatives. Those who are still alive will bear pain throughout their lives. I always try my best to prevent the pain from happening," he said.
In many cases, though people are brought to hospital immediately, they still cannot last because of the shortage of organs for transplants.
One day, he began thinking of donating organs after an accident.
"I had an accident. When I recovered my consciousness and saw the image of myself, I was astonished. I realized that death can come unexpectedly. And I began thinking about what I would leave behind if I unexpectedly died at this age," he said.
Donating organs

"If they die, the pain will strike their relatives. Those who are still alive will bear pain throughout their lives. I always try my best to prevent the pain from happening,"

Dang Van Hieu
Thinking about organ donation, Hieu searched for articles and research on the field. One day, he read a document which said that human life span could be 120-140 years. But people die earlier because some of parts in their body are damaged.
Some people die because their hearts, liver or kidney are damaged, while other organs could have worked for many more years. It would be a waste not to use the other organs that are still in good condition,he thought.
"Why don't I offer my organs to other people if I die? So I decided to register for organ donation," he said.
Only after completing the procedures for organ donation registration did Hieu tell his relatives. He did not inform them earlier because he did not want any interference from his family.
"I believe that my family and friends will understand the significance of my decision. I hope that society has a positive view about organ donation. People still think that dead people must be kept intact," he said.
"The intellectual class needs to lead and change this view. That is why celebrities such as Quyen Linh, Viet Trinh and My Linh have registered to donate organs," he said.
He said he is happy as he not only has taken a significant action but has helped spread the message of donating organs to save people's lives.
"It would be great if you, after turning into ash and dust, still can leave something and save other people," he said. "Giving is existing forever."
In 2020, Vietnamese doctors conducted a series of special transplants, including two bowel transplants from live donors, which require very high organ transplantation techniques.
There are 19 organ transplant centres in Vietnam, including the Military Central Hospital 108, Military Hospital 103 and the Vietnam-Germany Friendship Hospital which has conducted 1,000 kidney transplants so far. 
Nguyen Son

The Hanoi-based 108 Military Central Hospital has performed a multiple organ transplantation with organs taken from a brain dead donor, saving the lives of six different patients.

For the first time in its history, doctors at Viet Duc Hospital in Hanoi successfully carried out 23 organ transplants within 13 days.