The trio – Vo Anh Khoa, Tran Van Nhat and Truong Van Binh – who were studying at the college's ship engineering faculty, came up with the idea to help workers deal with pollution.
Automatic garbage collecting machine invented by fifth grader
Waste separation demands so much more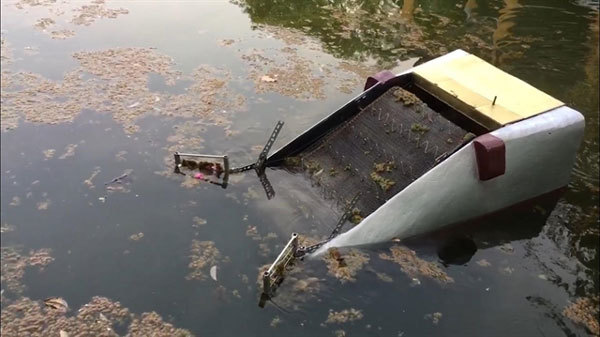 The trash collector in a test operation in a lake in Da Nang. Photo courtesy of Vo Anh Khoa
"We could see rubbish piling up on beaches and channels after storms or heavy rains, and workers spent a lot of time to clean the beach after that," Khoa said. "Our group applied our experience and technological knowledge from ship mechanical engineering to design a trash grabber from available cheap materials."
"The machine was made on the base of a battery-powered mobile tank and hybrid water jet for operation both on the beach and at sea," he said. "Long and wide arms were designed to grab as much rubbish as possible."
Khoa, who is head of the group, said the machine could move at 12km per hour and work non-stop for 10 hours, collecting as much rubbish as 12 workers can pick up in a day.
He said the machine, which was in testing, would be finalised soon ahead of mass production.
Khoa said the team also received help with the work from friends including Le Thanh Trai and Vo Van Khoa.
Nhat, 23, said the machine was produced from composite and stainless steel to ensure it is durable enough for prolonged work in any condition.
He said environmentally friendly electric motors were selected for the trash grabber along with wireless controls.
"We needed support from other students in information technology, electronics, control and automation to supplement our basic ship engineering skills during research and design," Nhat said.
Nhat, born in Da Nang, said the group raised their own money for a six-month stint at a mechanical workshop and laboratory to develop the machine.
Binh, from Quang Binh, recalled that the machine moved strongly on land with a tank chain and sailed smoothly with a water jet.
"A trash tank with two cubic metres of capacity was designed on the rear, while 1.5-metre rubbish arms help collect large solid waste," Binh said. "Rubbish can be roughly processed or pressed into a smaller size before being unloaded."
"Our group received strong support from the college and guidance from lecturers," he said. "We estimated that a real machine can be produced at a cost between VND250 million and VND300 million (from US$10,000 to $13,000) – a third as much as an imported trash collector," he said.
Binh said the group intentionally produced a portable and easy-to-operate machine for mass use in the future.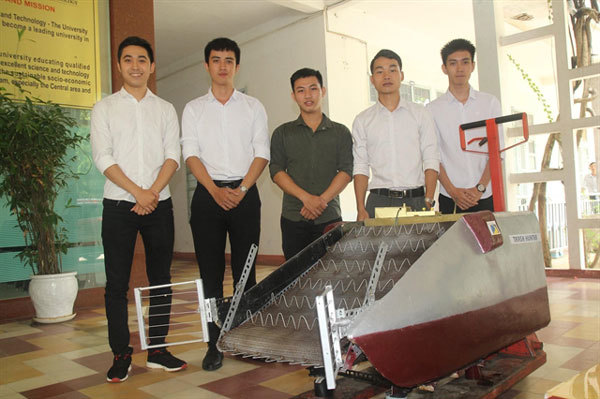 The students from Da Nang Technology and Science College pose for a photo with their trash collector, the nation's first amphibious machine to collect rubbish both on land and in the water. Photo courtesy of Vo Anh Khoa
"Sanitation workers can operate the machine as they work to be more productive," he said. "Trash can be collected faster and easier with the machine, even in hazardous polluted areas."
Lecturer Pham Truong Thi, who advised the group, said the idea and plan was a good one and it could have a big positive impact.
"I could highly appreciate the idea and research of the group in building the machine with local materials. It's a practical plan for cheaper mass production," Thi said.
"The introduction of the trash grabber is in line with Da Nang's master plan to transform into an eco-city in the future," he said.
Thi said he hoped the group would be able to finalise the model for production en masse and provide the machine to the market.
He said the prototype machine had successfully collected various types of organic and solid waste as well as plastic bags.
Team leader Khoa said employing the trash collectors overnight could provide clean beaches for tourists each day. The team has also called for further co-operation and fundraising from international NGOs and research teams.
Da Nang, with a population of a million people, releases 900 tonnes rubbish each day, 10 per cent of which is plastic waste. It still lacks effective technological solutions to sort waste.
VNS