David Stilwell, Assistant Secretary of State for the Bureau of East Asian and Pacific Affairs, cited Chinese "repeated illegal actions and militarisation" in the East Sea while he testified at the US Senate Foreign Relations Committee.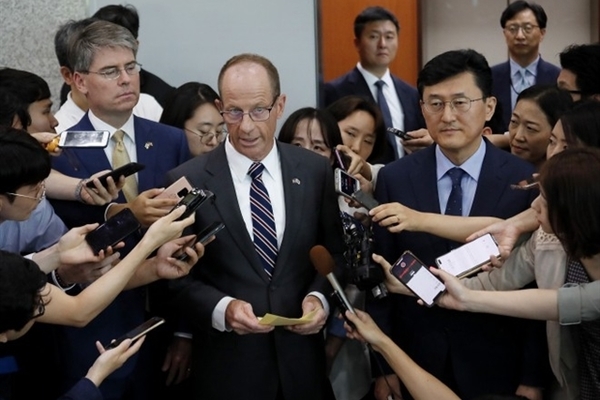 David Stilwell speaks to press on September 17.
The committee hearing on Wednesday (local time) was chaired by Republican Senator James Risch and Democratic Senator Bob Menedez.
Stilwell said since early July, Chinese vessels have conducted maritime surveys near Vanguard Bank with armed Coast Guard escorts and maritime militia in order to intimidate Viet Nam and other ASEAN states away from developing oil and gas resources in the East Sea (internationally known as the South China Sea).
"Through repeated illegal actions and militarisation of disputed features, Beijing has and continues to take action to prevent ASEAN members from accessing over $2.5 trillion in recoverable energy reserves," he said.
Democratic Senator Bob Menedez said China's aggressive maritime activities in the East Sea and ongoing building of infrastructure could easily be turned to military use.
Stilwell also cited Beijing's use of market-distorting economic inducements and penalties, influencing operations, and intimidation to persuade other states to heed its political and security agenda.
The top US diplomat for East Asia said some are "actively seeking to challenge" the free and open order in the Indo-Pacific region.
He added: "Beijing's pursuit of a repressive alternative vision for the Indo-Pacific seeks to reorder the region in its favour and has put China in a position of strategic competition with all who seek to preserve a free and open order of sovereign, diverse nations.
"We are committed to working with any country that plays by the rules, but we will also stand up to any country that uses predatory practices to undermine them."
Talking about US's vision in the Indo-Pacific region, Stillwell emphasised the region's central global importance and central role in American foreign policy, as underscored by the President's National Security Strategy.
US vision for a free and open Indo-Pacific is "built on common principles that have benefitted all countries in the region, including respect for the sovereignty and independence of all nations, regardless of their size," he said. — VNS