A complex of temples and tombs dedicated to Do Cong Tuong and his wife in Dong Thap Province was recognized as a national relic site of Vietnam in early July.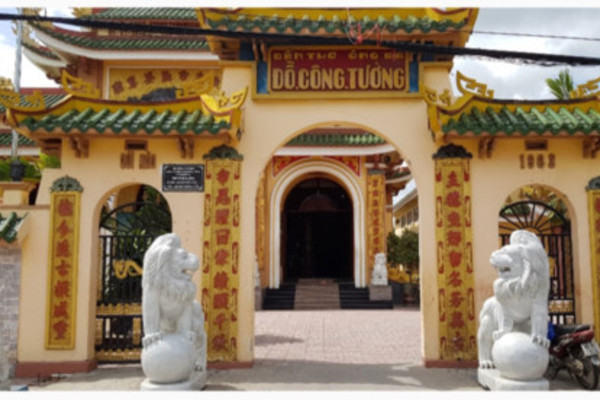 The three-door entrance gate of Do Cong Tuong temple (Photo: Ngoc Anh/VOV)
Located at No. 64, Le Loi street, Cao Lanh city, the complex embraces both artistic and spiritual values.
Do Cong Tuong moved from the central region to settle in My Tra village in 1817 in the reign of King Gia Long. Tuong cleared land, planted fruit trees, and soon became wealthy from his large mandarin garden.
Realizing that the area's rivers and roads would support the trade of fruit and agricultural products, Tuong invited many people to the area and set up the Cao Lanh market.
Known for his upright manner and profound knowledge, Tuong was tasked with settling disputes between his neighbors. He worked to develop the Cao Lanh economy.
In 1820, when a cholera epidemic broke out, Tuong and his wife sacrificed themselves to save others.
Le Van Ninh, who lives in Le Loi street, said, "Back then many people were dying of cholera. Tuong and his wife set up an altar and prayed for themselves to be taken instead of the others. They soon contracted cholera and died, and abruptly the epidemic ended. This year we mark their 199th birth anniversary."
The grand complex of temples and tombs dedicated to couple Tuong features tile roofs, elaborate carvings, and architecture typical of the Nguyen dynasty and the temples of Vietnam's southern region.
Title conferment documents, horizontal lacquered boards engraved with Chinese characters, and parallel sentences hung on pillars to honor the enormous contributions of Tuong and his wife are heritage treasures of Dong Thap province.
A three-door entrance gate leads visitors to a large front yard where august statues chase away evil spirits. The altars are decorated with horizontal boards and detailed engravings of the four sacred animals and the four seasons in red lacquer trimmed with gold.
The altar to worship Tuong and his wife is carved with the four sacred animals (dragon, unicorn, tortoise, and phoenix), two dragons fighting for a pearl, and other details.
Ly Van Teo of the management board of the Do Cong Tuong complex said, "There are three worshipping chambers: one for the deities, one for the ancestors, and one for Tuong and his wife. Their death anniversary falls on the 10th day of the 6th lunar month. We hold a palanquin procession around the city on the 8th day. Worshipping rituals take place on the evening of the 8th and 9th day."
"The 10th day is a day for cock fighting, lion dances, and 'don ca tai tu' - southern amateur music. The commemoration attracts about 100,000 people from nearby localities," he added.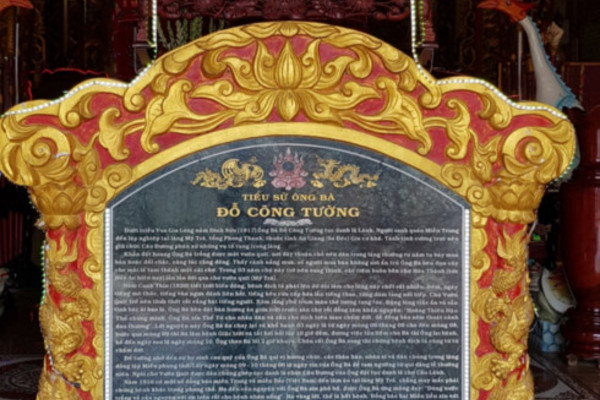 A stele tells about biography of Do Cong Tuong and his wife, and their contributions to Cao Lanh city, Dong Thap province. (Photo: Ngoc Anh/VOV) 

The Do Cong Tuong temple festival and the death anniversary of Tuong and his wife represent Vietnam's tradition "when drinking water, remember the source". They are important spiritual practices of Cao Lanh's residents.
Phan Ngoc Ho, who lives next to the temple complex, said, "The Do Cong Tuong temple is one of several famous destinations in Cao Lanh city. It has been designated a national relic site. Tuong and his wife won respect by reclaiming land and boosting agriculture. We hold a large annual festival to pay them tribute. As a local resident, I want to contribute my efforts to a more prosperous Cao Lanh city."
More photos of the temple:
VietNamNet/VOV5