Minister of Agriculture and Rural Development Nguyen Xuan Cuong started the first Q&A session of the National Assembly on Wednesday.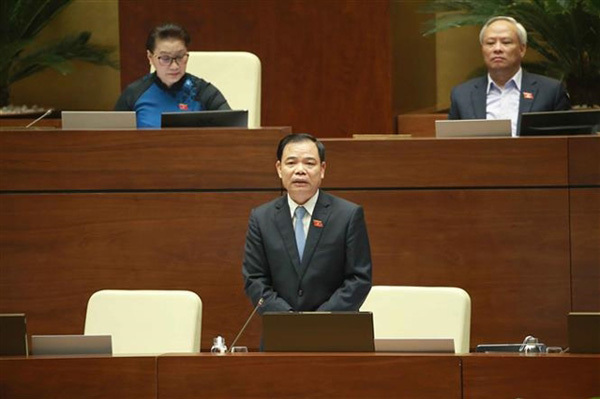 Minister of Agriculture and Rural Development Nguyen Xuan Cuong during his Q&A session at the National Assembly in Hanoi this morning. — VNA/VNS Photo Doan Tan
In the morning session, the minister received 66 questions on the progress of new-style rural area development, agricultural production, solutions to African swine flu outbreak, and others.
Answering questions on solutions to attract businesses to invest in agriculture production and rural development by deputy Pham Thu Trang from Quang Ngai Province, the minister said co-operation between businesses and farmers plays a very important role in large-scale production.
"For the last three years, the number of enterprises who invested into agricultural production had tripled, from 3,000 to over 11,000 across the country in all fields from producing to processing and consumption," Cuong told the NA.
"Notably, many large-scale businesses were attracted to increase the values of agricultural production", the minister said.
However, the number of businesses investing into the field was still lagging behind expectations, he admitted.
So, the ministry will develop measures to improve the situation in the future, Cuong said.
Deputy Nguyen Ngoc Phuong from the central province of Quang Binh asked about the impacts of climate change on rural development progress.
The minister affirmed that for the last ten years, the new rural development programme had gained some progress but in fact, it did not meet the requirements of creating an environment for large-scale and co-operative production, production re-structuring and advanced technological application.
The issues would be further reviewed in order to arrive at resolutions.
Referring to the impacts of climate change, Cuong said that Vietnam was one of the countries most vulnerable to the global phenomenon.
"In the past 3 years, mountainous regions were heavily impacted by flash floods and landslides," he said.
Thus, sustainable investment to respond to climate change is a priority.
The minister said that the country had focused on restructuring the agricultural sector. In general, Vietnam's agricultural economy had been developing on the right track.
"With only total cultivation area of 10 million hectares, the country had produced 4.5 million tonnes of food, 5.5 million tonnes of meat and 8 million tonnes of fish," he said.
However, the biggest shortcoming of the sector was processing and consumption.
"If this is not fixed, the problem of 'bumper crops but low prices' would repeat themselves again and again," he said.
Pepper was an example. In recent years, in the Tay Nguyen (Central Highlands) provinces, the crop had been overproduced.
Vietnam produced 350,000 tonnes of pepper every year, accounting for 60 per cent of the world's output.
"That was too much," Cuong said, adding that therefore, in the future, it was necessary to find solutions to re-organise production in terms of production chains and enhancement of processing and consumption.VNS