Vietnamese Ambassador to Malaysia Le Quy Quynh on February 27 affirmed Vietnam's resolve to fulfill its role as Chair of ASEAN in 2020, contributing to building a cohesive and responsive ASEAN Community.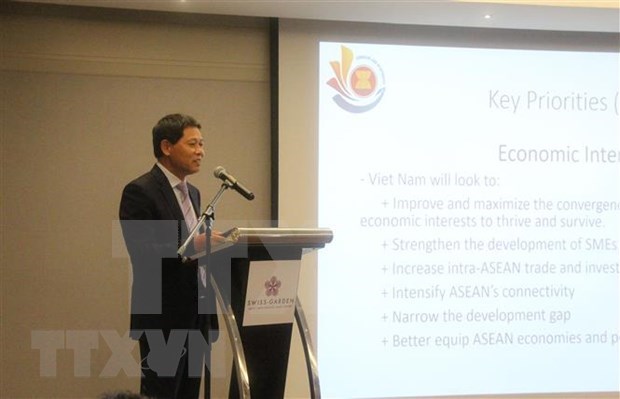 Vietnamese Ambassador to Malaysia Le Quy Quynh speaks at the event. 
The ambassador presented Vietnam's goals during the ASEAN Chairmanship Year 2020 as part of a programme held by the Malaysian Institute of Diplomacy and Foreign Relations (IDFR) that enabled foreign ambassadors in Malaysia to present their countries' policies.
He said Vietnam has chosen the theme "Cohesive and Responsive" for the ASEAN Chairmanship Year 2020 in order to highlight the decisive importance of solidarity to the grouping's sustainability amidst regional and global uncertainties, especially the emergence of protectionism and trade competition.
"Cohesive" reflects Vietnam's wish for a united bloc, a stronger community and enhanced regional connectivity. Meanwhile, "responsive" targets ASEAN's better adaptability to the fast-evolving world, and its ability to create opportunities and reduce challenges from impacts of the Fourth Industrial Revolution, the ambassador elaborated.
He stressed that the theme has received the warm response of other ASEAN member countries as well as the support of ASEAN's partners.
In his presentation as well as during discussion with delegates at the event, Ambassador Quynh suggested countries, particularly ASEAN members, should catch up with latest trends and apply new technologies in production and national development.
He informed delegates on Vietnam's five priorities for 2020, including promoting ASEAN's role and active contributions to maintaining peace, security and stability in the region; strengthening regional connectivity and adaptability to the Fourth Industrial Revolution; improving awareness and identity of the ASEAN Community; stepping up international partnerships for peace and sustainable development; and improving the adaptability and operational efficiency of the ASEAN apparatus./. VNA

The Vietnamese Ministry of Agriculture and Rural Development has proposed two initiatives for Vietnam's ASEAN Chairmanship Year 2020.

Some US senators on January 15 congratulated Vietnam on assuming the Chairmanship of the Association of Southeast Asian Nations (ASEAN), an important multilateral organisation for advancing a free and open Indo-Pacific.