The National Assembly is set to consider two draft laws, including a bill on entry, exit of Vietnamese citizens, on October 28, as part of the on-going 8th session.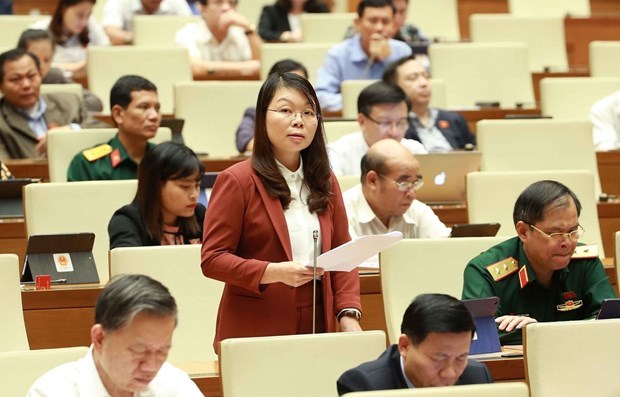 Representative from Bac Giang province Ha Thi Lan speaks in a discussion at the NA's 8th session
In the morning, the NA will give opinions on the draft revised law on themilitia and self-defence forces.
Deputy Prime Minister and Foreign Minister Pham Binh Minh is also to presenta report on the State's external relations work in 2019.
In the afternoon, the draft law on entry, exit of Vietnamese citizens will be submittedto the NA for discussion.
The draft law tabled this time has been adjusted based on opinionscollected during earlier debate at the NA's 7th session and the 35th session of the NA Standing Committee.  
The issues brought to attention on October 28 are those still subject todifferences, including persons eligible for diplomatic and official passports, personsto be temporarily banned from exiting the country, the power to decide the temporaryexit ban, the national database on Vietnamese citizens' entry and exit, and theresponsibility for management of Vietnamese citizens' entry and exit./.VNA