Prime Minister Nguyen Xuan Phuc presides over the Cabinet meeting Tuesday to debate socio-economic performance in the first five months.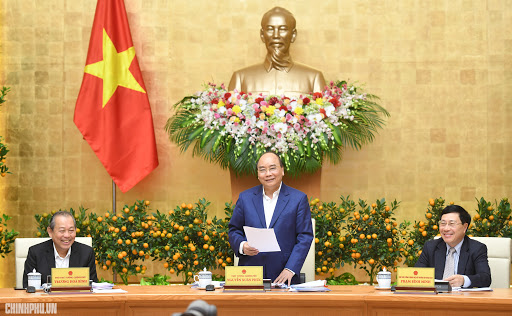 Photo: VGP
The Cabinet members also discuss the implementation of the Resolution No. 01, report on investment capital for te 2021-2025 period, report on implementation of ResolutionNo. 17 on E-government development, among others.
Regarding socio-economic performance, official data showed that 5,056 enterprises resumed operation, up 32.7%, industrial production rose 11.2% and exports increased by 5.2% in May.
The total retail sales of goods and services soared 26.9% from April but dipped by 4.8% against the same period last year.
In the Jan-May period, industrial production only picked up 1% compared to the same period last year, due to disruptive of the supply chain.
Due to the serious impacts of the COVID-19 pandemic, foreign arrivals to Viet Nam fell by 48.8% to 3.7 million in the reviewed period, the General Statistics Office said Friday.
Of the total, 72.9% tourists were from Asia, down 51.4%. The fall was seen in almost all major markets, such as China (-57.2%), Malaysia (-53.9%), the Republic of Korea (53.4%), Japan (-48.2%), France (47.5%), the UK (-44.3%), and Russia (-23.2%). Tourism revenue was estimated at VND 8.3 trillion, down 54.1%.
he GSO said export turnover reached US$99.36 billion, down 1.7%year-on-year. The domestic sector's export value was US$33.3 billion, up 10.4% compared to the same period last year, while the FDI sector's exports, including crude oil, were valued at US$66.06 billion, down 6.9%.
Commodities seeing strong growth in export value during the period included machinery, equipment, tools, and spare parts with 25%; computers, electronic products, and components with 22.1%; rice with 17.2%; coffee with 2.9%; and cashew nuts with 2.2%.
Those with declining turnover were telephones and components (8.8%), textiles (14.5%), footwear (4.6%), fruit and vegetables (10.3%), rubber (29.6%), and pepper (17.9%).
Meanwhile, import value reached US$97.48 billion, down 3.% year-on-year, the GSO said.
The US was the largest importer of Vietnamese goods in the period, with turnover reaching US$24.6 billion, up 8.2%. It was followed by China with turnover of US$16.3 billion, up 20.1%.
Viet Nam's exports to the EU and ASEAN fell 12% and 13.4%, with turnover of US$12.9 billion and US$9.4 billion, respectively.
The Southeast Asian country lured a total of US$13.9 billion in foreign investment, down 17% from the same period last year.
There were 1,212 newly-registered projects capitalized at US$7.4 billion, down 11.1% in number and up 15.2% in capital.
Among 58 countries and territories having new projects in Viet Nam, Singapore was the largest investor, with more than US$4.3 billion, followed by Chinese Taipei with US$743 million, China with US$694 million, Hong Kong (China) with US$500 million, and the Republic of Korea with US$441 million.
PM requests striving for highest possible socio-economic targets in 2020
Prime Minister Nguyen Xuan Phuc has asked ministries, agencies and localities to do their best to reach the highest possible socio-economic targets this year. 
During the monthly Government meeting in Hanoi on June 2, the PM said thanks to effective epidemic prevention and control as well as economic recovery, Vietnam's prestige on international arena has increasingly improved.
He noted that the US's Economics magazine had ranked Vietnam the 12th out of 66 emerging economies in terms of financial health in early May. Recently, the US's S&P rankings maintained Vietnam's sovereign credit rating at BB and its outlook at "stable". 
About challenges that must be overcome in the near future, he emphasized the COVID-19 pandemic and the growing trade and technology tension between major economies. At the same time, the country's economic growth rate was lower than expected and industrial production dropped due to disrupted supply chains. Though the country ran a trade surplus of around 2 billion USD, the export of a number of products saw strong reduction due to disruptions in the global supply chain while budget deficit surged, forecast to account for about 5 percent of the gross domestic product. 
PM Phuc directed staying vigilant to the epidemic, especially in major cities and populated areas. 
He also required ministries, agencies and localities to step up the approval and implementation of monetary, fiscal and social welfare support packages, while carrying out the Government's Resolution 84 on removing difficulties faced by businesses, especially small and medium-sized enterprises. 
Ministries and sectors were told to accelerate public investment disbursement, particularly transportation, airport and seaport projects while stimulating domestic consumption and tourism demand, developing social housing for workers and the poor. 
Regarding the issue under the National Assembly's supreme supervision, the Government leader requested taking stronger actions to prevent child abuse and protect children's rights. 
In order to reduce pork prices, he suggested encouraging large-scale investment in pig breeding, using modern technology and launching a movement on pig breeding on the back of African swine fever combat, as well as increasing pork import./.VGP/VNA
Ngoc Van