The relations between Canada and Vietnam will continue to develop despite recent changes in Canada's politics, according to experts and diplomats.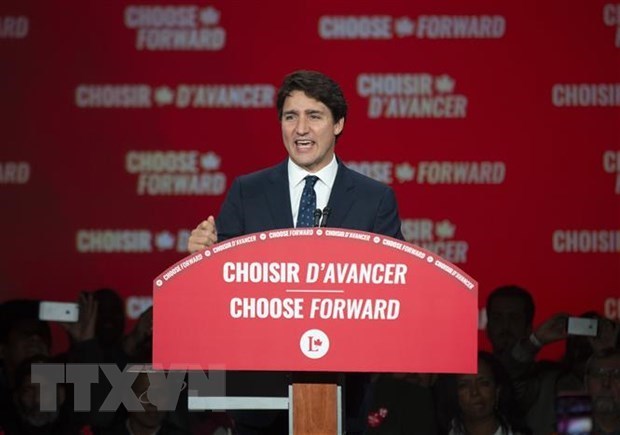 Canadian PM Justin Trudeau speaks in Montreal on October 21 after winning the election (Photo: Xinhua/VNA)
Justin Trudeau of the Liberal Party won a second term asCanada's Prime Minister, but his party could not secure a majority in the Houseof Commons. Trudeau has rejected the possibility of an alliance government.
Luis Silva, an expert on Government relations, expressed hisbelief that the Vietnam – Canada ties will continue progressing in the secondterm of the Liberal Party's Government.
He said the agreement Trudeau signed on establishing the twonations' comprehensive partnership in 2017 showed that Vietnam is an importantpartner of Canada in Asia-Pacific.
Echoing the view, Bryon Wilfert, Myanmar Consul in Canada,stated there will be no changes to bilateral commitments on trade and politicsbetween Ottawa and Hanoi, as both the ruling Liberal Party and the oppositeConservative Party back the Comprehensive and Progressive Agreement forTrans-Pacific Partnership (CPTPP) of which both countries are members.
He predicted bilateral exchanges of high-ranking delegationsand cooperation activities will continue in the coming time, given the contextthat Vietnam's growing market is offering various opportunities and there isyet any sign of improvement in the Canada – China relations.
Elizabeth McIninch, Director of the Canada – Vietnam TradeCouncil, meanwhile, analysed the importance of Vietnam to Canada in a number ofcooperation categories.
According to her, in 2018, Vietnam maintained its positionas the biggest trade partner of Canada in ASEAN.  Vietnam has more than 20,000 students studyingin Canada, the largest number compared to other nations in Southeast Asia and thefifth among all countries worldwide. Canada has strengths in sectors Vietnamhas demand for like road infrastructure, public transport, and renewableenergy.
Nguyen Dai Trang, Director of the Canada-Vietnam Society(CVS) in Toronto, said Vietnamese Canadians secure a high rate of employmentand income level, adding that her association is working to help Canadianpeople understand more about the community.
Overall, many Canadian experts consider Vietnam a risingstar in Southeast Asia. The GDP of the 97-million-people country grew about 7percent on an average annual basis over the past decade./.VNA