Permanent Deputy Foreign Minister Bui Thanh Son paid a visit to the European Parliament (EP) from January 13 to 16 to discuss the ratification of the EU-Vietnam Free Trade Agreement (EVFTA) and the Investment Protection Agreement (EVIPA).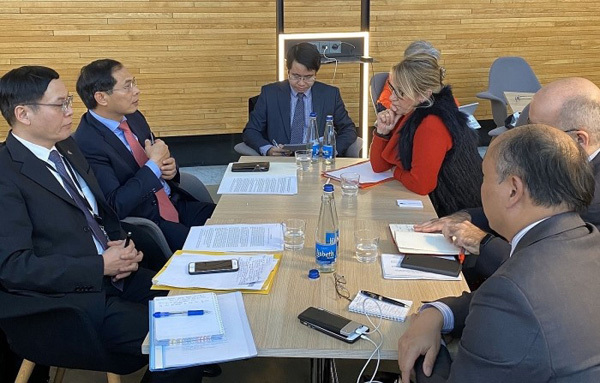 Permanent Deputy Foreign Minister Bui Thanh Son (second from left) discusses with EU parliamentarians during his visit to the European Parliament (EP) from January 13 to 16. — Photo baoquocte.vn
During the trip, Son had meetings with vice presidents of the EP, Heidi Hautala and Dimitrios Papadimoulis, chairman of the EP's Committee on International Trade (INTA), Bernd Lange, and 12 parliamentarians from key political parties in the EP including the European People's Party, the Social Democratic Party, Renew Europe, the European Green Party, and the European Conservatives and Reformists Party.
At the event, Son said the Vietnamese Government treasured and highly valued the recent development of the Vietnam-EU Comprehensive Partnership and Cooperation in all fields.
He highlighted the significance of the EVFTA and the EVIPA to the two sides' political, economic and trade relations, which would create a framework for reinforcing bilateral co-operation in sustainable and inclusive development.
Vietnam would continue working closely with EP leaders and EU agencies to implement all the commitments in the agreements, the diplomat said, asking the INTA and parliamentarians in the EP to co-ordinate closely with the Vietnamese National Assembly and Government to promote the scheduled ratification process.
For their part, EP and INTA leaders affirmed the economic and political importance of the two agreements to the enhancement of the EU's role and stature in the Asia-Pacific region.
They said the INTA was co-ordinating with EP agencies to ratify the deals as scheduled, and would continue working closely with Vietnam in this regard.
The EU applauded Vietnam's preparations for the implementation of the deals, especially commitments related to sustainable development.
At the meetings, EP parliamentarians spoke highly of Vietnam's recent attainments in socio-economic development and global integration, while congratulating the country on its posts as a non-permanent member of the UN Security Council and the ASEAN Chair in 2020.
The EU would continue co-operating with and assisting Vietnam during the development process, including promoting sustainable and inclusive development, they added.
The EVFTA, signed in Hanoi on June 30, 2019, has extensive and comprehensive commitments covering economy, trade, investment and sustainable development issues.
According to the Vietnamese Ministry of Planning and Investment, the EVFTA and EVIPA would help Vietnam raise its gross domestic product (GDP) by 4.6 per cent and exports to the EU by 42.7 per cent by 2025.
Meanwhile, the European Commission estimated that the agreements would help the EU add US$29.5 billion to its GDP and increase its exports to Vietnam by 29 per cent by 2035. — VNS