Ministry of Foreign Affairs has been working hard to support the British side to speed up the process of identifying the nationalities and names of the victims of in a container truck in Essex county of the UK on October 23.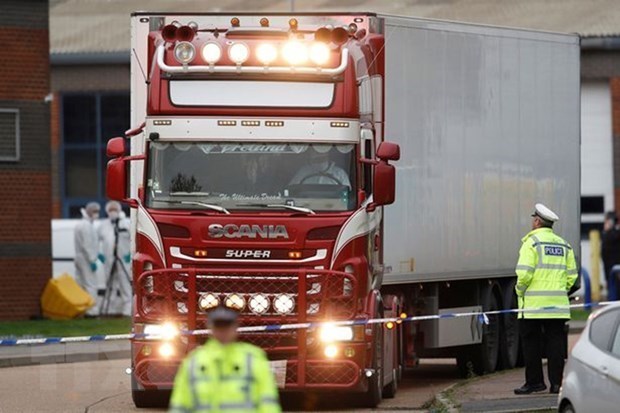 The container in which 39 victims were found dead (Photo: Reuters/VNA)
The ministryhas cooperated closely with the Ministry of Public Security and relevantlocalities to clarify information and support the seeking of people who havebeen reportedly missing in the UK.
The ministryhas also collaborated with the UK Embassy in Vietnam to accelerate the definingof nationalities and names of the victims.
So far, thedomestic citizen protection hotline has received requests for help from 14families who reported that their relatives have gone missing in the UK. TheConsular Department has given guidelines to the families and asked for theircooperation.
The VietnameseEmbassy in the UK has kept contact with the police in Essex and relevantBritish agencies to update information, while sending information to theBritish side, and preparing necessary citizen protection measures in case thereare Vietnamese victims in the tragedy.
Anyone needingassistance related to the case can contact the Embassy of Vietnam in the UK viaits hotline for assisting overseas Vietnamese at 44 7713181 501 or Vietnam's citizen protection hotline at 84 981 84 84 84./. VNA

Chinese Foreign Ministry's spokesperson Geng Shuang on October 28 firmed that the Chinese Embassy in Vietnam is keeping close contacts with Vietnamese agencies for the case of 39 people found dead in a container truck in the UK.

The police of Nghe An and Ha Tinh on October 27 took hair, blood and nail samples from people who had earlier reported their children missing, after 39 people were found dead in the back of a truck in the United Kingdom's Essex.