Minister of Public Security To Lam said his ministry was considering making drug use a criminal offence again as the public is growing wary with the rise of drug offences.
VN struggles to combat flow of drugs from Golden Triangle
Cross border drug smuggling operation thwarted in Thanh Hoa
HCM City struggles in war on drugs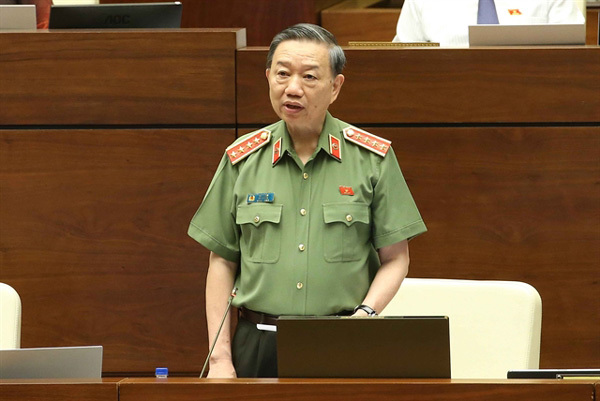 Minister of Public Security To Lam took queries from National Assembly deputies at a question session on the morning of June 4 in Hanoi. — VNA/VNS Photo Doan Tan
The hardline stance against drug use, once criminalised in the country's Penal Code 1999 but since abolished in the 2009 amended version, was one of the focal points this morning as the public security chief became the first cabinet member to take questions from National Assembly deputies.
General To Lam reiterated several times in his responses that drug crimes were the "mother" of all evils and that "every package (about 340g) of drugs successfully transported into Vietnam would leave at least 10 households in legal troubles, with family members going to prison for offences ranging from transporting to storing and distributing drugs."
The minister also gave an estimate that at least 50-60 per cent of all those detained in the country were due to drug-related offences.
According to the public ministry's report, in 2018, the number of drug cases rose by 10.53 per cent with the amount of synthetic drugs seized increasing by a quarter compared to 2017. In the first five months of 2019, police discovered 10,246 cases, apprehending 11,731 persons of interests and seizing 301kg of heroin, 3,272kg and nearly 440,000 synthetic drug tablets together with 260kg of marijuana.
He said that criminalising drug use again would serve to deter the increase of drug users, cutting off the demand and therefore discouraging drug smuggling.
Joining To Lam in fielding questions from NA deputies, minister of labour Dao Ngoc Dung said that it was better to prevent drug addiction in the first place since a staggering 90 per cent of all drug addicts in Vietnam relapsed after receiving treatment at rehab centres.
While admitting the scene of drug crimes in Vietnam were showing "complicated developments" and Vietnam was emerging as a new drug transit hub, To Lam also reassured deputies the public security ministry had "foreseen" this situation and made proper moves to head off this dangerous trend.
Large-scale drug busts in recent times, with the amount of meth seized measuring by the tonne, was clear evidence of the ministry's efforts.
"Drugs are an international, transboundary issue and no single country can deal with them alone. Vietnam is located near the infamous Golden Triangle, the second largest drug production centre in the world," he said, adding that drug issue is a mutual concern amongst ASEAN members.
Transboundary drug rings involving Vietnamese people but run by foreigners were also a new phenomenon that the ministry had seen in late 2018 and early 2019, he said, adding that drug criminals were taking advantage of the Government's more relaxed policies to facilitate trafficking in order to move their products into Vietnam and then to a third country.
The minister also mentioned thwarted attempts by drug criminals to move their production labs from the Golden Triangle directly into Vietnam.
At the session this morning, Minister To Lam said the ministry was considering ways to simplify procedures to bring drug addicts into obligatory drug rehab centres in order to better manage and curb drug use.
Responding to queries on the accountability of local police chiefs, he said the public security chief in each locality would face reassignment or disciplinary measures if drug crime situation in their jurisdiction spiralled out of control.
'Black credit' or predatory lending was also a prominent topic raised by NA deputies during the session.
The public security ministry, other than carrying out its duties to suppress this activity, has also been working with other Government agencies to come up with measures to diversify lending schemes, making legal loans more accessible and diminishing people's need to fall back on shady lenders.
Many NA deputies also questioned To Lam on the recently discovered criminal violations of police officers and how these corrupt officers had reached their current ranks, particularly as the case of Phan Van Anh Vu, an intelligence officer himself, and two former deputy ministers of public security set for the appeal court on June 10.
However, National Assembly Chairwoman Nguyen Thi Kim Ngan spared the public security minister from the question, saying the very act of bringing to light the violations showcased the State and Party's willingness to punish the corrupt officers, even the high-ranking ones.
NA deputies also posed questions to To Lam about human trafficking, especially of women and children, under the guise of labour exports or marriage with foreigners or tourism, to which the minister responded that authorities had been focusing on raising public awareness, especially with vulnerable and targeted groups of young girls, women and ethnic minority populations in remote areas near the borders with China, Laos and Cambodia.
Other issues raised at the session included increasing reports of sexual assaults on women and children, the mismatched statistics on the number of dead victims in traffic accidents between the Ministry of Public Security and the Ministry of Health, measures to prevent serious test result manipulation by education officials similar to last year's national university exams, high-tech economic crimes, and the risks to national security from foreigners purchasing properties in Vietnam in the names of Vietnamese citizens.
VNS