The e-cabinet system, to be launched on June 24, will be a stride forward in Vietnam's efforts to build the e-government, said Minister-Chairman of the Government Office Mai Tien Dung.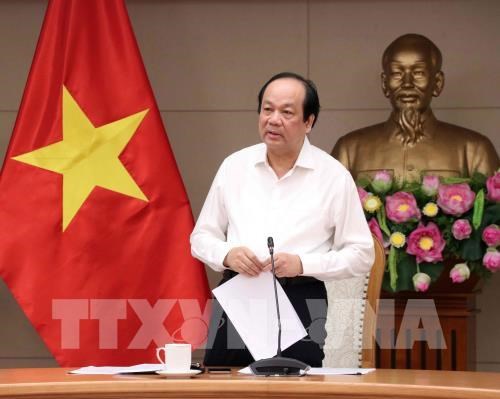 Minister-Chairman of the Government Office Mai Tien Dung 


He told the Vietnam News Agency that the move aims at apaperless government and the reduction of meeting time.

The Government Office is working toward cutting 30 percentof average meeting time and using 100 percent of e-documents (apart fromconfidential ones) at governmental meetings by the end of 2019.

Dung said if the work is done well, it could help prevent pettycorruption, adding that such corruption creates huddles for businesses andstartups and raises official and non-official costs.

He noted a tight process is necessary to ensure effectiveimplementation of the system.

The official stressed building an e-governance meanscarrying out an administrative reform, which requires dedication and theelimination of personal interests and obstacles.

He quoted the Prime Minister's instruction on streamliningprocedures to reduce time and costs, which he said will create further room forgrowth.-VNA

Nguyen Tuan Anh, a standing member of the National Assembly Committee on Science, Technology and Environment, talks to Vietnam News Agency about how to make best use of e-government to speed up administrative reform.

The heads of six leading information and communications technology companies will join a working group for the chairman of the National Committee on E-Government.

The Ministry of Finance (MoF) continued leading the country in E-Government Development Index 2018 in the category of ministries and ministerial-level agencies.