Safeguarding Vietnam's sovereignty in the East Sea was a "mission of top priority", a high-ranking army official said in front of the National Assembly (NA) on Thursday morning.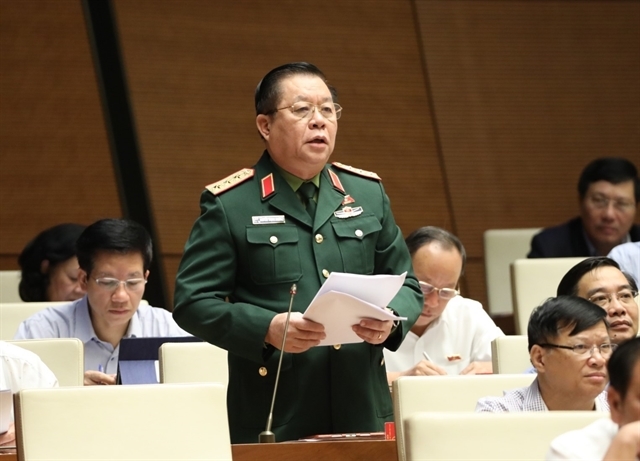 Việt Nam People's Army General Political Department deputy chief, Lieutenant General Nguyen Trong Nghia, at the National Assembly on Thursdaymorning. 
Deputy chief of the Việt Nam People's Army General Political Department, Lieutenant General Nguyen Trong Nghia, reiterated that the East Sea issue was "a matter the Party and the Government paid special attention to."
NA deputies gathered again on Thursday to discuss socio-economic and budget issues in 2019 and drafting plans for the next year.
The accelerated tension in the East Sea, internationally known as the South China Sea, following a recent stand-off between Vietnamese and Chinese ships in the former's sea, aroused multiple statements from deputies demanding the Vietnamese Government protect the country's sovereignty and territorial integrity.
Beijing dispatched the research ship Haiyang Dizhi 8, escorted by other vessels, to Viet Nam's exclusive economic zone for energy surveys in July.
Nghia told the NA that guarding the country's islands and sea sovereignty was always given top priority.
"Law enforcement have strictly followed the orientations and policies of the Party, which are to resolutely and persistently protect sovereignty, the exclusive economic zone and the interests of the nation by peaceful means in line with international law in order to safeguard the prevailing peace, political security and social order for the sake of economic development," the army official said.
Nghĩa added that Việt Nam had to make appropriate responses regarding the East Sea tension, which would come from a deep integration of various fields including politics, diplomacy, history and legal affairs.
HCM City deputy Truong Trong Nghia agreed that there should not be any compromises on sovereignty and territorial integrity.
He also asked the Government to "timely and fully" inform citizens over what happened at sea so that they could "rest assured and trust in the outcomes of the country's sovereignty protection (actions)." — VNS