Professor Phan Xuan Son from the Ho Chi Minh National Academy of Politics talks to Voice of Viet Nam (VOV) about the application of the late President Ho Chi Minh's ideology in current anti-corruption efforts.
Financial sector makes efforts in anti-corruption
Anti-corruption watchdog releases results
More than $1 billion retrieved from corruption, economic crimes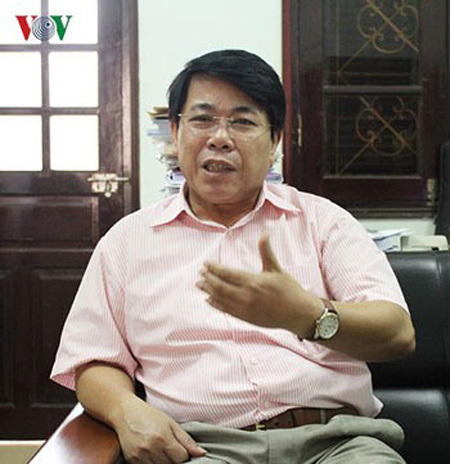 Phan Xuan Son. — Photo vov.vn
Do recent achievements in anti-corruption follow late President Ho Chi Minh's ideology in corruption prevention?
After Vietnam gained independence in 1945 and started to build the country, President Ho Chi Minh held an important position as leader of the Party and the State and was the first person in the new Government to face corruption, wastefulness and bureaucracy.
President Ho Chi Minh was the first person to sign an order to execute a military official for embezzlement. This was the first case of corruption to be put on trial in the country.
President Ho Chi Minh considered bureaucracy and the greed of cadres, civil servants and public employees as the root of corruption so he always asked for them to have good quality and to show industry, thrift, integrity, uprightness, total dedication to the public interest and to completely get rid of individualism.
Uncle Ho saw corruption as an "internal invader" which could damage all of the country's development cause without a gun or a sword.
He called for the fight against corruption in all fields, including both public and private sectors, traders and farmers, cadres, public employees and businesses, which still meets current international practices.
President Ho Chi Minh said anti-corruption must depend on the people who directly supervise cadres and those involved in corruption must be strictly punished no matter what position they held or what sector they were working in.
All President Ho Chi Minh's ideology in anti-corruption has been applied and its value remains the same at present.
In the fight against corruption recently, what is the role of the public?
People play an important role and a decisive factor in the fight against corruption. If we have tools to fight against corruption but fail to uphold the strength of the people, the results would be limited. It is because no agency can have "eyes" on all sectors, localities and levels, but the people can.
To promote the role of the public in the fight against corruption, it is necessary to help people understand their rights and capacity and encourage their honesty and solidarity; create a mechanism to help people access different sources of information; and have policies to praise those contributing to the fight against corruption.
It is also crucial to have policies to protect people who fight corruption.
We have to protect the life and reputation of corruption fighters and even provide them with unemployment insurance to promote the role of the public in the fight against corruption.
Do you have any comments on current regulations on anti-corruption?
People have paid great attention to the fight against corruption so agencies need to work more strongly to speed up the efficiency of the Law on Corruption Prevention and Control.
In the past two years, we have uncovered big corruption cases and strictly punished violators.
However, related mechanisms need to be tightened to let no one take advantage of loopholes of any regulation and law to be corrupt. We have carried out general administrative reform but shortcomings remain. Many general procedures have been cut but smaller procedures are born, creating room for corruption.
It is also necessary to improve the living conditions of cadres to help them live well with their salary without corruption and to educate them to raise their ethics.
What should we do to continue following President Ho Chi Minh's anti-corruption ideology?
At present, we have enough conditions and factors to speed up the fight against corruption and can achieve higher results. The problem is how to use these tools effectively together with promoting the role of the public.
The 2018 Law on Corruption Prevention and Control still lacks regulations on corruption activities abroad so it is hard to find and punish corruption activities committed by cadres, businesses or public employees abroad. So it is necessary to complete this law which is considered the sharpest tool in fighting corruption.
VNS