The 8th session of the 14th –tenure National Assembly opened in Hanoi at 9am on October 21.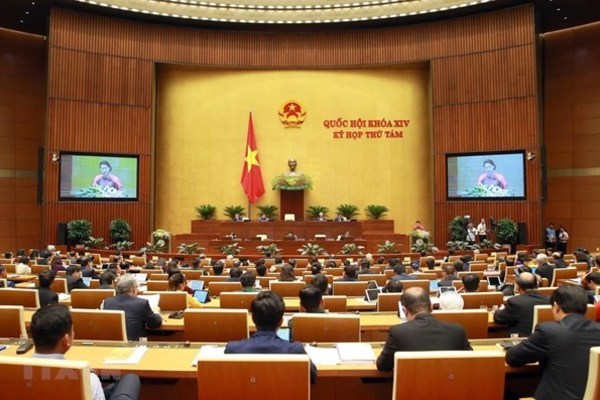 At the opening session
The opening sitting is being broadcast alive on national broadcastersThe Voice of Vietnam and the Vietnam Television, as well as on the NA's TVchannel.
Prior to the opening sitting, Party and State leaders and NA deputieslaid wreaths at and paid tribute to President Ho Chi Minh at his mausoleum.
The NA also held a preparatory meeting to discuss and adopt the workingagenda of the 8th session.
 At this session, the NA is scheduled to pass 13 laws,3 resolutions and give opinions on nine draft laws.
The legislature will also consider and make decision on important socio-economicand budgetary issues, including reports on the implementation of socio-economicplans and State budget in 2019, and socio-economic plans, State budgetestimates and allocation in 2020.
A feasibility report for the Long Thanh international airport project(phase one) and a master plan on investment in socio-economic development inethnic minority, mountainous and especially disadvantaged areas will be tabledfor consideration.
The Chief Justice of the Supreme People'sCourt and the Prosecutor General of the Supreme People's Procuracy will submitreports on their performance to the NA, and the Government will present reports on the prevention and combat of crime and lawviolations, law enforcement, and the prevention and fight against corruption in2019.   \
The Central Committee of the Vietnam Fatherland Front will deliver a reportsumming up voters and citizens' opinions and petitions sent to the the NA's 8th session, and the NA Standing Committee will report on its supervision of thesettlement of voters' petitions sent to the NA's 7th session. TheGovernment is to report on the State's external relation work in 2019.
The NA will conduct asupreme supervision of the enforcement of policies and laws on fire preventionand fight in 2014-2018.
Three days during the 8th session will be reserved forquestion-and-answer meeting, personnel work and discussion and adoption of thesession's resolution.
The 8th session will last through November 27./.VNA