Environment violations, property scams and judicial sector's workforce were the hot topic during Tuesday discussions of reports on legal violations and prevention of crime in the ongoing sitting of the National Assembly.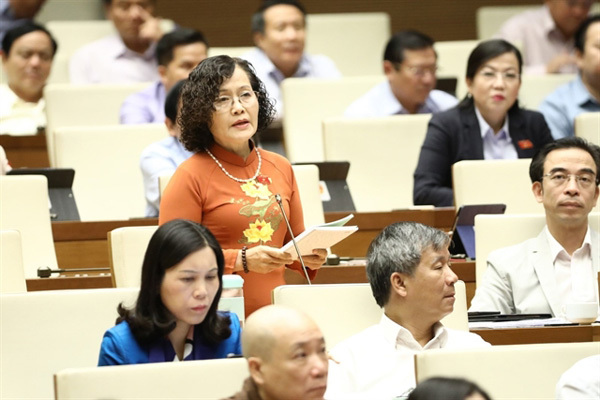 Deputy Tran Thi Quoc Khanh from Hanoi delegation spoke at National Assembly's Tuesday session. — VNA/VNS Photo Van Diep
Tran Thi Quoc Khanh, a legislator from Hanoi, said "pollution is currently one of the public main concerns" despite efforts from Government.
Violations were discovered but not handled strictly enough and did not serve to deter similar acts, she said.
"The Government said in its report that the crimes regarding environment violations are 'hard to define,' which I find not persuasive. Have the relevant agencies failed to fully carry out their duties and only handled the violations with administrative fines, while forgoing possible criminal liability," Khanh said, asking the Government to clarify further on this issue.
Ngo Sach Thuc, from Bac Giang, said emissions beyond allowed limit in industrial zones, improper treatment of toxic waste or importing of outdated machines or scraps, and water pollution as a result of livestock farming are still commonplace, resulting in health hazards to the public.
"Only 1.58 per cent of the environmental violations are treated as criminal cases, which is only a minuscule ratio in the 22,535 cases discovered this year alone," he said.
He added that despite potential widespread impacts, in the current Penal Code, there is no environmental crime considered to be "particularly serious," given that environmental offenders won't be given serious prison sentences.
He called for all administrative fines against environmental offences to be reviewed and adjusted if needed, especially against repeat offenders.
During the discussions, NA deputies also asked for tougher actions against real estate scammers.
Gia Lai Province's deputy Dinh Duy Vuot said real estate is currently a hotbed, rife with scammers – and in many cases – organised gangs are using sophisticated methods to cheat customers.
Many unscrupulous real estate agents create imagined property projects, organised huge PR campaigns to attract buyers and ask them to pay up some money as "investors" of the project.
The buyers only realised they have been cheated and the projects were either not approved by authorities or did not go through proper legal procedures when it was too late, ruining many lives of innocent investors, Vuot said,
He asked police and the courts to investigate whether there is "support" from corrupt officials within Government's agencies and local authorities.
Staff slash
Regarding concerns over staffing issues, Chief Justice of the Supreme People's Court Nguyen Hoa Binh said cases kept rising at a rate of 10 per cent annually.
In 2019, the number of cases increased by 12 per cent or 70,000 compared to last year.
Binh said as the scope of the economy and the population rise, it's expected workload and pressure placed on judges and the court in general will be heavier, leading to many resigning.
Facing this situation, the chief justice asked the judicial sector not to streamline the public workforce.
"Issues such as housing, transport, hospital, education as well as utilities like electricity or water can all make use of privatisation or public-private partnerships, but the judicial activities can only be the realm of the State," Binh said.
Deputy Judge of HCM City People's Court Trinh Ngoc Thuy said the salary for judges and court workers is not at a "liveable" level while the workload is mounting.
"We could only let the judges resign if they are truly ill. In other cases, we encouraged them to stay on and quit at a different time, because we honestly don't have enough money to cover the job-loss allowances," Thuy said, adding that these people would no longer work conscientiously during the "wait," subsequently affecting the morale and performance of the courts.
VNS