To mark the National Day of Indonesia (August 17), Ambassador Ibnu Hadi sends a message to celebrate the country's flourishing co-operation with Vietnam.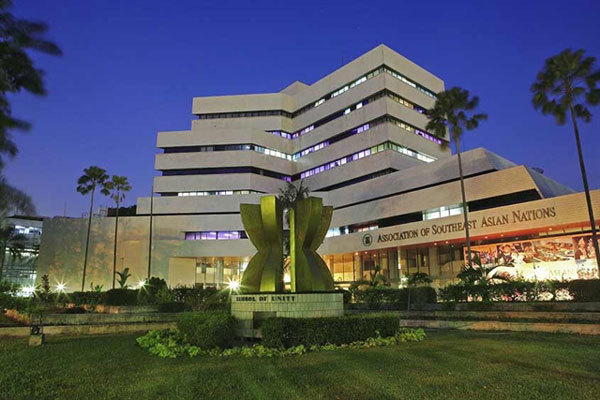 The new building of the ASEAN Secretariat in Jakarta has just opened. — Photo courtesy of Indonesian Embassy
This year, Indonesia has conducted its most important political process through general election to elect directly its president and to elect parliament members at national and regional levels. Indonesian people are now eagerly awaiting the official inauguration of the president and his cabinet soon.
Indonesia is similar to Vietnam in terms of infrastructure development, which is necessary to support economic and business sectors. Besides much progress in constructing new roads, railways, ports and airports, Jakarta as the capital city has just launched its first Mass Rapid Transit (MRT) train system to support quicker movement of people. It is expected ongoing similar projects in Hanoi (Jakarta's sister city) and HCM City can be completed soon.
Ties with Vietnam this year witnessed the continuation of an excellent relationship. Bilateral trade has been progressing very well, hitting US$8.6 billion in 2018 - an increase of 30 per cent from 2017, and for the first half of 2019 it reached $4.3 billion, up more than 15 per cent. Therefore I am confident it will reach $10 billion in 2020.
Vietnam's economic development has been impressive which creates more opportunities to do business, including with Indonesia. The investment climate in Vietnam is promising and attracting more foreign companies. Indonesian IT-based companies like Traveloka – an online hotel and air ticketing company, and Go-Viet – an online transportation company, are just two good examples of Indonesian firms doing business successfully in Vietnam.
Thanks to the ASEAN Free Trade Area (AFTA), economic and business co-operation are expanding. Hopefully, the Regional Cooperation Economic Cooperation (RCEP) agreement, encompassing ASEAN plus China, Japan, South Korea, India, Australia and New Zealand, will soon be completed to make much bigger impact to economic co-operation in this region. It is a source of pride that the new building of the ASEAN Secretariat in Jakarta was just opened on August 8, providing more space for a growing ASEAN. Indonesia is honoured to make this contribution as a part of the "caring and sharing" philosophy of ASEAN.
Indonesia has also been active in international affairs, world peace and development. As a non-permanent member of the United Nations of Security Council (UNSC) 2019-020, Indonesia welcomes Vietnam as the new non-permanent member for 2020-21. Carrying the flag of ASEAN, together Indonesia and Vietnam can do much to contribute to the international community.
Connectivity is another important aspect to encourage more trade, tourism, investment and more people-to-people contact. The air connectivity between HCM City – Jakarta and HCM City – Bali therefore should be followed by establishing more direct flights between cities from both countries. In this regard, the Embassy has been facilitating several airlines from both countries to have more flights.
Overall, as both Vietnam and Indonesia are strategic partners, bilateral relations continue to develop, flourish and carry on their success. Compliments should be given not only to the respective governments, but also to the economic and business enterprises, tourism and airline companies, as well as to the other actors and individuals who have made contributions.