The Central Military Procuracy has completed an indictment to prosecute a former high ranking official from the Ministry of Defence and other defendants for violations relating to fraud and land management.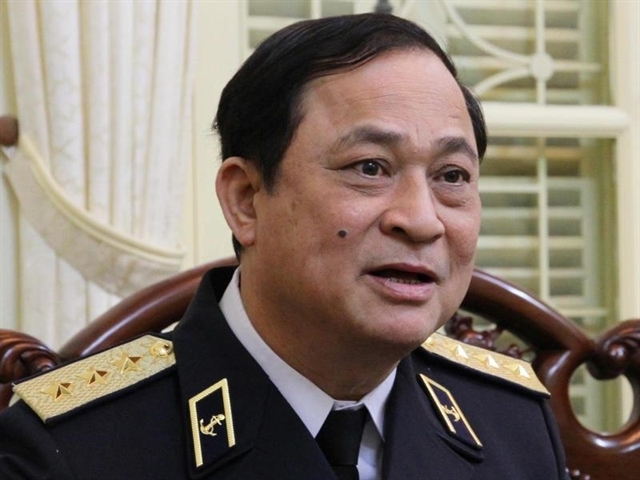 Nguyễn Văn Hiến, former deputy defence minister
Nguyễn Văn Hiến, who was the deputy defence minister and Commander of the Việt Nam People's Navy, was prosecuted for lack of responsibility, causing serious consequences" in accordance with Clause 3, Article 360 of the 2015 Penal Code. 
Bùi Như Thiềm, former head of the Economic Unit of the People's Navy, Bùi Văn Nga, former director of Hải Thành Company, Đoàn Mạnh Thảo, former head of the Finance Unit of the People's Navy, and Trần Trọng Tuấn, were prosecuted for violations relating to land management. 
Đinh Ngọc Hệ (aka Út Trọc), former Deputy General Director of Thái Sơn Company, Phạm Văn Duyệt, former General Director of Đức Bình Company, and Vũ Thị Hoan, former Director of Yên Khánh Company, were prosecuted for fraud. 
The Procuracy's indictment said that Hiến signed documents to allocate three lots of land allocated for national defence purposes for commercial activities, which violated land management regulations. 
Thiềm, Nga and Thảo had asked Hiến to illegally change the purpose of the land use certificate for the lots from military purposes to commercial purposes. 
Hiến signed many documents asking for permission from the Ministry of National Defence and other relevant bodies to change the use of the lots so the companies mentioned above could build office buildings for rent, with leases ranging from 45 to 49 years. 
The indictment said Hiến violated the principle of centralised democracy and regulations of the Party Committee of the Việt Nam People's Navy, and he was found responsible for loose management and inadequate supervision of the management and use of defence land. 
Hiến's violations and mistakes were very serious, causing huge financial losses to the State and the army. 
Last October, legal proceedings commenced against Hiến. He was put under house arrest and was stripped of his status as former Commander of the Việt Nam People's Navy. The Politburo also stripped Hiến of the Party positions he had held including member of the Party Committee of Central Military Commission for 2005-10 and member of the Party Committee of the Việt Nam People's Navy for 2005-2010, which included the titles Vice Secretary and member of the Standing Board, and member of the Party Committee. --VNS