The capital city is seeking to abolish people's councils in 117 wards due to subpar works, as part of Nội authorities' efforts to restructure their administration for better performance.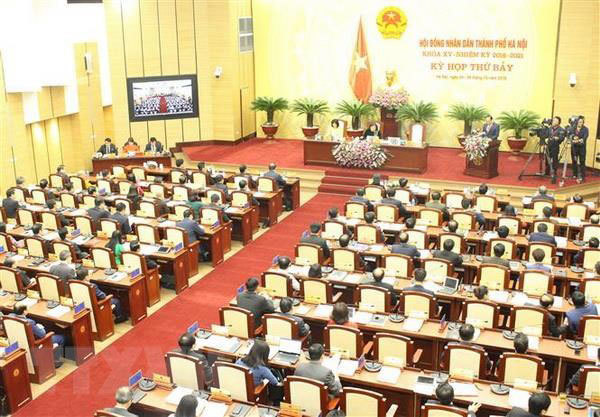 A meeting session of Hanoi 15th People's Council in 2019. — VNA/VNS Photo
The city wants to remove all ward-level People's Council in 12 districts and Son Tay Township for the term 2021-2026. Existing people's councils in pilot wards will end their 2016-2021 term on June 1, 2021.
The proposal needs approval from the National Assembly before it can come into effect.
The Ministry of Home Affairs has sent a draft resolution of the National Assembly allowing the pilot restructuring to the Ministry of Justice to review legal procedures.
The justice ministry is due to have a review meeting on the draft resolution on Thursday.
3,500 staff cut
For now, Hanoi's People's Council institutions have three levels – city, district/township and ward.
The number of members in the People's Council in each level varies with the largest being in the city level, standing at 102. Each district/township People's Council has between 30 and 40 members while the number ranges from 25 to 30 at ward level.
Hanoi's attempt to eliminate 117 ward people's councils will mean a mass downsizing of between 2,925 and 3,510 staff. Most of them are retired public employees and now serve in people's councils. The rest are ward officials with dual jobs.
Assessments by Hanoi indicated that ward People's Councils failed to handle socio-economic issues in their own localities but mostly acted as a rubber stamp to decisions already made at higher levels.
A purpose of setting up people's councils was to supervise their counterpart people's committees. However, that monitoring job in reality was done only as a legal formality, according to city reports.
Following the pilot, the city plans to reorganise the People's Councils in urban areas into two levels – city and districts, and three levels of city, districts and communes in rural areas. VNS