The People's Committee of Ho Chi Minh City announced on June 25 that it will use an e-Cabinet paperless meeting system and a smart reminder application to save administrative time and costs.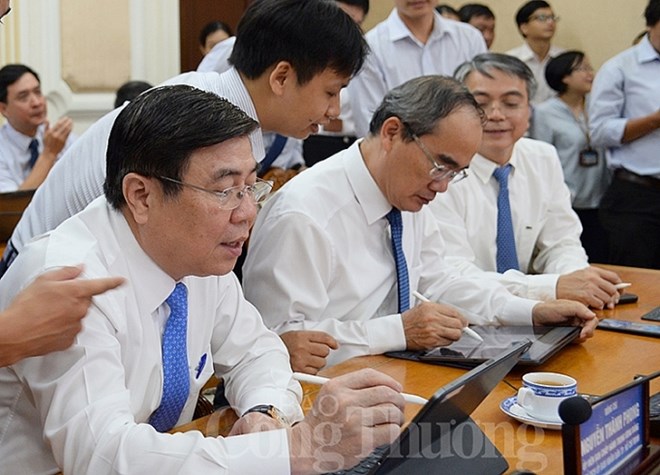 Leaders of the city try the e-Cabinet paperless meeting system (Photo: congthuong.vn)


Under the Prime Minister's direction, the city aims to replace all currentpaper documents with electronic ones and take steps to build an e-government.

A paperless meeting system and smart reminder application are practicalsolutions for the People's Committee's management office, Nguyen Thanh Phong, Chairmanof the committee, said at the June 25 meeting.

The city wanted to strengthen application of science and technology to enhancework efficiency and better serve citizens and businesses, he said.

It's necessary to have a tight process to ensure the system's data safety,security and effective use, he said.

The Vietnam Posts and Telecommunications Group (VNPT) developed the system andapplication under the committee's requirements.

Tran Manh Hung, Chairman of VNPT, said the system would help cut 30 percent ofcosts for copying and printing of documents, and about 40 per cent of costs fordelivery and transportation.

The e-Cabinet system has 69 features which ensure information security regulations.All content and related documents will be updated and stored on the systembefore meetings.

Attendees can pose questions and give opinions on issues before the meeting asthe system offers connectivity and information exchange.

The system also provides features such as taking notes and electronic voting,making it more convenient for users.

The results of meetings will be automatically sent to relevant individuals andagencies in the shortest time.

Meanwhile, the smart reminder application used on mobile devices helps leadershandle their work, give reminders about meetings, manage work schedules, andassign tasks to their staff.

Public employees can use the app to arrange their work and meet deadlines ofassigned tasks.

The municipal Party Committee Secretary Nguyen Thien Nhan praised thecooperation between the People's Committee and VNPT on using advancedtechnologies that help leaders and staffs reduce time and costs, and completeassigned tasks more easily and effectively.

He asked the city's leaders to review the system by the end of September beforeputting it into operation at offices of all people's committees, departmentsand agencies at all levels in the city. - VNA

The e-cabinet system, to be launched on June 24, will be a stride forward in Vietnam's efforts to build the e-government, said Minister-Chairman of the Government Office Mai Tien Dung.

The People's Committee of the central city of Da Nang is pushing ahead with efforts to implement key tasks and solutions in building an e-government.