Voters in HCM City's District 1 expressed their concern over education-training, legislation and the use of alcoholics and drug which lead to many traffic accidents during a local meeting with the city's Party Secretary Nguyen Thien Nhan.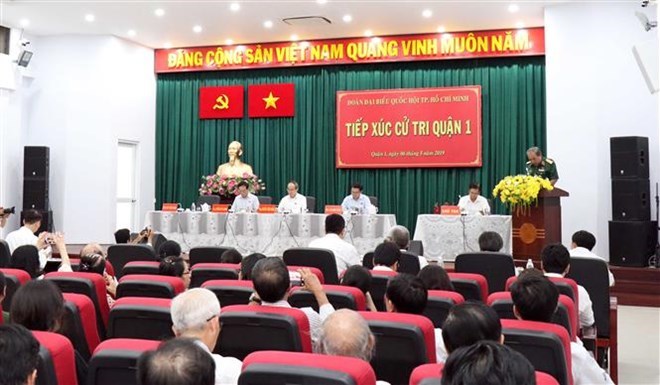 At the meeting
Voter Le Minh So from Cau Kho ward called for breakthrough in education, including reconsidering the process of approving textbooks and lesson plans. Meanwhile, Nguyen Thi Kim Sau from Ben Thanh ward and Nguyen Hong Minh Thu from Cau Ong Lanh ward expressed their attention to violations in university entrance examination score cheating in 2018 and school violence at present.
Nhan, for his part, said textbook is not the only factor deciding the education quality, adding that the use of multiple sets of textbooks aims to deal with realities in each locality and region, as well as further diversify approaches to knowledge.
He said the Prime Minister has directed seriously disciplining those involved in cheating university entrance exam scores in the north.
According to him, Ho Chi Minh City is striving to improve the quality of education infrastructure and lecturers to meet development demand.
As fighting games and images have increased school violence, he suggested issuing regulations on banning violence games, improving parents and teachers' role in nurturing children.
On working time for officials, Nhan took note of voters' opinions, saying that they are important for sociological surveys.
Voters Hoang Thi Loi from Ben Nghe ward and Dang Thanh Binh from Nguyen Cu Trinh ward proposed increasing punishments in Criminal Code for those involved in drug trafficking and use that caused traffic accidents, as well as child sex abuse.
Loi suggested making recruitment more transparent to improve personnel quality, offering them suitable and fair incentives, especially those at ward and communal levels.
Nhan vowed to collect voters' feedback on the fight against drug crimes and harmful impact of alcoholic drinks to submit to the legislature for consideration.-VNA