Increasing overtime working hours must ensure labourers' health and give them time to recharge, said National Assembly (NA) Deputy Nguyen Thi Quyet Tam from HCM City.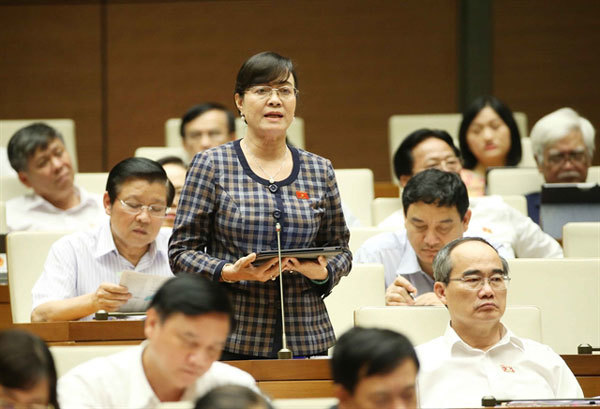 Deputy Nguyen Thi Quyet Tam at the discussion on Wednesday. — VNA/VNS Photo Doan Tan
It must also guarantee the rights of both employers and employees, which was a hard thing to do, she said.
Lawmakers on Wednesday debated changes to overtime working hours proposed in the draft revised Labour Code.
It was the second time deputies had discussed the draft law during the ongoing NA meeting.
The draft suggests increasing the maximum allowable overtime working hours to 400 hours per year from the current 300 hours.
Tam said labourers needed to work overtime to earn more money, and many hard-working labourers had no time to return to their hometowns to visit their families.
The NA needed to issue policies to allow labourers to "work less and earn more to improve productivity". Policies should not aim at forcing them to work until they are exhausted.
"If employers need employees to work overtime to meet deadlines, they should discuss payment with them," she said.
Deputy Nguyen Quang Tuan from Hanoi said workers in some professions should not be allowed to work overtime such as pilots and drivers.
He also mentioned the fact that many healthcare workers have to work too much overtime, even up to 1,000 hours per year.
"There is a proposal from NA deputies that medical workers should work on Saturday and Sunday. If so, each person would have to work 800 hours per year on average while overtime pay for them remains low," he said.
The draft revised Labour Code proposes adding one more national holiday - July 27, War Invalids and Martyrs Day. It is an occasion for the whole nation to pay tribute to those who sacrificed and made contributions to the country.
However, the majority of deputies were not in favour of the proposal, saying it should be open for public feedback and needed further consideration.
After receiving deputies' opinions, Minister of Labour, Invalids and Social Affair Dao Ngoc Dung said the Government would scrap the proposal from the draft.
E-passports
NA deputies agreed the issuance of biometric passports or e-passports would ensure secure border crossings for Vietnamese citizens while they were discussing the draft law on the entry and exit of Vietnamese citizens yesterday.
The new point proposed in the draft law is to replace the current paper passports with e-passports embedded with microchips which carry personal information such as name, nationality, date of birth, gender and biometric data.
E-passports with microchips can be used for facial and fingerprint recognition.
All personal information and biometric data will be coded in the e-passport for authentication and security purposes, following International Civil Aviation Organisation standards.
Deputy Pham Tat Thang from Vinh Long Province said e-passports attached with microchips and auto-security checks followed a global trend.
Deputy Ha Thi Lan from Bac Giang Province said more than 120 countries had issued e-passports, including all countries in Southeast Asia except Vietnam and Myanmar.
The application of technology in immigration control aimed to avoid counterfeit passports, she said, giving examples of fake passports being used in many countries for smuggling and illegal migration.
"E-passports make immigration control at border gates faster and more accurate. Controlling immigration through auto-security gates shortens waiting times and reduces congestion," she said.
It was also more convenient for those who run out of pages for immigration stamps. They would no longer have to get new ones with e-passports, she said.
VNS