An international conference opened in Hanoi on Thursday to look into co-operation between Vietnam and foreign non-governmental organisations (NGOs) and discuss co-operation priorities.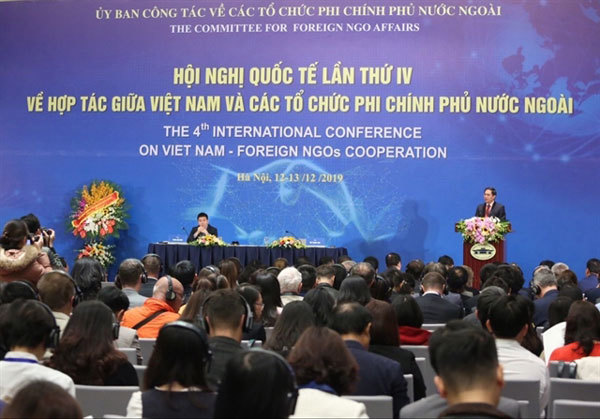 Deputy Foreign Minister Bui Thanh Son delivers a speech at the 4th International Conference on Vietnam-Foreign NGOs Co-operation. — VNA/VNS Photo
Deputy Foreign Minister Bui Thanh Son said co-operation had resulted in encouraging results, noting aside from contributing to local poverty reduction and sustainable development, foreign NGOs had helped promote relations between Vietnam and other countries.
He added that the conference aimed to assess the co-operation between Vietnam and foreign NGOs following their third meeting in 2013 and plan for the future.
The official expressed his hope that participants would make detailed policy proposals to help create breakthroughs in the country's partnerships with NGOs and enhance relations.
Evaluating foreign NGOs' role in local development, Nguyen Phuong Nga, President of the Vietnam Union of Friendship Organisations, attributed the country's poverty reduction and socio-economic development to the substantial assistance from friends around the world, including foreign NGOs.
Co-operation with foreign NGOs was an important field in external relations, including people-to-people diplomacy, she said, adding that apart from effective and practical programmes and projects, foreign NGOs had also given the country valuable experience in terms of governance and personnel training and helped strengthen its collaboration and solidarity with other nations.
Nga voiced her hope that Vietnam would continue to receive strong support from other countries, international organisations, foreign NGOs and development partners for its reform, integration and sustainable development efforts.
The two-day conference features six seminars focusing on partnerships between Vietnam and foreign NGOs in several prioritised areas, namely education and training; healthcare; co-operation between foreign businesses and NGOs for sustainable development; the settlement of social issues and war consequences; the environment, climate change response, natural disaster prevention and mitigation, and emergency rescue; along with poverty elimination and socio-economic development. — VNS

Vietnam's competitiveness in the tourism sector has improved significantly, but many travellers are unhappy about the visa policy.

The Vietnamese State always promotes the development of the internet to boost national construction and development as well as social demand for information exchange, study and employment.