The Politburo on Monday made public the Politburo's Regulation No205-QĐ/TW on the monitoring of people who are invested with high power in both the Party and the State and the fight against bribery to acquire such positions.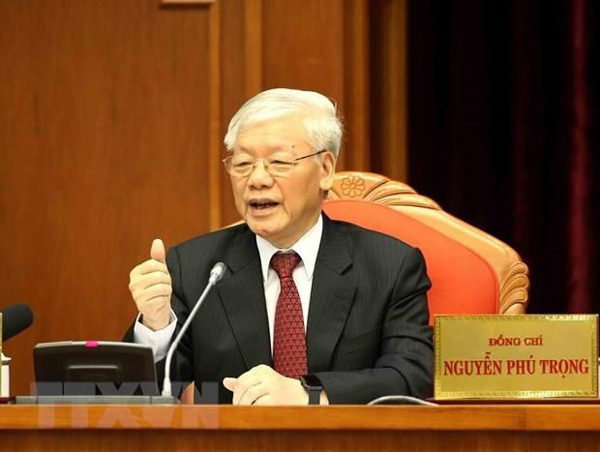 Party Secretary and State President Nguyen Phu Trong. — VNA/VNS Photo Phuong Hoa
The regulation has four chapters and 15 articles highlighting the main mechanisms to control power; identifying six major behaviours in lobbying for high ranking positions and eight signs of lending a hand to people who are trying to lobby for high-ranking positions in either the Party or Government.
Six behaviours of those lobbying for high-ranking positions
Article 10 of the document describes in detail the six major lobbying behaviours for high-ranking positions. They are as follows.
First, to approach people with high-ranking positions or having strong influence in society and ask them for help to get the position or benefits that he/she wants.
Second, to take all opportunities available to approach people in senior positions and give them high-value gifts, then ask them to help get the position.
Third, to use the influence of his/her friends or relatives who are in high positions in society to put pressure on the people in charge of introducing candidates to stand for election to the vacant high-ranking position.
Fourth, to use some negative pieces of news about the organisation or senior officials in the organisation as a bargaining chip for the vacant position.
Fifth, to ask/bargain for a position that is unsuitable for the candidate by using their family background, achievements in the past that are unrelated to the position.
Sixth, to seek all means to get the position or the benefits that he/she wants to have
Eight behaviours of those lending a hand to people who are seeking power
First, to cover up, failure report or to take strong actions against people who bribed their way into a high-ranking position in an office or agency.
Second, failure to take action or report to the higher authority after receiving letters denouncing certain people for bribing.
Third, to abuse power or prestige or that of his/her family to put pressure on other people to give good recommendations/references.
Fourth, to falsify his/her achievements.
Fifth, to do everything possible to help the candidate be the winner.
Sixth, directly or indirectly receiving bribery.
Seventh, to support the person having ill behaviours in their power chasing.
Eighth, any other acts which have not been mentioned, yet have actually happened, it is the responsibility of the grass-roots party committees to consider and make their final decisions.
The new regulations state that if people working in personnel affairs are found to have been involved in malpractices, they will be severely punished and even expelled from the Party if the case is very serious and be dismissed from office. VNS