Lawmakers urged the Government to devise plans to deal with the possible ramifications of the escalating US-Iran tensions and US-China trade war and the influx of foreign direct investment into Vietnam.
Vietnamese businesses fear fallout of US-China trade war
Is Vietnam really benefiting from US-China trade war?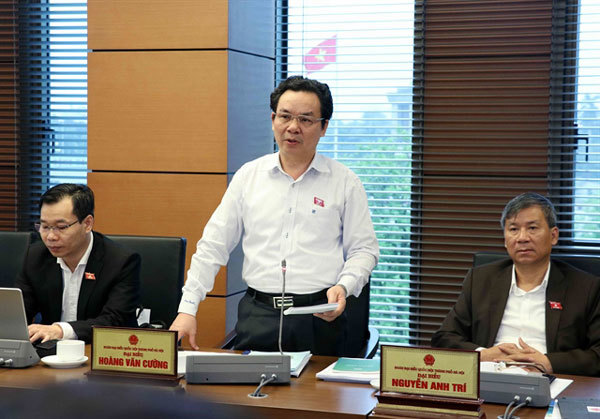 National Assembly deputy Hoang Van Cuong of Hanoi at a meeting held on May 22 to discuss a Government report on socio-economic development -- VNA/VNS Photo Van Diep
At National Assembly meeting held this morning to discuss a Government report on socio-economic development today, Assoc. Prof. Tran Hoang Ngan, who represents a HCM City constituency and is a member of the Prime Minister's economic advisory group, expressed fears that the worsening geopolitical situation could undermine Vietnam's impressive economic growth streak, which includes an all-time high rate of 7.08 per cent last year.
"The openness of the Vietnamese economy is among the highest in the world. When global trade is hit, Vietnam's economy will also suffer. The Government needs to look at all possible scenarios and make plans accordingly."
He said while the US-China trade war actually benefits Vietnam in certain ways, for example, increased flow of Vietnamese products exported to the US has served to offset Vietnam's trade deficit with its largest trading partner, China.
However, given that Vietnam is among the countries with the highest trade surpluses with the US, it could face intense scrutiny from the latter and so needs to ensure the quality and quantity of its products.
He also pointed to the need for caution over China's devaluation of the yuan amid its trade war with the US, which would result in Chinese products becoming even cheaper and increasing the risk of them flooding the Vietnamese market.
"Should we consider devaluing our own currency to cope? But doing so will undermine our efforts to stablise the macro-economic foundation and trust in the Government's monetary policies. Therefore, whatever measure we take would need to be well-conceived and flexible."
FDI concerns
The ongoing trade war between the world's two largest economies have also prompted Chinese investors to look to Southeast Asia, especially Vietnam, complicating its FDI scenario and threatening to impact its businesses.
Citing a Ministry of Investment and Planning report which shows that in the first four months of this year, FDI from China increased 241 per cent year-on-year, Hoang Van Cuong, a house member from Hanoi, said the Government should have a clear orientation on approving investments.
Given the increasing number of medium- and large-sized Vietnamese companies shutting down in recent times, the local private businesses might face stiff competition from foreign businesses and the Government's policy to promote private sector would flounder, Cuong said.
More than half of the 16,000 registered FDI businesses in the report ostensibly made losses but continued to expand their business or plan to do so, highlighting the need for stricter oversight of the sector, he said.
Pointing out that investments made by certain countries are even lower than those of local businesses, he questioned the need to attract FDI indiscriminately and called for prioritising hi-tech industries and creating value chains involving both FDI and local businesses.
On the other hand, the Vietnamese private sector should find new drivers of growth by producing "global values" instead of relying on exploitation of natural resources or real estate, he said.
Many NA deputies also expressed doubts about achieving the Government's inflation target, given the recent electricity price hike and uncertainties in the oil market as a result of the US-Iran tensions.
VNS