The National Assembly Standing Committee on May 8 commented on the Government's reports which gave additional assessments on the socio-economic development and state budget situation in 2018 and the first months of this year.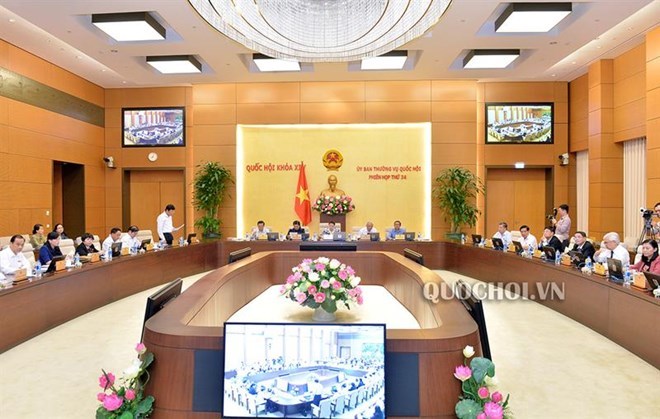 The National Assembly (NA) Standing Committee on May 8 comments on the Government's reports. (Photo: quochoi.vn)
This was part of activities for the NA Standing Committee's 34th session that opened the same day.
On behalf of the Government, Minister of Planning and Investment Nguyen Chi Dung reported that Vietnam recorded a GDP growth rate of 6.79 percent in the first quarter of 2019, higher than the pace in the same period of 2011-2017. However, there have been signs of growth slowdown.
African swine fever has been a significant challenge to livestock farming over the past few months, greatly affecting the agro-forestry-fishery sector as well as farmers' incomes.
He said the Government, ministries, sectors, and localities will persist with the set targets and take drastic actions to effectively carry out the planned socio-economic development solution.
Commenting on the Government's reports, Chairman of the NA's Committee for Economic Affairs Vu Hong Thanh said the relatively comprehensive results were seen in the implementation of the development plan for 2018.
He asked the Cabinet to further analyse both objective and subjective reasons for these outcomes so as to serve socio-economic governance in 2019 and the years to follow.
Some lawmakers asked for a thorough assessment of contributions by the tourism sector, which attracted near 15.5 million foreign visitors to Vietnam last year, to the country's economic growth in order to develop it into a spearhead industry.
The Government should also continue reviewing the 11 groups of major shortcomings that it pointed out in its reports, including those related to the growth model reform, restructuring of some sectors, public investment, and the equitisation of state-owned enterprises, participants said.
At the meeting, NA Vice Chairman Phung Quoc Hien said the NA Standing Committee highly valued the achievements of 2018 and efforts by the Government, ministries, sectors, localities, as well as businesses and people of all strata. It supports the solutions devised by the Government and shares its view on current shortcomings.
The committee requested that in its reports, the Government should focus more on solutions to improve the quality of economic restructuring and growth model reform, facilitate the key economic regions and the private sector, speed up public investment capital disbursement and state-owned enterprise equitisation, and enhance budgetary discipline.
Relevant agencies were asked to revise the reports so as to submit them to the NA for discussion at its upcoming seventh session scheduled to begin later this month.–VNA