The National Assembly Standing Committee gathered in Hanoi on Wednesday and will meet next Thursday to discuss draft laws and reports in preparations for the seventh meeting of the 14th NA to take place in May and June.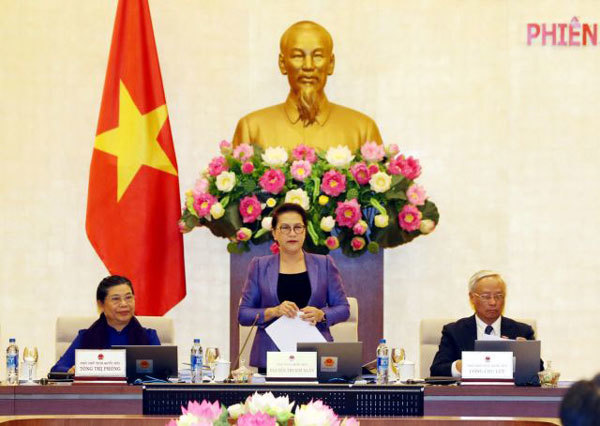 National Assembly (NA) Chairwoman Nguyen Thi Kim Ngan addresses the 33rd session of the NA Standing Committee yesterday. — VNA/VNS Photo Trong Duc
Opening the committee's 33rd session on Wednesday, NA Chairwoman Nguyen Thi Kim Ngan said legislators will debate nine draft laws.
They include amendments and supplementations to several articles of laws on alcohol harm prevention, securities, public employees, governmental organisations and the insurance business.
Deputies will also examine laws on entry and exit of Vietnamese citizens, reserve and conscripted forces, intellectual property and the draft law on libraries, and listen to the Government's report on the revised labour law.
The committee will discuss the NA's law building programme in 2020 and supervision programme of the NA and NA Standing Committee in 2020.
The outcomes of the thematic supervision programme on the enforcement of policies and law on urban land planning, management, use between 2013 and 2018 will be submitted for discussion.
The Government will present a report on thrift and combating wastefulness in 2018.
The deputies will spend time approving projects using the State budget reserve source of mid-term public investment during 2016-20. New projects allowed to use mid-term public investment budget during this period will be added, Ngan said.
Ngan asked the committee in charge of compiling the draft revised labour law to complete the bill following NA deputies' feedback and reminded the committee to demonstrate points presented in three International Labour Organisation conventions.
Mulling over law and ordinance building programme in 2020 and adjustments to the programme for 2019 yesterday morning, legislators agreed to scrap the amended law on environmental protection tax from this year's schedule.
The submission of several bills will be delayed. They include the draft amended laws on investment, enterprises and healthcare check-up and treatment.
The amended law on insurance business; law on intellectual property; draft revised law on judicial examination; amended laws on natural disaster prevention and dyke; revised construction law and draft ordinance on preferential policies for revolution contributors will be added to the 2019 programme.
The committee the same day voted for adjusting administrative boundaries of five communes, dissolving one commune of Long Thanh District and establishing Long Khanh Town's five wards and Long Khanh City of southern Dong Nai Province.
The NA Standing Committee asked the NA's Legal Affairs Committee to work with Ministry of Internal Affairs to accomplish a draft resolution on the administrative unit establishment.
VNS