Chairwoman of the National Assembly (NA) Nguyen Thi Kim Ngan met with Crown Princess of Sweden Victoria Ingrid Alice Desiree, who is on an official visit to Vietnam, in Hanoi on Monday.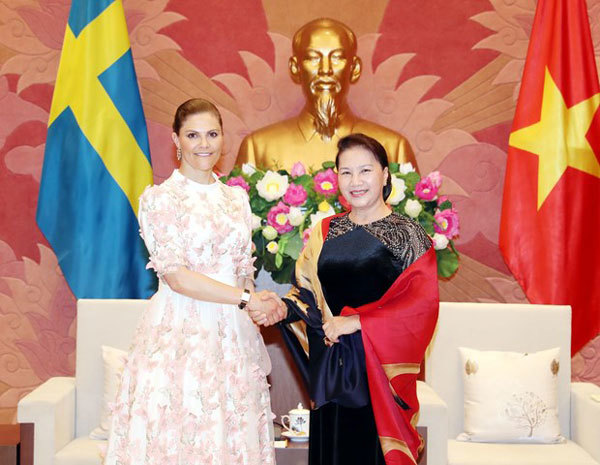 Chairwoman of the National Assembly (NA) Nguyen Thi Kim Ngan welcomes Crown Princess of Sweden Victoria Ingrid Alice Desiree, who is on an official visit to Vietnam, in Hanoi on Monday.—VNA/VNS Photo Trong Duc
The host welcomed the Crown Princess, her spouse and the Swedish delegation who are visiting Vietnam to celebrate the 50th anniversary of bilateral diplomatic ties. She expressed her belief the trip will intensify traditional relations.
Vietnam and Sweden boast time-honoured friendship, founded by then President Ho Chi Minh and Prime Minister Olof Palme and nurtured by the two peoples over the past five decades.
Sweden was the first western country to establish diplomatic relations with Vietnam, she stressed, adding that Vietnam had not forgotten the image of thousands of Swedish people taking to the streets to protest the American War in Vietnam.
Chairwoman Ngan thanked the Swedish Royal Family, government and people for supporting Vietnam, especially via non-refundable aid totalling more than US$3 billion. She also appreciated the European nation's assistance in boosting relations with international financial and monetary organisations.
Crown Princess Victoria voiced her delight at the development of bilateral connections, noting it was her first visit to Vietnam. The delegation of 50 Swedish firms wishes to discuss not only business partnerships but also sustainable development, she said.
Chairwoman Ngan noted that Sweden is an important partner of Vietnam in the EU, with bilateral trade reaching $1.5 billion in 2018. Meanwhile, Sweden now has 67 investment projects worth $364 million in Vietnam.
These figures remained modest and had yet to match the full potential of co-operation, she said, noting her hope that the businesses accompanying the Princess would have opportunities to learn about the local investment-business climate.
The NA leader said she believed once the EU-Viet Nam Free Trade Agreement (EVFTA) is signed and ratified, bilateral trade would increase.
The host also affirmed that Vietnam was reforming its legal and administrative systems to create a solid legal framework and fair environment for foreign businesses, including Swedish firms, to operate.
At the meeting, members of the Swedish delegation noted more than 50,000 tourists from their country came to Vietnam last year, and Swedish companies have created more than 120,000 jobs here. They also said Sweden treasured its co-operation with Vietnam – a country with important standing in the Association of Southeast Asian Nations (ASEAN).
Vietnam was ready to serve as a bridge between Sweden and ASEAN, Chairwoman Ngan affirmed, also asking Sweden to assist her country in coping with rising sea levels and other environmental protection issues.
Meeting the Vice President
On the same day, Vice President Dang Thi Ngoc Thinh and the Crown Princess discussed measures to step up co-operation between Vietnam and Sweden during their meeting.
Vice President Thinh said the visit was an important event in an array of activities to mark the 50th anniversary of the two countries' diplomatic ties (1969-2019).
Host and guest reviewed bilateral co-operation and agreed that it has expanded beyond politics-diplomacy and trade-investment to culture-education, bringing benefits to their people. They asserted their determination to develop it.
Thinh suggested the two sides continue to maintain the exchange of high-level visits to help drive bilateral co-operation in various fields.
She relayed the regards and invitation to visit Vietnam from Party General Secretary, President Nguyen Phu Trong to the King and Queen of Sweden.
Crown Princess Victoria spoke highly of Vietnam's socio-economic development and international integration achievements, affirming that Sweden places importance on developing its ties with Vietnam.
The two sides agreed to work together to help their businesses to seek more investment and business partnerships, especially in the processing and support industries, science-technology, education-training, healthcare, environment, smart urban construction and information-communications.
Thinh asked Sweden to continue supporting the settlement of disputes by peaceful means based on international law to maintain peace, security and navigation freedom and safety in the East Sea.
She also asked Sweden to back Vietnam's run for a non-permanent member seat at the United Nations Security Council for the 2020-21 term.
She proposed Sweden continue providing favourable conditions for the Vietnamese community to live, do business and integrate into the host society.
Late on the day, Vice President Dang Thi Ngoc Thinh and her spouse hosted a banquet for Crown Princess Victoria Ingrid Alice Désiree and her spouse and entourage.
VNS