The National Assembly (NA) today, June 14, passed a law on preventing and combating the harmful effects of liquor and beer, with 84.3% of NA deputies voting in favor of the legislation.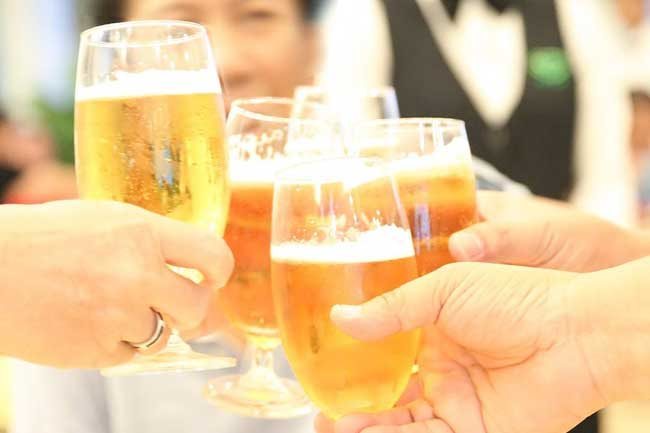 People are seen making a toast. The National Assembly has passed the law on preventing and combating the harmful effects of liquor and beer
The law, including seven chapters with 36 articles, will officially take effect from January 1 next year.
Provisions to ban drink driving, which had earlier stirred up heated debates at the NA's seventh sitting, have been added to the law, with a consensus among 77.2% of the NA deputies.
Accordingly, drinkers are banned from driving if their breath and blood register even low levels of alcohol.
Nguyen Thuy Anh, head of the NA Committee for Social Affairs, said that the number of serious traffic accidents caused by drunk drivers has increased. Therefore, provisions for the drunk driving ban are necessary, meeting the expectations of voters and the NA deputies.
The ban also demonstrates the NA's and the Government's determination to lower the number of traffic accidents, Anh added.
The law prohibits the advertisement of alcoholic products on television from 6 p.m. to 9 p.m., except for advertising on sports programs bought from other countries, and the sale of alcoholic products for people aged under 18.
In addition, alcohol advertisements on mass media for people under 18 years old and the use of images, characters and film music to advertise alcoholic products are prohibited. The advertisement of alcoholic products with an alcohol volume of over 15% is not allowed as well.
However, the restriction on the sale of alcoholic products for on-site drinking from 10 p.m. to 8 a.m. has yet to be added to the law.
Anh said that there have been regulations on the hours of operation for restaurants, bars, pubs and other facilities offering alcoholic products and sanctions on those caught violating the regulations.
She proposed the Government continue to supervise and assess the deployment of these regulations and suggest stricter ones if needed. SGT
Lan Nhi

The Hanoi Tourism Association has backed opposition against the ban on beer and alcohol sale after 10 pm, saying this will affect tourism development.  

In 2016, the average consumption of beer and liquor in Vietnam was 8.3 liters, much higher than the global average (about 6.5 liters in 2017) and the trend increasingly hiked, up by 90% over the past seven years.

Deputy Minister of Health Nguyen Truong Son talks to Vietnam Economics Times about a draft Law on Alcohol Harm Prevention that is ready for the National Assembly to discuss in May.