PM Pham Minh Chinh conducted an scheduled inspection of COVID-19 prevention and control tasks in five wards, communes, and townships of Ho Chi Minh City, and southern Long An and Tien Giang provinces
where the pandemic is developing complicatedly, via an online system.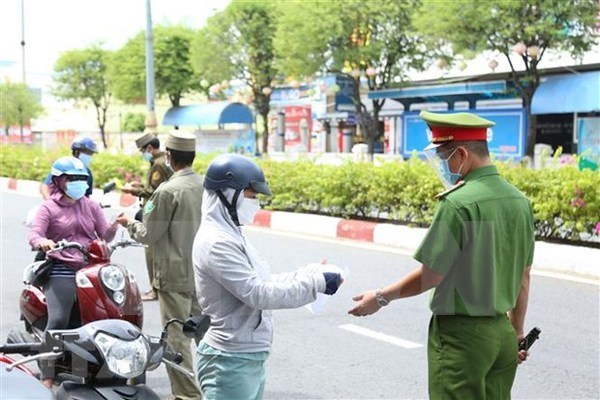 Authorities check travel permits of locals in My Tho city, Tien Giang province (Photo: VNA)
At a working session with leaders of the five localoties, the PM asked them to continue implementing social distancing and quarantine measures more strictly and effectively, ensuring social security and making sure every citizen could get access to healthcare, while speeding up testing to promptly detect COVID-19 patients.
He also asked to increasing mobile healthcare centres following the Ministry of Health's guidance as well as organising vaccinations for people safely and effectively.
PM Chinh stressed that the leaders of the local authorities must bear the responsibility on the efficiency of pandemic prevention and control activities in their locality, and report to higher agencies their problems for timely solutions.
After his reecent field trips to loalities in HCM City, southern Binh Duong and Dong Nai provinces and the capital city of Hanoi, PM Chinh who is also head of the National Steering Committee on COVID-19 Prevention and Control, has directed the formation of a command centre for COVID-19 prevention and control connecting with 2,594 wards, communes, and townships in 19 cities and provinces applying social distancing measures to keep a close watch on their implementation of pandemic fight directions./.
Source: VNA