Vietnamese PM Nguyen Xuan Phuc had separate meetings with Thai PM Prayut Chan-o-cha, Indonesian President Joko Widodo, and Singaporean PM Lee Hsien Loong on the sidelines of the 34th ASEAN Summit in Bangkok on June 22.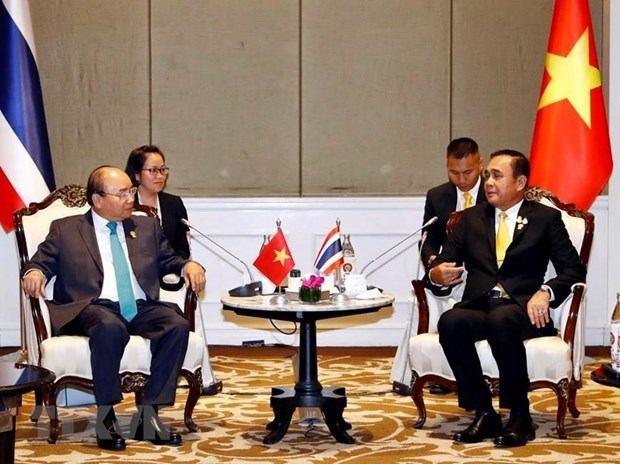 Vietnamese Prime Minister Nguyen Xuan Phuc (L) and Thai Prime Minister Prayut Chan-o-cha 


At the meeting with his Thai counterpart, PMPhuc once again congratulated Prayut Chan-o-cha on his election as the Prime Minister of Thailand.

The two PMs expressed their satisfactionover the sound development, closeness and increasing trust of the bilateralrelations in the recent past, agreeing to jointly build an action programme tocreate a foundation for the practical, effective and comprehensive implementationof the Vietnam-Thailand strategic partnership in the new period.
They agreed to join hands to push theimplementation of bilateral cooperation mechanisms in 2019, especially thefourth joint cabinet meeting in Vietnam.
The PMs affirmed their determination tofurther promote bilateral trade and economic ties to realise the goal of 20billion USD in two-way trade in 2020 with more balanced trade between the twocountries.
They also emphasised the importance ofincreasing connectivity between Vietnam and Thailand as well as with othercountries in the Greater Mekong Sub-region (GMS) through road and waterwayconnectivity projects to serve cooperation in trade, transportation, tourism,and people-to-people exchanges between the regional countries.

PM Phuc thanked Thailand for its warmwelcome and expressed his belief that Thailand will successfully take over therole of ASEAN Chair in 2019 and make active contributions to building a strong,united, self-reliant and sustainable ASEAN Community.

While meeting with the Indonesian leader, PMPhuc congratulated Joko Widodo on his re-election as the President ofIndonesia.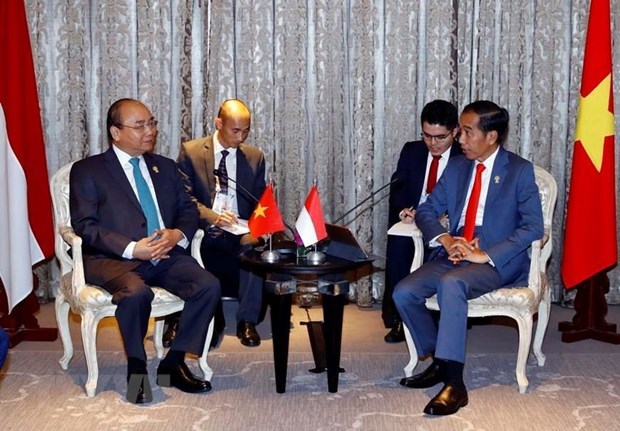 Vietnamese Prime Minister Nguyen Xuan Phuc (L) and Indonesian PresidentJoko Widodo
The two leaders reiterated theirdetermination to implement effectively an action programme to realise theVietnam-Indonesia strategic partnership in 2018-2023 as well as agreementsreached during the State visit to Vietnam by President Widodo in September2018.
They agreed to increase the exchange of all-leveldelegations through all channels, while promoting people-to-people exchanges ina bid to reinforce the bilateral friendship, mutual understanding and trust.

The two leaders also affirmed the resolve toboost bilateral cooperation in economy, trade and investment to match withtheir potential and positions.

PM Phuc suggested the two nations make iteasier for each other's exports of goods and restrict the application of tradebarriers.

The two leaders emphasised the significanceof marine cooperation and agreed to join hands to implement effectivelyrelevant contents in this field in the 2018-2023 action programme, includingthe promotion of negotiations and delimitation of exclusive economic zonesbetween the two countries.

The Vietnamese PM asked Indonesia handleappropriately issues relating to Vietnamese fishermen and fishing boats in thespirit of friendship, humanity, and in line with international law andpractices.

PM Phuc and President Joko Widodo alsoexchanged views on some regional and international issues of mutual concern. Theyagreed to strengthen coordination at multilateral forums, especially of theAssociation of Southeast Asian Nations (ASEAN) and the United Nations (UN), in2020 when both countries are non-permanent members of the UN Security Council.

On this occasion, at the request ofSingapore, PM Nguyen Xuan Phuc received his Singaporean counterpart Lee HsienLoong
At the meeting, PM Phuc expresseddissatisfaction with Lee's statement on May 31, 2019, relating to Vietnam andCambodia in the 1979-1980 period.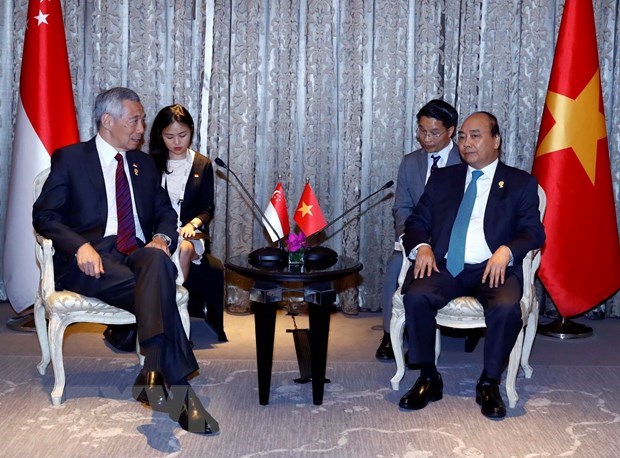 Vietnamese Prime Minister Nguyen Xuan Phuc (R) and Singaporean Prime Minister Lee Hsien Loong 
PM Phuc affirmed that the history has provedthat Lee's assessment of Vietnam's role at that time was incorrect and therepeat of preconceptions deeply hurt Vietnam and Cambodia, especially relativesof hundreds of thousands of Vietnamese volunteer soldiers and experts whosacrificed their lives to bring peace and help liberate the Cambodian peoplefrom the Pol Pot genocidal regime as well as assisting Cambodia during thelater process of national construction full of difficulties and hardships.

Lee explained that Singapore did not aim tohurt Vietnam but just recalled a sad chapter in the history of Indochina to emphasisethat today's peace, stability and prosperity the region does not naturally haveand the current context requires the ASEAN to maintain solidarity, closenessand stronger cooperation.

He also stressed that Singapore attachesgreat importance to friendly and trustworthy relations with Vietnam and highly evaluatesVietnam's role in and important contributions to the maintenance of peace,security, stability and development in the region as well as in the process ofbuilding a strong, united and self-reliant ASEAN Community.

The two PMs held that the meeting helped thetwo sides better understand each other and agreed to look towards the futureand focus on promoting the Vietnam-Singapore strategic partnership in allfields.

As Vietnam will take over the role of ASEANChair 2020 and a non-permanent member of the UN Security Council for 2020-2021period, the two sides agreed to increase the exchange of views, consultationsand coordination in terms of stances in regional and international matters ofmutual concern, especially maintaining solidarity, consensus and viewpoints of theASEAN for peace, stability and development in the region and the world.

Regarding the East Sea issue, PM Phuc and theleaders of Thailand, Indonesia and Singapore agreed to continue enhancingmarine cooperation and jointly promote the full implementation of the Declarationon the Conduct of Parties in the East Sea (DOC) and soon finalise a Code of Conduct in the EastSea (COC), ensuring the interest of the international community.-VNA